Rang Mahal Indian Restaurant – Everything I Ate at the Sunday Brunch Buffet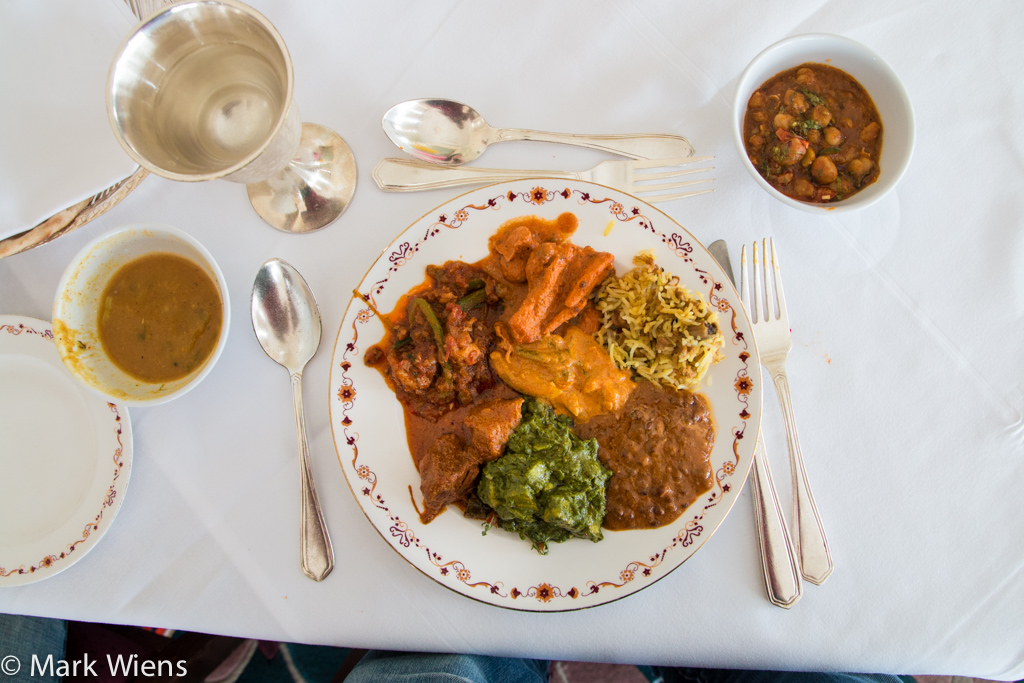 Indian food has always been one of my favorite cuisines in the world.
Rang Mahal is one of the most well known Indian restaurants in Bangkok, and I had been wanted to eat there for years now. Finally it was my friend's birthday, so I knew it was a good time to check it out.
Rang Mahal Indian Restaurant
Rang Mahal is an Indian restaurant in Bangkok that specializes in fine dining Indian cuisine. The restaurant is located on the 26th floor of the Rembrandt Hotel, on Sukhumvit Soi 18, not far from Asoke intersection.
Throughout the week during dinner, Rang Mahal serves an a la carte menu of mostly north Indian dishes.
But on Sunday there's an Indian brunch buffet which goes down from 11 am – 2:30 pm, and that's what I went for.
You can be sure, whenever there's a buffet or even just a restaurant I really want to eat at, my wife and I will be there first. Maybe we learned to show up at restaurants first when we were in Tokyo where you've got to beat the crowds if you want to stand a chance to eat.
Anyway, we made a reservation (which I think is recommended, if not necessary for the Sunday brunch buffet).
Here's everything I ate…
My first move was to hit up the fried cutlets and the chaats station on the buffet line. I wanted to go into the appetizers first to prime my stomach for bigger and better things.
There was a good selection of appetizers at the Rang Mahal Indian buffet, varieties of cutlets and salads..
Appetizers and chaat
For my first plate I tried to take one of each of the things that looked most interesting.
I got the full range of cutlets, a south Indian idli topped with a shrimp (the yellow bread looking thing), various chaats, and some sauces and garnishes (I'm a huge lover of pickled shallots).
The yellow idli wasn't my favorite, it was a bit dry and dense, but the rest of the items were fantastic.
That slice of egg, which was coated in a layer of minced meat of some kind and lots of spices, was delicious. It reminded me of the Scotch egg I ate in London, only flavored with many more spices.
Out of all the cutlets, the diamond shaped dark brown cutlet was my favorite.
It was a combination of potatoes and small vegetables like peas, well seasoned with plenty of jeera (cumin), and then deep fried. It was amazing.
Appetizers plate #2
One plate of appetizers down, yet I still hadn't tasted all that was available by way of side dishes at Rang Mahal, so I had to go in for plate #2.
This time I got a bowl of dal, plus a vada and samosa, and some goat sliced off the bone.
An Indian vada is like a donut, that's non-sweet, so it's more just like a circle of dough that deep fried.
It was fluffy and moist, and what really makes a vada good is smothering it in all the sambal curry and coconut sauces. I made sure to take my fill of sauce to supplement my vada.
I was supposed to be eating appetizers, but when I saw that leg of goat glistening in the orange light, I couldn't wait any longer, and decided to get a few slices.
The goat was great, just the right amount of fat to meat, and it was nicely flavored with a sweet oniony glaze.
The meat was fall-apart tender. This was just a taste, I knew I would go back for some more later on.
This type of dal was very soupy, and it was cooked so the actual lentils were nearly completely dissolved into a liquid. It was lightly spiced, and had a wonderful sour flavor, one that I don't think I've ever had with dal before.
I really liked it.
At the Rang Mahal Indian Sunday brunch buffet, the naan and roti, and other breads are not available at the buffet line, but you order them from the waiter.
This way the breads can be made fresh and be delivered to your table when you need them.
I have to admit, I tried to take it very easy on the breads – I DID NOT want to fill up too fast.
However when eating north Indian curries, some dipping bread is quite necessary.
The roti was great.
We also had a basket of garlic naan, always a delicious addition to an Indian feast. The garlic was caked on, and the naan was soft and supple yet crispy on the edges.
Curry plate
Curry, of all forms and styles, is one of my favorite things in the entire world.
To me, there are few things better than a blend of spices, cooked with any form of meat, and brought together with a medley of a sauce. So you can be sure I was ready to move on to my curry course at the Rang Mahal Indian buffet.
There were probably about 10 or so different curries to choose from, many of them rich north Indian styles of curries. Palak paneer has been a love of mine for many years.
The palak paneer was pretty good, perhaps not quite as strong on the spices as I would have liked, but it was alright.
One of my favorite curries at Rang Mahal was the prawns curry, a fantastic blend of spices, tomatoes, onions, and chilies, all mixed with prawns.
I think it was prawns vindaloo, though I can't remember the exact name of the curry. It was a beautiful combination of flavors.
While I was in Delhi, I ate chole bhature for the first time, and I was thoroughly amazed and loved it. For the rest of my time in Delhi, I ate it nearly everyday.
At Rang Mahal in Bangkok, I opted to eat a bowl of the chole, but skipped the bhature.
The chole was rich and nicely spiced, but the actual garbanzo beans were not quite as soft as I remember them being in Delhi – maybe this was a different method. Anyway, it was still good.
Dal makhani, a north Indian Punjab version of black lentils, is one of my all time favorite styles of dal – I could honestly eat it everyday. It's like refried beans, only more creamy and probably richer.
Their dal makhani was good, but I don't think it was as good as the version over at Indian Host.
The best thing about eating the Indian buffet at Rang Mahal is that when your plate reaches this stage… you can always get a re-fill!
Coffee and tea break
At this stage, I needed to take a little breather.
The Sunday brunch buffet included coffee and tea, so I had a few cups of each. It was a great way to relax the stomach for a few minutes before diving into the next plate.
There were a few beverages also available for self service.
There was both a sweet and salty lassi, like a yogurt milk dairy beverage. In Kolkata I had one of the best mango lassis of my entire life.
Lately though, I've been liking the Indian style of a salted lassi, which is like salty yogurt that's studded with jeera. It was wonderful, though if your first time to have one, it can be alarmingly salty and flavor contrasting.
From the grill
Over on the window side of the Rang Mahal buffet, is where you'll find the grilled station – things like fish and chicken tikka, and grilled vegetables.
There was also a station serving kati rolls, but I decided to go for the grilled meat instead.
I was intrigued by the beautiful mix of vegetables and cubes of paneer cheese, nicely charred on the edges, and waiting to be taken – it looked great – and soon I would find out, it was great.
Barbecue course
I tried to at least get a sample of almost everything that was available.
The fish tikka (big yellow chunk) was excellent, nice and juicy, and plastered with spices on the outside – it was really good. Also from this plate I really loved the roasted vegetables and paneer which were covered in a wonderful curry spice blend.
Remember how I had a few slices of the roasted leg of lamb at the beginning?
I knew I needed to re-visit that station, so this was when I headed over to that station and got a few more slices. This time, I loaded my slices up with more sauce, a great idea.
Indian pickles
Indian pickles and chili sauces are things I love eating. Some of them are so sour, and others of them are so incredibly salty, but I just love the strong flavors they offer.
There were many sauces and pickles available at the Rang Mahal Indian buffet in Bangkok.
Masala dosa
Another thing you have to order, but it's still included in the price of the buffet, is a dosa.
I was getting quite full by now, and perhaps my mouth was coated in spices from the curries, so it didn't seem very flavorful to me, but it was nicely crispy on the outside, and then filled with a few scoops of masala potatoes.
Dessert
For dessert, there was a mixed combination of Indian desserts and western desserts.
I'm personally not a dessert eater, so I let my wife do the sweets eating. Gulab jamun is one of the most well known Indian desserts, a ball of curd soaked in syrup.
There wasn't a huge selection of desserts, but there were a few different cakes and pies, plus I saw a masala truffle which sounded interesting (but I didn't try it).
If you're the macaron lover, they had a full display of macarons available as well.
Here's what I had for dessert…
Yup, I would rather eat more curry than go for sweets.
So after a few more cups of tea, I went back to the curry line, just to get a few more scoops of curry for flavor purposes. Again, that prawns curry was probably my favorite dish from the buffet line.
3 bites of ice cream
And after finishing my last plate of curry, I did end up having 3 bites of ice cream.
Conclusion
Rang Mahal is one of the most well known and high esteemed Indian restaurants in Bangkok. During the week, they serve a la carte, but there's a Sunday brunch buffet, which is what I went for.
There was a good mixture of appetizers, curries, roasted items, and desserts, and just about everything was very good. Overall, I thought the food in general was a bit on the salty side, but it was well flavored, and there was a nice selection of Indian food.
I think the Sunday brunch buffet at Rang Mahal is a good option if you want to eat a huge meal of Indian food, and the price is worth it if you want to sample a big variety of different dishes.
For another great Indian restaurant in Bangkok, that serves fine dining food, check out Indian Host – the quality is impressive.
Rang Mahal Indian Restaurant, Sunday Brunch
Address: Located at the Rembrandt Hotel Bangkok, 19 Sukhumvit Soi 18, Klong Toei, Sukhumvit, Bangkok, Thailand
Open hours: The Sunday brunch buffet goes on from 11 am – 2:30 pm, and if you're like me, you'll want to plan to be there right at 11 am
Phone number: It's a very good idea to make reservations – 02 261 7100
Price: Sunday brunch buffet is 849 THB per person, which doesn't include service and VAT, so really it's about 1,000 THB per person
How to get there: You can either take a taxi directly there, or it's about a 10 minute walk from the BTS Skytrain at Asoke station.