Ran Ahan Sua Tao (ร้านอาหารซัวเถา), for excellent Chinese food in Bangkok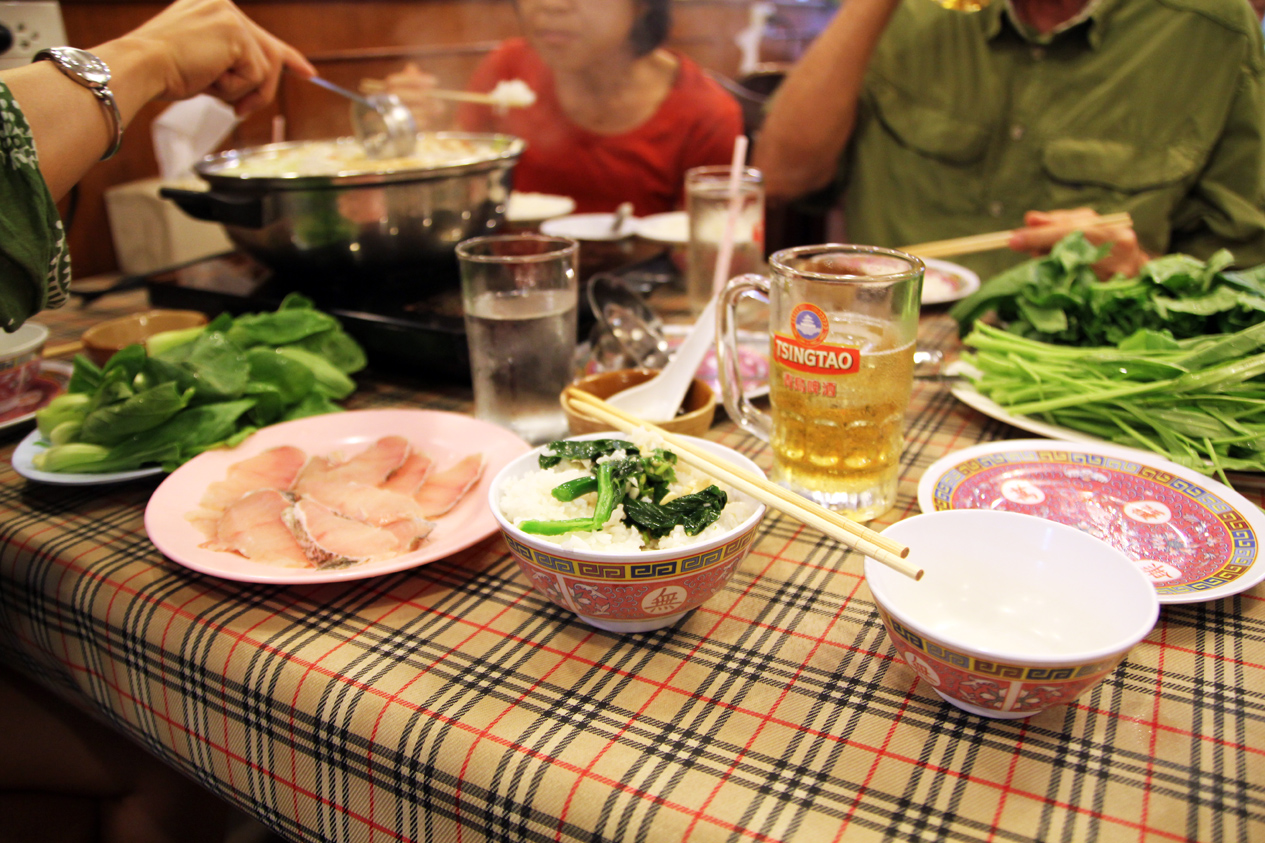 I wanted to give you the info on what's been my favorite Chinese restaurant in Bangkok lately.
Chinese food, or shall I say non Thai-Chinese food, is not as easy to find as you might think it is in Bangkok.
But there are a few good spots, and Ran Ahan Sua Tao (ร้านอาหารซัวเถา) is probably my current favorite.
On the menu, you'll find a range of dishes, the hot pot section being quite popular.
My first time I had the hot pot, which was indeed excellent, but I personally prefer stir fried dishes over hot post style (unless it's of the Sichuan variety).
But anyway, if you order hot pot, you get a nice herby pot full of soup, and then you can order all sorts of ingredients to toss in and cook at your table.
There's also a bunch of green vegetables like bok choy which you can order and it will be delivered on a plate for you to boil up in your hot pot.
The greatest part of eating hot pot is the glorious garlicky sauce made with soy sauce, and maybe a hint of vinegar or rice wine? Not sure exactly, but it was amazing. I could drink the sauce!
Like I mentioned before, I'm more of a stir fry kind of guy.
And one of my all-time world favorites is a mapo tofu… that is when it's done well.
I was quite happy with the mapo tofu at Ran Ahan Sua Tao (ร้านอาหารซัวเถา).
It wasn't as greasy as it can be sometimes (a good thing), and it still had the miraculous red chili garlic paste mixed in, paired with silky soft tofu.
Over rice, it was pure pleasure. It's a must order dish.
We also ordered the pork spare ribs in sour plum sauce – the ribs were tender, fragrant with garlic and sour plum gravy, and very porky flavorful.
It was one of those dishes that makes you feel like you're wearing lip gloss from the pork grease, but it was so worth it.
On to the eggplant, another absolute stunner at Ran Ahan Sua Tao (ร้านอาหารซัวเถา).
Like mapo tofu, Chinese eggplant is another one of my all-time favorite dishes, and while it's normally cooked in red chili oil, this one wasn't… but it was delicious.
The eggplant was cooked until slimy soft with minced pork, and flavored with a hint of vinegar. It was unbelievably good.
I would easily go to eat at Ran Ahan Sua Tao (ร้านอาหารซัวเถา) just for the mapo tofu and eggplant.
Foo jook, or bean curd, with pork ribs, was also quite tasty. I'm just a lover of these chewy bean curds!
Finally, if you like kailan (Chinese broccoli), it's extremely good at Ran Ahan Sua Tao (ร้านอาหารซัวเถา).
They cook it soft but still crisp, and stacked with garlic and oyster sauce.
The Bottom Line
I think the food is excellent. If you're in need of good Chinese food in Bangkok, this is the spot.
Ran Ahan Sua Tao (ร้านอาหารซัวเถา)
Address: 491/39-40 Silom Plaza, Thanon Silom, Bangrak, Bangkok 10500
Open hours: 4 pm – 3 am daily
Phone number: 02-635-3261 , 081-345-6470
Prices: I have to be honest here and say that I was so happy with the food, I failed to take notes on the prices in the menu. But I think most of the dishes were about 150 – 200 THB. Overall, you're going to pay about 200 – 300 THB per person.
491/39-40 อาคารสีลมพลาซ่า ถนนสีลม แขวงสีลม เขตบางรัก กรุงเทพฯ 10500
เปิดเวลา 16.00-3.00 น.
โทรศัพท์ 02-635-3261 , 081-345-6470
How to get there:
The restaurant is within Silom Plaza, which is on the southwest corner of Silom Road and Naradhiwas Rajanagarindra. It's just a 5 minute walk from Chong Nonsi BTS.
Walk into Silom Plaza (it's kind of a nold looking plaza), and the restaurant is on your left hand side.

View Bangkok Eating Thai Food Map in a larger map