Ramen Bankara: Epic Japanese Noodles in Bangkok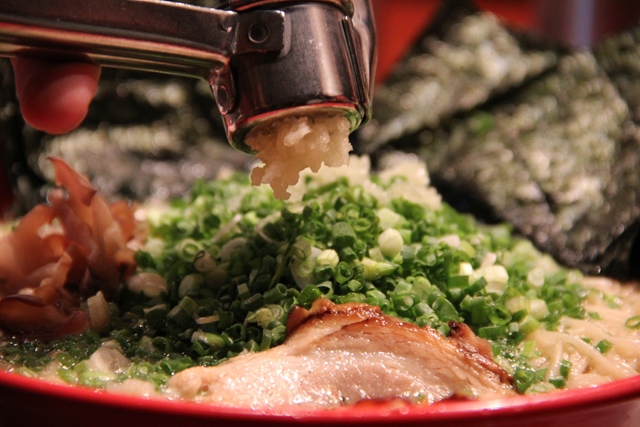 If you are in the mood for epic outstanding Japanese style Ramen noodles, head on over to Phrom Phong's Ramen Bankara restaurant.
Ramen Bankara is actually a franchise noodle operation from Japan that serves truly authentic Japanese noodles right in the center of Bangkok, Thailand.
You won't go wrong!
Before the ramen ever made an appearance at the table we had already devoured a few bowls of this wonderful bamboo shoot and leek salad marinated in sesame oil.
It was so fragrant and well dressed that each bite just sorted melted with flavor into my mouth., and without even realizing it, it was gone…
The signature bowl of Japanese ramen arrived in pure splendor at my table.
It was a large sized bowl, 3 times the amount of ingredients used in any normal bowl of Thai street food.
I ordered the house special, noodles in creamy soup. It came with a few slices of roasted pork, some ginger pickles and a few pieces of seaweed on the side.
Another amazing thing about Ramen Bankara in Bangkok is that they don't limit your garlic consumption – and they include a garlic press on your table.
Needless to say, when there are free things (especially pungent free things), I go a little overboard. I must have added 10 cloves of pureed garlic to my bowl of ramen and it wasn't a clove too much!
Once my massive bowl of ramen was dressed to my personal liking I began to ferociously devour it. The noodles were similar to the hand pulled wheat noodles in China – they were thick, hearty and delicious.
I can assure you that I have never tasted such a flavor packed and rich bowl of noodles in my life – they took my breath away in culinary disbelief.
The Bottom Line
There are lots of Japanese restaurants and lots of Japanese style Ramen restaurants in Bangkok, but this one is the "Crème de la Crème" of authentic Japanese Ramen noodles in Bangkok.
Come here looking for pure Japanese ramen and leave a happy person!
Ramen Bankara – Bangkok, Thailand
Address: 32/1 Sukhumvit 39, Sukhumvit, Bangkok 10110, The Manor Shopping Complex
Open: 11:00 – 23:00
Phone: 02-662-5162-3
Price: It's not cheap to eat Japanese noodles in Bangkok, about 200 – 300 THB per bowl of noodles
How To Get There
It takes about 10 minutes to walk from the Phrom Phong BTS station. Ramen Bankara is located within The Manor tiny shopping complex.

View Ramen Bankara, Bangkok, Thailand in a larger map