Racha Pochana: Still Serving Old School Thai Chinese Food in Bangkok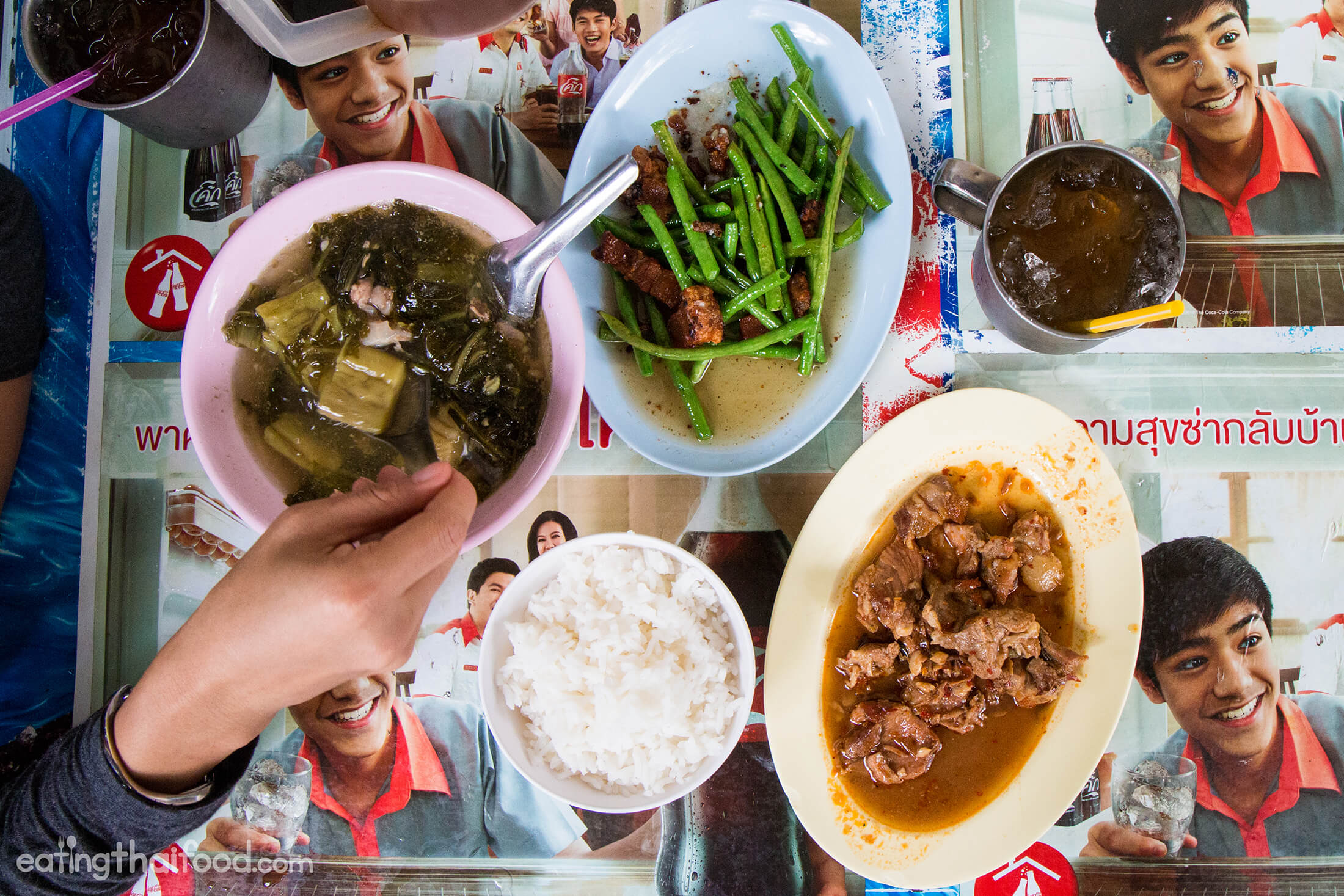 Even though I have lived in, and been based in Bangkok for years now, some of the best meals I've had are a result of just walking around and exploring.
A few days ago my wife and I were walking from the Chao Phraya river towards Democracy Monument and we needed something to eat for lunch… but had no plans where to eat.
We stumbled into an old-school place, kind of like Ba Mee Jub Kang except much cleaner and tidier, called Racha Pochana (ร้านราชาโภชนา) and decided to try it…
We were on our way to Ban Baat, Bangkok's Monk's bowl community (I'll write more about this over on migrationology.com shortly), and we needed a quick lunch.
Both of us being hungry, we stopped at a restaurant on the corner that looked like it had some character with a Grandmother who immediately welcomed us in when we approached. It was a good sign from the beginning.
I didn't see a menu at Racha Pochana (ร้านราชาโภชนา), but they basically had two different things to choose from: khao gaeng (prepared curry and dishes in the display cabinet), and kuay teow gai (chicken noodle soup).
Ying and I first ordered a couple of different dishes from the display cabinet, most of which were Thai Chinese style, and old-school, and then Ying was feeling like eating a bowl of noodles as well.
While choosing which dishes to order from the pre-made selection, Grandmother rattled off a few dishes she had on hand, explaining to me that she cooked everything herself.
"Tee nee yang kong ben ahan bolan (ที่นี้ยังคงเป็นอาหารโบราณ)," she also mentioned – the English translation meaning "here we still make old style" food.
The selection of dishes was on the slim side, many of the dishes were just about finished when we got there for lunch.
Racha Pochana (ร้านราชาโภชนา) typically serves all their prepared curries and stir fried dishes starting in the morning, and sells out by around noon. So they mainly serve breakfast or brunch, and at lunch they serve mainly the chicken noodles.
So if you go wanted to eat the prepared dishes, try to go sometime around 8 am – 10 am or even earlier if you'd like. There's nothing better than a full rice meal for breakfast in Thailand.
But anyway, there was still enough food left, and Grandma dished us out.
Old School Thai-Chinese
When you get a Chinese style metal spoon to eat with in Thailand, you know you're in for some old fashioned food.
The classic metal Chinese spoons are commonly used in the countryside in Thailand, at people's homes, and they are especially commonly used for eating with the older generation – I usually see my mother in-law eating with one.
But you are rarely served this type of spoon at a restaurant in Bangkok unless it's a throwback restaurant, just like Racha Pochana (ร้านราชาโภชนา) is.
Moo pad prik pao (หมูผัดพริกเผา)
The first dish we ordered was moo pad prik pao (หมูผัดพริกเผา).
This is a dish I'm typically a little on the line about.
Prik pao (พริกเผา) is a roasted chili and shallot sauce usually quite sweet and unfortunately these days usually right out of the can instead of being home-made.
Typically what they do to cook moo pad prik pao (หมูผัดพริกเผา) is just stir fry some pork with a scoop of the canned chili sauce, and that's about it.
It's usually is way too sweet and artificial tasting for me.
But this was much different.
The pork was tender and nearly pulled pork style, and it was cooked or stir fried in an awesome prik pao (พริกเผา) chili sauce that was most definitely not from the can – she either made it herself or used some kind of special fresh chili sauce or paste.
It was just slightly spicy, salty to perfection, and had a tiny sweet, almost fruity fragrance.
Price – each plate was 25 – 30 THB I believe
Pad tua fuk yao moo krob (ผัดถั่วฝักยาวหมูกรอบ)
The dish that I really loved most at Racha Pochana (ร้านราชาโภชนา) was the pad tua fuk yao moo krob (ผัดถั่วฝักยาวหมูกรอบ), stir fried Chinese long-beans with crispy pork belly.
As simple as this dish looks, and it was incredible.
While in modern day Bangkok the long beans would likely be stir fried up with oyster sauce and soy sauce for seasoning, it appeared to me that she didn't use anything but oil and salt.
And not just any salt, but the salt had a spectacular light and flavorful taste – I'm guessing a good quality sea salt.
The long beans were freshly crisp, the pork was outrageously crispy to the point of them almost being like croutons, and the saltiness made it incredible.
It was a bit on the greasy side, and possibly fried in lard, but it was truly a simple and amazing dish.
Gaeng jued mara (แกงจืดมะระ)
For our last dish from the pre-made assortment, we got a bowl of gaeng jued mara (แกงจืดมะระ).
Gaeng jued is a plain boiled soup, and there can be a variety of different vegetables or meats within it, but one of my favorite versions is with mara (มะระ), bitter melon.
Their gaeng jued mara (แกงจืดมะระ) was top notch, a beautiful pork broth, not really seasoned other than salty, but with a nice tinge of bitterness, and fall apart tender pieces of pork rib meat, and bitter melon.
It was a great street food old school style bowl of gaeng jued mara (แกงจืดมะระ).
Kuay teow gai (ก๋วยเตี๋ยวไก่)
One of their lunch specialities is kuay teow gai (ก๋วยเตี๋ยวไก่), and while I was more interested in eating rice, my wife always enjoys noodles, so we ordered a bowl to try.
It was also quite good, the chicken in particular was braised so it was extremely tender, yet not mushy.
The broth of the soup had a very nice soothing flavor, not salty or sweet, but with a fragrance of Chinese star anise and soy sauce.
Price – 35 THB
Conclusion
Racha Pochana (ร้านราชาโภชนา) is a restaurant in the Phra Nakhon district of Bangkok that serves old school Thai Chinese food.
You can either choose to eat their pre-made dishes or their kuay teow gai (ก๋วยเตี๋ยวไก่), chicken noodles. Everything I tried here was excellent, but I especially loved the pad tua fuk yao moo krob (ผัดถั่วฝักยาวหมูกรอบ), Chinese long-beans and crispy pork belly stir fried in salt.
The grandmother that cooks at the restaurant is both nice and friendly, and she cooks some awesome old recipes.
Racha Pochana (ร้านราชาโภชนา)
Address: Thanon Ratchabophit, Phra Nakhon, Bangkok
Open hours: 7 am – 2 pm daily, for the rice and pre-made dishes it's best to go in the mid-morning
Prices: Our total bill came to 124 THB for everything we ate
How to get there: The restaurant is located in the old Phra Nakhon district of Bangkok, so it's not really connected by any public transportation other than bus or boat if you walk a ways. It's not too far from Sanam Luang, and just a short distance from Sao Ching Cha (the Giant Swing). It's at the corner of Soi Thesa and Thanon Ratchabophit.
ที่อยู่: 19-21 ถนนราชบพิธ แขวงราชบพิธ เขตพระนคร กรุงเทพฯ 10200
เปิดบริการทุกวัน 7.00 – 14.00 น.