Original Crispy Crepes in Phuket: Ahpong Mae Sunee (อาโป๊ง แม่สุณี)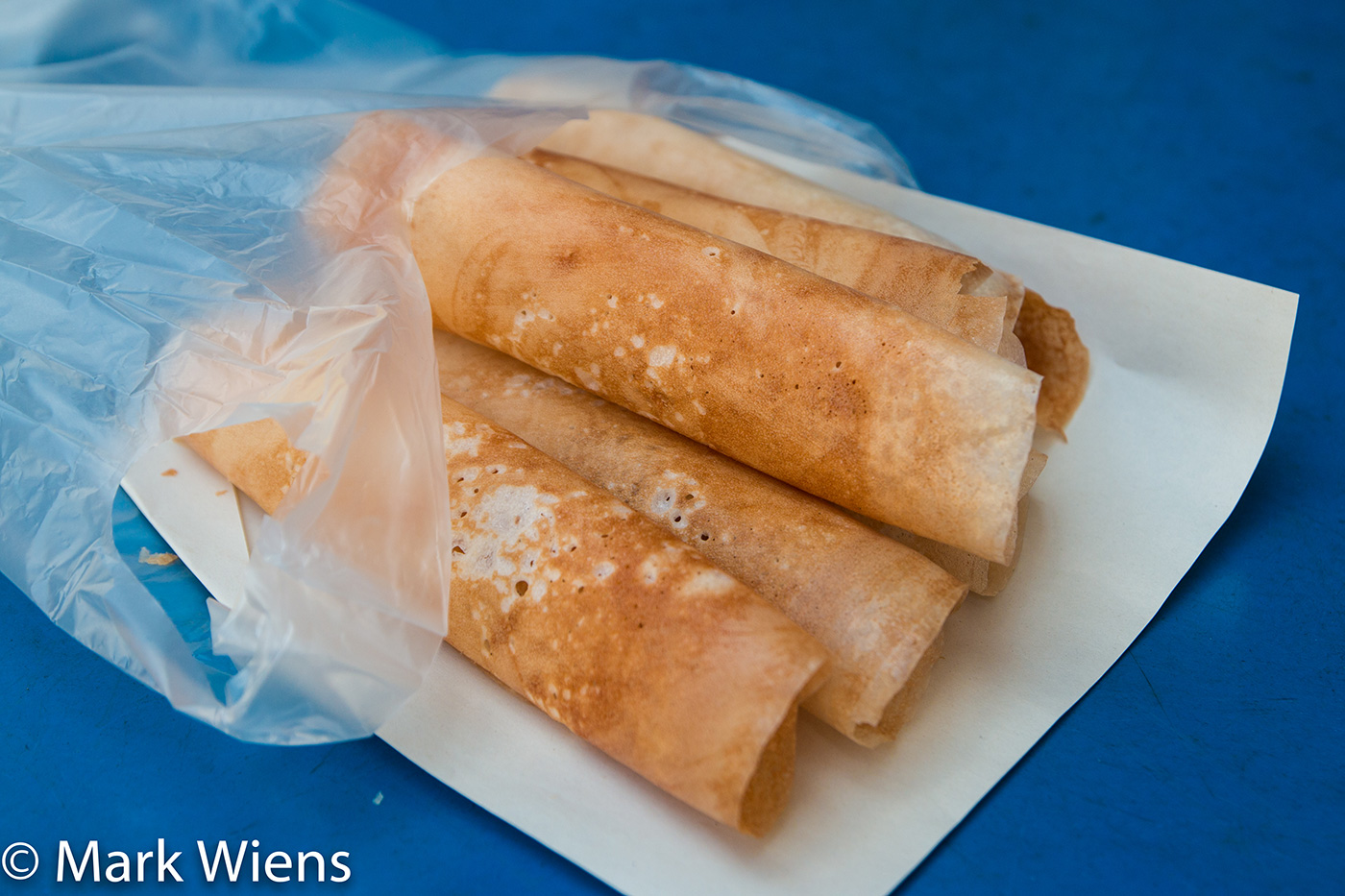 Every city or town in Thailand has their own unique famous street food snacks.
In Phuket Town, one of the popular snacks is called khanom ahpong (ขนมอาโป๊ง), basically a crispy lightly sweetened coconut crepe.
Though there are a number of places to get it now, the original location is a street food cart called Ahpong Mae Sunee (ร้านอาโป๊ง แม่สุณี), located right around the corner from Lock Tien noodle restaurant.
After finishing lunch one day in Phuket Town, my wife and I ordered a bag to give them a try.
Khanom ahpong (ขนมอาโป๊ง), when comparing it to other Thai sweet treats, is a very simple snack, made with just a light batter, which I believe includes some coconut milk to make it rich and creamy.
When I was in Sri Lanka, one of my favorite things to eat were egg hoppers, little pancakes cooked in a mini rounded wok, topped with an egg, and served with chili sauce.
As soon as I saw the khanom ahpong (ขนมอาโป๊ง) being made, I immediately thought of Sri Lankan egg hoppers as they use the same exact pans, and the same method of cooking, except a different tasting batter, and no egg on top.
For khanom ahpong (ขนมอาโป๊ง), the rounded mini wok was heated over charcoal, then a ladle of the crepe batter was spooned in.
Then, using a swirl of the wrist with the mini wok in hand, the vendor spread the batter out covering the bottom of the pan, but keeping the thickest part of the batter at the bottom, and spreading the batter thinner on the edges (this is an important part of the snack).
After adding the batter, the lid went on, and cooked for a few minutes, until golden brown and crispy on the edges.
When the khanom ahpong (ขนมอาโป๊ง) was done cooking, the vendor rolled them up into cigar looking treats, and they were ready to be served.
Ordering
The ordering menu at Ahpong Mae Sunee (ร้านอาโป๊ง แม่สุณี) is pretty simple.
You have a choice to order 1 piece for 3 THB each, or you save 1 baht if you order them by the 7's for 20 THB per 7.
Ying and I just ordered 1 bag of 7, which was quite enough for us, but I saw other people in line ordering a handful of bags at once.
How do they taste?
I picked up my first khanom ahpong (ขนมอาโป๊ง), and it was extremely light, and for the most part it was pretty crispy – it wasn't thick like a normal crepe – but it was more paper thin and crisp.
The sides on either end were almost completely crispy all the way through, but towards the middle it got a little thicker (from the thicker batter at the bottom of the wok), so it wasn't as crunchy in the middle, but just slightly more gooey.
The batter had a very light flavor to it, almost like any typical crepe, but it had a noticeable coconut milk rich flavor to it, and the crispy parts had almost a meringue flavor.
What I really liked about khanom ahpong (ขนมอาโป๊ง) was that they were really light to eat, nothing too filling and nothing too rich or overly sweet.
I'm not a big sweets eater, but these Phuket snacks went down pretty easily.
Conclusion
Ahpong Mae Sunee (ร้านอาโป๊ง แม่สุณี) is the original stall in Phuket that serves it a famous Phuket sweet snack called khanom ahpong (ขนมอาโป๊ง), a thin crispy rolled up crepe cooked in a miniature wok over hot charcoal.
When Thais from Bangkok come to visit Phuket Town, khanom ahpong (ขนมอาโป๊ง) is one of the must-eat snacks, and there's often a line of eager customers waiting to order.
I didn't think khanom ahpong (ขนมอาโป๊ง) was extremely special, but it was pretty good, a nice and light snack, slightly sweet, and crispy.
If you're in Phuket Town and if you love to snack, this is a good place to stop, but if not, I don't think it's a completely necessary part of an itinerary of eating in Phuket.
Ahpong Mae Sunee (ร้านอาโป๊ง แม่สุณี) – Phuket, Thailand
Address: At the corner of Yaowarat Road and Soon Utis Alley
Open hours: 9 am – 3 pm daily, but they are just a street food stall, so they are occasionally closed without any warning. We went our first day and they weren't open, but on the next day they were open.
Price: 3 THB per piece, of 7 pieces for 20 THB
ที่อยู่ ถนนดีบุก ซอยสุ่นอุทิศ อำเภอ เมือง จังหวัด ภูเก็ต 83000
เปิดบริการ ทุกวัน 9.00 – 15.00 น.
อาโป๊ง ชิ้นละ 3 บาท 7 ชิ้น 20 บาท
How to get there: The street food stall is located right off Yaowarat Road, about 5 meters down Soon Utis Alley. From most of the hotels in old town Phuket*, you can easily walk there.
For the map, scroll down to "Phuket" and then click on "Ahpong Mae Sunee (ร้านอาโป๊ง แม่สุณี)" to see the location.