Phuket Street Food Snack: Afternoon Noodles and Shaved Ice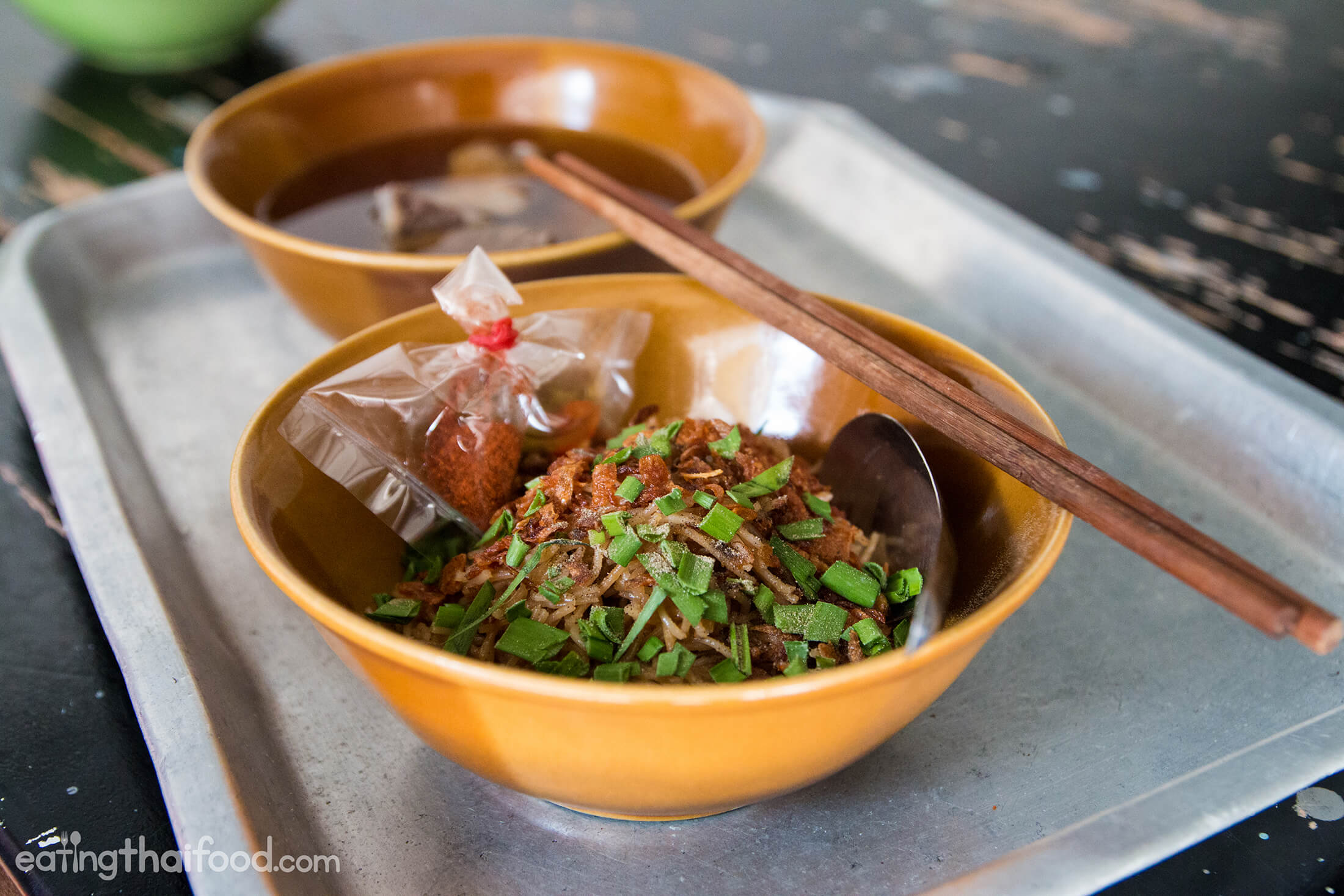 Scarcity has been used as a marketing tactic for a long time.
Even when it comes to street food in Phuket.
Ok, I'm not sure if they actually use scarcity to market their noodles, or if they just open for a short and unpredictable time each day just because they want to.
In any case, there are two famous street food stalls in Phuket Town, right around the corner from Lock Tien, that serve Thai shaved ice (snow cone bowls) and a unique noodle dish, and they are only open for a couple hours each afternoon.
Something about a restaurant or street food stall that's only open for a few hours a day gets me intrigued – I guess their inconvenient open hours really do work to draw attention.
For a number of consecutive afternoons Ying and I went to the street only to find they decided not to open that day, or perhaps they had already sold out and packed up?
But one afternoon, after a nice nap at our hotel, Ying and I walked over to the street, and though my hopes weren't high, this time they were open.
I don't know all the history of these two Phuket street food stalls, but I do know they are both quite famous, both for Thai tourists visiting Phuket Town, and for local Phuket residents, and both stalls have been featured in all sorts of Thai magazines, websites, and TV shows.
The 2 food stalls:
Located right next to each other, and just down the street a few meters from another extremely famous original Phuket crispy crepes, are the two stalls.
The first stall, called Oh Ew Paelee (โอ้เอ๋ว แป๊ะหลี) serves something called oh ew (โอ้เอ๋ว), a Phuket style sweet shaved ice (can also be called nam kang sai throughout most of Thailand).
The second stall, owned and operated by an awesome Grandmother who has her recipe down to perfection, is called Jeepang Mee Hoon Kraduk Moo (จีเป๋ง หมี่หุ้นกระดูกหมู), and she serves noodles and pork.
When we ate here, there were some tables set up across the street in an empty building that was under construction. So I'm not sure if the tables will always be in the same place – but if they get moved from the construction site, the tables might just be out on the side of the street.
We started with a bowl of oh ew (โอ้เอ๋ว)…
Oh ew (โอ้เอ๋ว)
I'm not much of a shaved ice (or snow cone) eater, but my wife enjoys it. But since we came here and they were open, I had to give their version, which they call oh ew (โอ้เอ๋ว), a try.
It tasted just about the same as most Thai shaved ice anywhere you go – shaved ice, flavored with sugary tasting syrup.
But the best thing about the oh ew (โอ้เอ๋ว) were the big chunks of transparent jelly that had a pretty awesome jiggly texture, and went well with the crushed ice.
It's still not my thing, but it was very refreshing on a hot day.
Price – 15 THB
Mee hoon kraduk moo (หมี่หุ้นกระดูกหมู)
I was much more interested in trying the noodle dish – a unique creation only found in Phuket (as far as I know).
The dish came with two bowls, one contained the noodles, which were well seasoned, and the other bowl contained the soup with pork bones and ribs. The noodles also came with a little plastic baggie of vinegar and chili flakes.
You could either combine the soup and noodles and eat them like a noodle soup, or eat the noodles dry and eat the soup on the side, alternating between bites. I chose the latter.
Price – 40 THB
The first thing I could taste in the noodles were the crispy fried shallots, which were generously sprinkled on top of the noodles, giving the entire dish a lovely caramelized onion flavor. Along with the crispy shallots, it was sprinkled in black pepper and a handful of green onions.
The soup was pork based, with some fall apart tender pork rib bones within it. It also had a lovely black pepper flavor, a hint of sweetness, and it was nice and salty.
The combination of the noodles with the tender pork and salty soup was excellent.
But what really made the dish for me worth eating were the outrageously fragrant crispy shallots – I could have snacked on them by the handful. They were so good and so fresh.
While some restaurants in Thailand use pre-fried shallots, or keep them for a few days so they get a little stale, there's no doubt Grandma deep fries her shallots fresh daily, and that's what made the difference.
To me it was the crispy fried shallots that made the mee hoon kraduk moo (หมี่หุ้นกระดูกหมู).
Conclusion
Among the many famous Phuket street food stalls is a small alley that's home to an assortment of popular stalls.
Oh Ew Paelee (โอ้เอ๋ว แป๊ะหลี) is famous for their oh ew, basically a Phuket style snow cone filled with jellies. Jeepang Mee Hoon Kraduk Moo (จีเป๋ง หมี่หุ้นกระดูกหมู) is equally well known for a unique street food dish of noodles paired with pork ribs soup, and topped with fried crispy shallots.
If you happen to be walking down Yaowarat road in Phuket Town in the middle of the afternoon and are in need of some street food refreshment of either shave ice or noodles, check to see if they are open!
For me, it was all about the crispy shallots.
Oh Ew Paelee (โอ้เอ๋ว แป๊ะหลี)
Address: Thanon Dibuk, Soi Soon Utis, Phuket 8300
Open hours: 1 pm – 6 pm
How to get there: If you're staying in central Phuket Town, you can easily walk here, it's located down the small Soon Utis alley, right off Yaowarat road, not far from the corner of Dibuk road.
ที่อยู่ ถนนดีบุก ซอยสุ่นอุทิศ อำเภอ เมือง จังหวัด ภูเก็ต 83000
เปิดบริการทุกวัน 13.00 – 18.00 น.
โอ้เอ๋ว 15 บาท
Jeepang Mee Hoon Kraduk Moo (จีเป๋ง หมี่หุ้นกระดูกหมู)
Address:Thanon Dibuk, Soi Soon Utis, Phuket 8300
Phone: 076-242-040
Open hours: 1 pm – 6 pm (but don't take these open hours too seriously, they may or may not be open)
How to get there: Same as above.
ที่อยู่ ถนนดีบุก ซอยสุ่นอุทิศ อำเภอ เมือง จังหวัด ภูเก็ต 83000
โทร 076-242-040
เปิดบริการ 13.00 – 18.00 น.
For the map, scroll down to Phuket, then click on "Phuket Street Food" for the location: