Awesome Dishes at Pat Radna Moo Noom (พัฒน์ ราดหน้าหมูนุ่ม) in Bang Kapi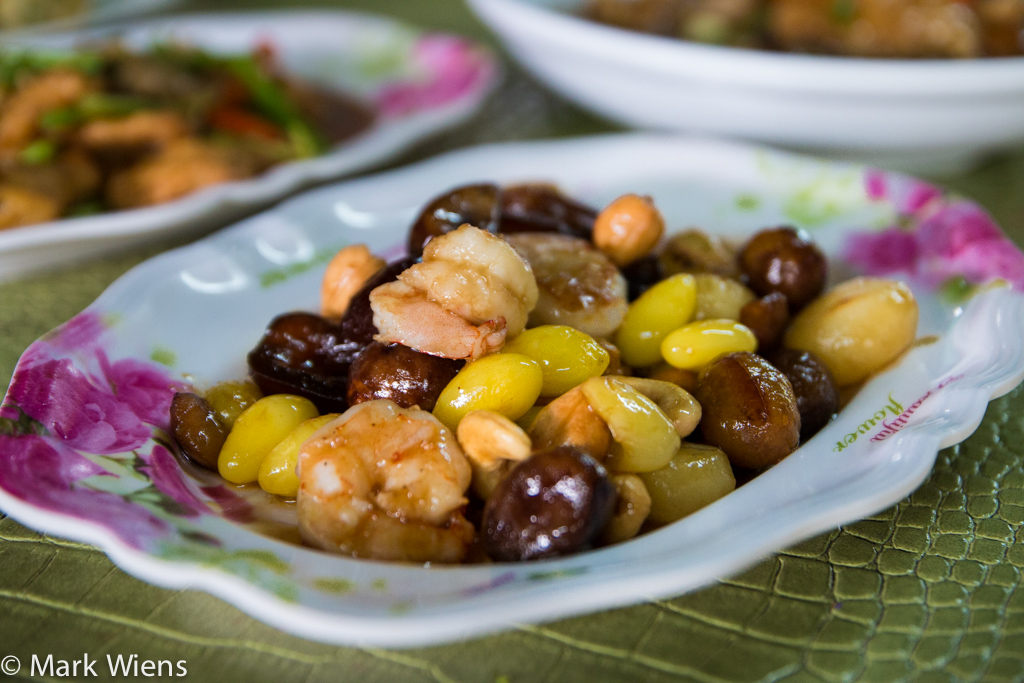 If you're looking for no-frills Thai Chinese stir fry dishes, and if you happen to be in Bang Kapi, Pat Radna Moo Noom (พัฒน์ ราดหน้าหมูนุ่ม) is a restaurant worth checking out.
The tables are wrapped in mellow green snakeskin suede tablecloths, and the restaurant is housed in a tent sheltered by big green trees.
When you approach, smoke that's saturated with the aroma of black bean sauce and garlic will hit your nostrils… and you'll know in you're in a place you want to be.
Pat Radna Moo Noom (พัฒน์ ราดหน้าหมูนุ่ม) is a restaurant that Ying and I recently ate at, located in the Bang Kapi area of Bangkok.
It's positioned, kind of on a side street, and in a sleepy area of town, next to the entrance of a moo baan, or neighborhood, known as Sayna 84 (เสนา 84).
As soon as we approached, I knew it was my kind of restaurant.
The inside is filled with, not street food tables, but more like 70's dining room tables, and of course, those green tables clothes, and then there were some maroon ones as well (like in this photo).
On the right hand side is the the kitchen, and in between the tables and the kitchen is a cardboard wall filled with photos of menu items as well as some photos of famous people and the restaurant chef / owner.
The menu is all in Thai, so it could be a little challenging to order (if you want to order something I didn't cover in this article), if you don't speak Thai.
But that being said, there are some pictures on the wall, that you could point to.
The menu at Pat Radna Moo Noom (พัฒน์ ราดหน้าหมูนุ่ม) has some interesting items, many of them Thai Chinese, and not available at typical Thai restaurants.
I don't rally drink Thai drinks, but Ying had a cup of nam kay kuay (น้ำเก๊กฮวย), chrysanthemum juice. She said it was good, but sweet as usual.
Khao pad kana bao heua (ข้าวผัดคะน้าเป๋าฮื้อ)
Ying was quite excited to order me a plate of khao pad kana bao heua (ข้าวผัดคะน้าเป๋าฮื้อ). Thai fried rice with Chinese broccoli and what was a type of abalone.
Now at a few other Thai restaurants I've eaten what they call bao heua (าเป๋าฮื้อ), and though the translation is abalone, it's sometimes razor clams, but I think this time it really was abalone.
Price – 120 THB
Anyway, the plate of khao pad kana bao heua (ข้าวผัดคะน้าเป๋าฮื้อ) was extraordinary.
And it wasn't just because of the abalone mixed in (though that was an excellent addition), it was because it was fried on a super high fire, slightly charred so it had a smokey flavor, and fried nice and dry.
An extra squeeze of lime and a sprinkle of prik nam pla (chili and fish sauce), and I can honestly say it was one of the best plates of Thai fried rice I've had in a long time.
Cucumber mixed in
One thing interesting that I noticed is that there were little pieces of diced cucumber that they mixed into the fried rice. I didn't even notice until I was a few bites in. The cucumber was diced, and raw, so I think they mixed it in after the rice was cooked.
The cucumber provided a freshness and a crispness with every bite, and it really worked well. That was my first time to see that in Thailand.
I'm going to try that out in the recipe next time.
Radna pla dao si (ราดหน้าปลาเต้าซี่)
Another we tried was their radna pla dao si (ราดหน้าปลาเต้าซี่).
A typical Thai radna is made with wide rice noodles topped in a gravy sauce made with Chinese broccoli and usually pork or chicken, this version at Pat Radna Moo Noom (พัฒน์ ราดหน้าหมูนุ่ม) was a little different.
Price – 80 THB
Dao si (เต้าซี่) in Thai is the name of douchi in Chinese, salted black soy beans.
My mother in Chinese, and growing up, one of my favorite dishes was Cantonese style spareribs cooked in black bean sauce – it's still one of my favorite dishes.
But, black beans sauce is very rare in Thai cooking, only used in Thai Chinese cooking occasionally.
There were wide rice noodles on the bottom, nice and smokey tasting, and the sauce was thick and filled with pieces of fish, mushrooms, carrots, and green onions.
The black bean sauce flavor wasn't too strong, but it was excellent.
Pla pad keun chai (ปลาผัดคึ่นฉ่าย)
One of my go-to Thai Chinese dishes that I eat quite frequently is pla pad keun chai (ปลาผัดคึ่นฉ่าย), fish stir fried with celery leaves and ginger.
It's a pretty basic dish, fried pieces of boneless fish, stir fried up with baby celery, ginger, and sometimes other small veggies like mushrooms, and in this case some red peppers.
Price – 120 THB
While pla pad keun chai (ปลาผัดคึ่นฉ่าย) can sometimes be cooked too salty, it wasn't overly salty at Pat Radna Moo Noom (พัฒน์ ราดหน้าหมูนุ่ม), and was seasoned perfectly.
Nguong kway goong (โหวงก๊วยกุ้ง)
This was a bit of a hard word to transliterate into Roman letters, and even the name of the dish is hard for many Thais to pronounce.
For our final lunch dish, we ordered nguong kway goong (โหวงก๊วยกุ้ง), a dish of shrimp stir fried with gingko nuts, cashew nuts, Chinese dates (jujube), and a few water chestnuts.
It was quite an interesting mixture, all stir fried up and seasoned with a bit of soy sauce and oyster sauce. Again, it wasn't too salty, and I enjoyed the contrasting combination of ingredients.
An interesting, and quite good, dish indeed.
Price – 120
Ying and I had a very satisfying lunch at Pat Radna Moo Noom (พัฒน์ ราดหน้าหมูนุ่ม)!
Pat Radna Moo Noom (พัฒน์ ราดหน้าหมูนุ่ม) is just a small restaurant, but at the front, they go for the up-sell, by selling some bags of pork floss and other Chinese meat jerkies.
Seemed to be working pretty well, as I saw quite a few customers buying some on their way out. Good business strategy… my wife bought some too!
Conclusion
Pat Radna Moo Noom (พัฒน์ ราดหน้าหมูนุ่ม) is a small, no-frills, Thai Chinese restaurant in the Bang Kapi area of Bangkok. The restaurant is off the main road, so it's quiet, peaceful, and shaded by a tent and big trees.
All the dishes we ordered were wonderful, and I especially loved their simple, yet perfect plates of fried rice.
If you're ever near The Mall Bang Kapi and want some local style Thai Chinese food, this is a great spot.
The food and even the menu was quite similar to Ah Ou Bangrak, another restaurant that serves delicious Thai Chinese food with unique items on the menu.
Pat Radna Moo Noom (พัฒน์ ราดหน้าหมูนุ่ม)
Address: Happy Land 1 Yaek 3, Khlong Chan, Bang Kapi, Bangkok
Phone: 086-556-5576
Open hours: 11 am – 9 pm from Saturday – Thursday (closed on Friday)
Prices: Our total bill for 4 dishes came to 440 THB
ที่อยู่ แฮปปี้แลนด์สาย 1 (แฮปปี้แลนด์ 1 แยก 3) คลองจั่น บางกะปิ กรุงเทพมหานคร
โทร. 086-556-5576
เปิดบริการ เสาร์ – พฤหัสบดี ( หยุดทุกวันศุกร์ ) 11:00 – 21:00
How to get there:
Pat Radna Moo Noom (พัฒน์ ราดหน้าหมูนุ่ม) is in Bang Kapi, about 30 minutes from central Bangkok. It's not accessible by any public transportation other than bus, or taxi. The easiest way is to take a taxi directly there, or from Happy Land Market and The Mall Bang Kapi, you can take a rot songthaew to Sayna 84 (เสนา 84).

View Bangkok Eating Thai Food Map in a larger map