Paste Restaurant – Scrumptious Modern Thai Food in Bangkok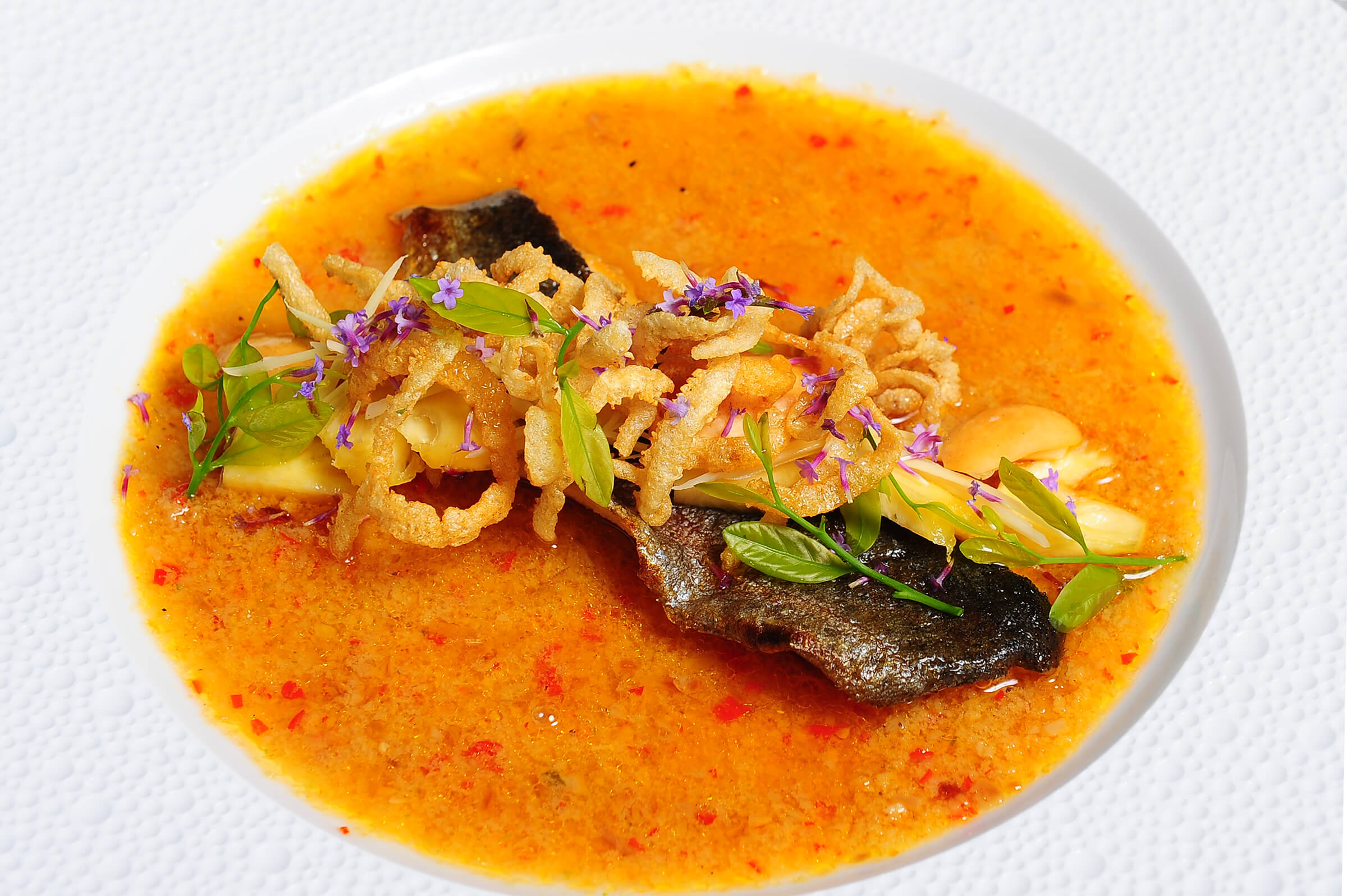 Looking for exciting and marvelously delicious modern Thai food in Bangkok? Paste Restaurant is as far as you need to search.
NOTE: You can read my more recent review of Paste at Gaysorn here.
NOTE: And as of 2018, congratulations to Paste for being awarded a Michelin Star, and to Chef Bee Satongun for being awarded Asia's Best Female Chef 2018 by Asia's 50 Best Restaurants!
What is Modern Thai Food?
The first thing to know about modern Thai food, as Chef Jason and Chef Bee clearly state, is that it's not fusion.
Fusion is the combining of different cuisines; An exaggerated fusion example is Khao Pad American (Thai fried rice with hot dogs). Modern Thai food is not fusion.
The menu at Paste restaurant does include some brilliantly creative combinations, but they are combinations within the Thai food sphere, not extending into other cuisines.
Modern Thai food is an extension of Thai cuisine, it's the high end, high quality version of Thai food.
Modern Thai food is also not just about decoration. There are plenty of high end Thai restaurants in Bangkok that prepare normal Thai food, then present it artfully, and charge high prices. That's not what Paste is about, and while they are experts in presentation, their main focus is on ingredients, flavor perfection and remaining fully Thai yet with a modern take.
Using only super high quality ingredients (often local and organic), paying meticulous attention to fine preparation details, and taking ultimate care in cooking techniques (most of which have been researched far into the culinary history of Thailand), modern Thai food comes into existence.
One thing the chef duo at Paste don't compromise is flavor. Dishes are never compromised to weaken the flavors intended, but are instead packed with natural flavors that will elevate your taste buds to new levels – they way they are supposed to.
So, on to the amazing dishes I ate…
Seng Wa Goong Pao (แสร้งว่ากุ้งเผา)
My first bite was a dish called Seng Wa Goong Pao (แสร้งว่ากุ้งเผา) – a dish that's rare to find in Thailand nowadays, but always rings a bell for Thais who associate it as a Royal Thai dish.
Wild ocean king prawns, crispy catfish (similar to yam pla duk foo), lemongrass, young ginger, and a variety of different herbs were the main ingredients.
But rather than being dressed in normal lime juice like nearly all Thai salads, this dish only used kaffir lime juice mixed with a hint of mandarin juice.
The diversity of textures, the herbs, the perfectly cooked shrimp, and the kaffir lime juice made their Seng Wa Goong Pao (แสร้งว่ากุ้งเผา) banging with zesty flavor.
Price: 420 THB
Master stock poached organic pork
One of Paste Restaurants signature dishes is their master stock poached organic pork (หมูตุ๋นเสริฟ์กับเกรฟฟรุ๊ตและดอกไม้ไทย).
If you can't already conclude from the close up photo of this pork, let me tell you that it was nothing short of stunning.
From the inside to the outside, the pork was saturated in flavor. It came on a plate with a light salad consisting of  basil, cilantro, red grapefruit, avocado, toasted rice, and local flowers.
Price: 380 THB
Steamed seabass in turmeric, logan honey, and fennel
To round things up, we had the wild sea bass which was steamed and smothered in an insanely delicious sauce made from turmeric, logan honey, and fennel. Crispy shallots and hair-thin shaved kaffir lime leaves added a brilliant finishing touch.
The fish was the perfect consistency, and the sauce was heavenly – not heavy like a curry – but lighter and packed with flavor.
Their rice is no ordinary rice; It's steamed in water that's been soaked overnight with organic jasmine flowers to create a superb fragrance. I was a very happy diner!
The Bottom Line
Chef Jason and Chef Bee are delivering top notch modern Thai food in Bangkok at Paste, and their passion shines through their cooking.
They serve a menu of incredibly tasty dishes that are creatively prepared and focus on delivering all flavors, layered and balanced in perfect harmony, and packed with a complexity of fresh and lively ingredients.
Paste Restaurant is a special treat for anyone that loves Thai food, and I personally would highly recommend it. You'll be amazed at the flavors and combinations you experience at Paste.
Paste Restaurant Bangkok
Prices: Expect to pay around 600 – 1000 THB per person for a truly memorable meal, they also have a full menu of cocktails and wines
Reservations: +66(0)2 656 1003 or [email protected]
Website: http://pastebangkok.com/
Address: 3rd Floor, Gaysorn, 999 Ploenchit Rd., Lumpini, Bangkok
Open Hours: Lunch Monday – Sunday 12.00 pm – 2:00 pm, and Dinner Monday – Sunday 6:300 pm – 11:00 pm
NOTE (March 2016): The former Thong Lo branch of Paste is NO longer open. Their main branch is now located at Gaysorn Shopping Centre.
How to get there:
By public transportation, take the BTS skytrain to Chit Lom station, exit on the skywalk and walk to Gaysorn Shopping Centre. Paste is located on the 3rd floor.