Paknam Krabi Seafood: Halal Restaurant in Krabi Town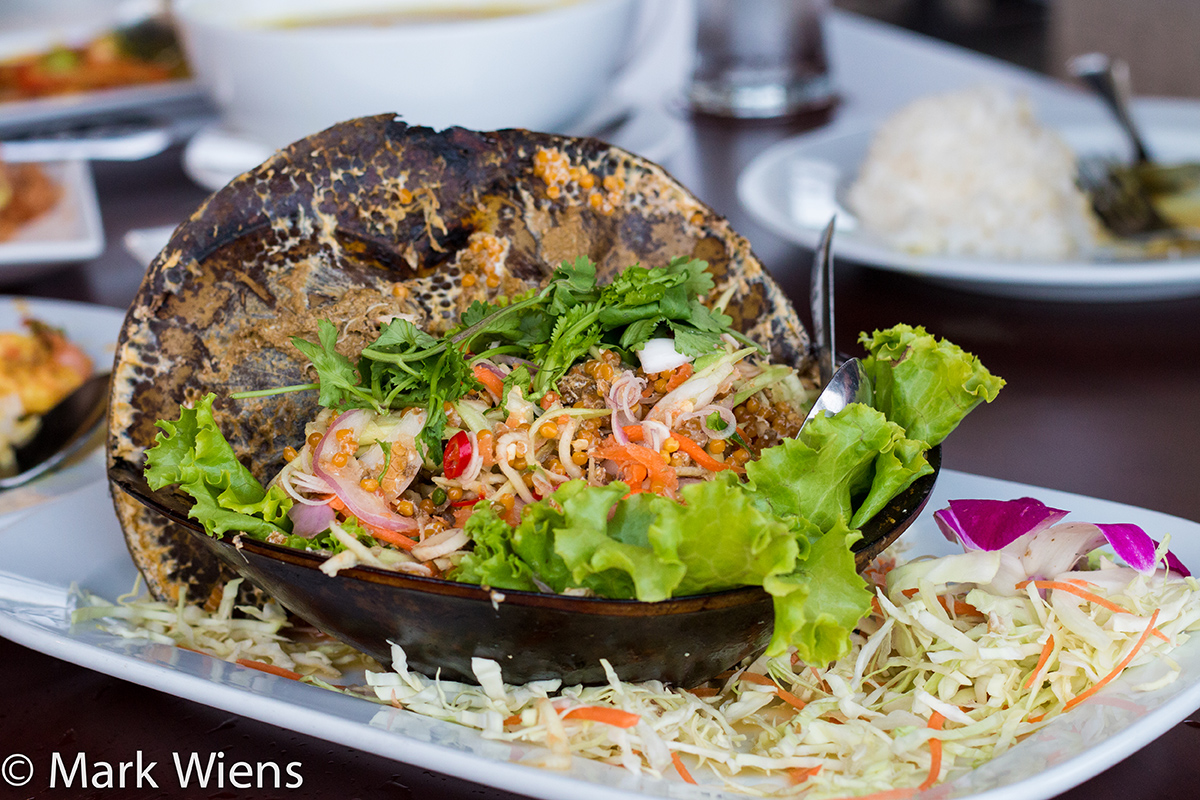 Krabi, with its mix of beaches, islands, waterfalls, seafood, and southern Thai food, is one of my favorite provinces in Thailand… it also happens to be where my wife is from.
A lot has been changing and developing in Krabi over the last few years, and many new restaurants have opened.
Krabi Paknam Seafood (ปากน้ำกระบี่ซีฟู๊ด), located across the street from Krabi Front Bay Resort*, is a seafood restaurant that serves strictly Halal food.
One evening, on a special occasion, my wife and I decided to check it out, ready to devour some fresh seafood.
Atmosphere of the restaurant
One of the best things about eating at Paknam Krabi Seafood (ปากน้ำกระบี่ซีฟู๊ด) restaurant, along with local seafood, is the atmosphere.
The restaurant is located along the Krabi river, right towards the mouth of the ocean.
The dining room patio is huge and spacious, so it's overall a very nice place to hang out, enjoy the fresh air, and the sea breeze.
Just keep in mind, the restaurant is fully Halal, so no alcoholic beverages are served – it's not the place to go if you're wanting to go for a drink and the sunset.
That being said, food and sunset goes quite well together too.
The menu
On the menu at Paknam Krabi Seafood restaurant you'll find the full range of southern Thai seafood dishes – from crab to fish to prawns, it's all available.
The menu is neatly laid out with photos, and it's written in both English and Thai so it's very convenient to order.
The owner also mentioned that all the seafood she serves is caught fresh from the ocean, none of it is farmed.
Some of the seafood catch of the day is available fresh and alive in swimming pools at the front of the restaurant.
If you're looking for really fresh seafood, you can take a look at what's available, and choose from there.
Horseshoe crabs not only look cool and unique, they also taste pretty awesome too (more about this below).
Goong pad phet sataw (กุ้งผัดเผ็ดสะตอ)
As you may already know, stink beans (also known as petai) are easily one of my favorite things to eat in the world.
So any chance I get to order them, I do…
And when I'm in the south of Thailand that means I eat stink beans nearly every single day, sometimes even multiple times per day.
We ordered goong pad sataw pad phet, a style of stink beans fried with southern Thai curry paste, which is notably orange in color from turmeric.
Price – 180 THB
The dish included awesomely meaty shrimp, a good amount of stink beans, fresh green peppercorns, basil, and a sauce of curry paste enriched with a splash of buttery coconut milk.
The shrimp were very fresh and pretty good size, with a wonderful fleshy and firm texture. The curry was slightly spicy with an excellent undertone of spices from the curry paste.
What I really liked was the splash of coconut milk in the curry which gave it a creamy texture with a hint of natural sweetness.
Overall, it was a very satisfying and a high quality plate of goong pad sataw.
Yam goong foo (ยำกุ้งฟู)
One of the most popular dishes in Thailand is yam pla duk foo – puffy fried catfish fluff. The catfish is minced, then deep fried into a huge pile of deep fried-ness, and served with sour green mango salad on the side.
Yam goong foo (ยำกุ้งฟู) is the exact same idea, except made with shrimp instead of catfish.
I'm not sure exactly how they fried the shrimp, or if they used batter in this recipe, but it was pretty tasty. The little morsels of puffy shrimp were crispy and light.
For this dish, they served the green mango salad on the bottom, and topped it with all the little morsels of goong foo (shrimp fluff).
The contrast of textures is what really made this good for me.
Pad pak liang pad kai (ผัดผักเหลียงไข่)
Pak liang, known in English as melinjo, is a leafy vegetable that's difficult to find outside of the south of Thailand.
But in the south of Thailand it's one of the most praised and popular vegetables… and once again, it's one of my favorite vegetables.
Typically in southern Thailand pak liang is stir fried with egg.
The pak liang pad kai (ผัดผักเหลียงไข่) at Paknam Krabi Seafood restaurant was alright, but not the best I've had.
The vegetable was fresh and the egg was good, but for me it was too moist. It's typically stir fried on a hotter heat so it's dry and slightly smoky, without being watery.
Still worth ordering and eating, but not the best version I've had.
Price – 130 THB
Gaeng som aw dip (แกงส้มออดิบ)
Another southern Thai dish giant, and something I eat when I'm at home in Thailand just about every day, is gaeng som (แกงส้ม), southern Thai sour curry soup.
We ordered gaeng som with fish and with aw dip (ออดิบ), taro stems.
The gaeng som was a little sour and spicy, but not overly so, and it was really rich and oily from the barramundi fish used.
I really liked the aw dip (ออดิบ), the taro stems – they were juicy, sort of crisp, and soaked up so much of the soup – so with every bite, the broth came gushing out.
Price – 180 THB
Yam kai meng da (ยำไข่แมงดา)
For our final dish, and sort of our splurge dish, since my wife and I ate here on a special occasion, we ordered yam kai meng da (ยำไข่แมงดา), a salad made with horseshoe crab.
The alien looking creature has always been a favorite for my wife, as she's originally from Krabi, and apart from being available at larger seafood markets and restaurants, this dish is not commonly found in Bangkok.
Price – 380 THB
One of the most common ways horseshoe crab is prepared in Thailand is in a salad known as yam kai meng da (ยำไข่แมงดา) – which is a salad made from the eggs of the horseshoe crab.
The eggs are housed in the bottom of the shell, and to prepare the salad, the crab is steamed, then the inside eggs are mixed with slivers of green mango, shallots, cilantro, and a dressing of lime juice, chilies, and fish sauce.
The little pellets of horseshoe crab eggs kind of taste like little tiny egg yolks. They are rich and creamy and have that starchy dry texture.
Ying and I were both pretty happy with our plate of yam kai meng da (ยำไข่แมงดา) – not only was it a huge crab, but the salad ingredients were nice and fresh, and the taste of the salad was nicely balanced – sour, spicy, salty, and a bit sweet.
Along with being unique and awesome looking creatures, horseshoe crabs are also important in the medical world, which I think is pretty cool, and I think about every time I eat them.
Khua kling neau (เนื้อคั่วกลิ้ง)
We returned for another meal at Paknam Krabi Seafood, and this time I ordred khua kling neau (เนื้อคั่วกลิ้ง), southern Thai dry minced meat curry with beef.
Despite it not being seafood, I did really like it – the meat was nice and lean, with a perfect amount of curry paste coating each piece of minced meat in flavor.
I also liked the sliced garlic and green peppercorns within.
Panang goong (แพนงกุ้ง)
We also tried the panang goong (แพนงกุ้ง), shrimp in a Thai panang curry sauce.
The shrimp were good size and butterfly cut, within a fantastic panang sauce that was rich and nutty, and which was much less sweet from a typical Bangkok version.
I liked that sprinkle of coconut cream on top, and the finely shaved kaffir lime leaves.
Conclusion
Paknam Krabi Seafood is halal restaurant in Krabi, Thailand, connected to the Krabi Front Bay Resort*, and located on the edge of the Krabi river.
Their menu includes mostly southern Thai seafood dishes, but if you don't eat seafood, they also have plenty of other options including beef and chicken.
The seafood we ordered at the restaurant was very fresh, and I thought overall the dishes we ordered were very good. Probably my favorite dish was their goong pad sataw, and also the splurge on the horseshoe crab salad(ยำไข่แมงดา).
For a higher end southern Thai seafood meal that serves a strict menu of Halal food, Paknam Krabi Seafood is a great restaurant to eat at in Krabi.
Paknam Krabi Seafood (ปากน้ำกระบี่ซีฟู๊ด) – Krabi Thailand
Address: 140 หมู่ 7 ตำบลไสไทย อำเภอ เมือง จังหวัด กระบี่ 81000
Phone: 081-8949454 ,094-9649293
Prices: Typical dishes are around 180 – 300 THB, but more for fish or bigger seafood dishes
How to get there: 140 Moo 7 Tambon Sai Thai, Krabi 81000
เปิดบริการทุกวัน 11.00 – 22.00 น.