Mae Hae (ร้านแม่แห) – Northern Thai Food at its Best in Lampang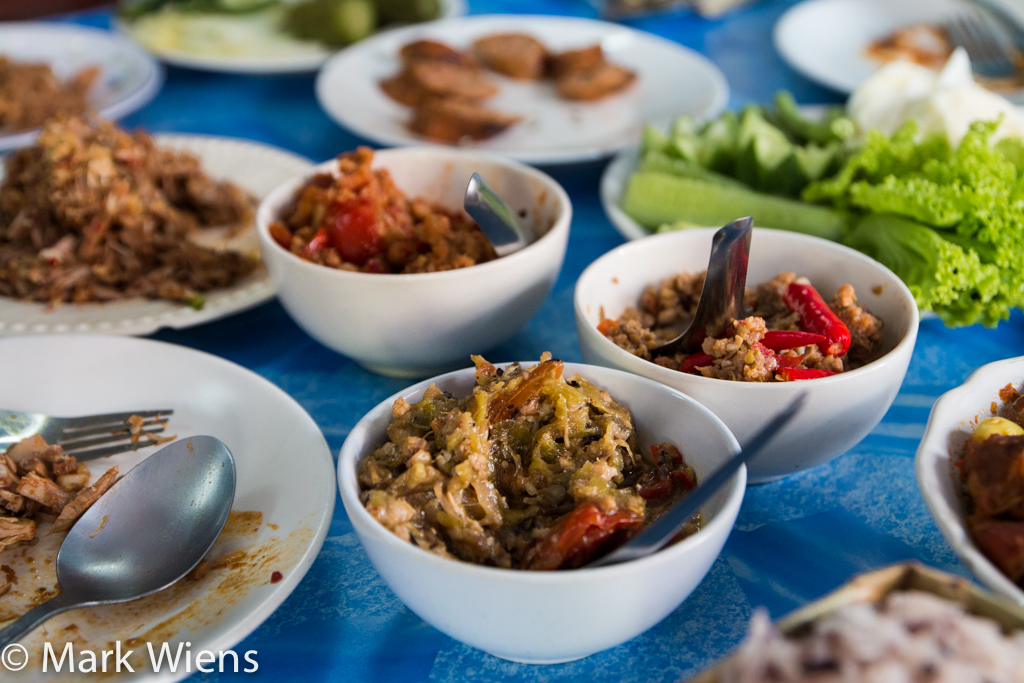 Do you love northern Thai food?
Northern Thai food has been one of my favorite regional varieties of Thai cuisine for a long time now.
Unfortunately, the northern Thai food I've had in Bangkok just doesn't even compare to what's available in northern Thailand… like in Lampang.
Lampang is a city (and province) I had wanted to visit for a long time, so while Ying and I were in the north, we stopped in Lampang for a couple weeks – and I could not wait to eat.
Mae Hae (ร้านแม่แห) is a restaurant that has preserved the original flavors of northern Thai "Lanna" cuisine.
In Lampang, the restaurant has reached near legendary status, having been serving some of the best home-cooked style local food for over 50 years now.
They are known for serving old-style northern Thai food – not the toned down, or healthier version of some northern Thai food you'll find today – but the real deal, packed with flavor and smokiness, and HEAVY on the pork!
Mae Hae (ร้านแม่แห) is a khao gaeng restaurant, where all the curries and dishes are pre-cooked, and arranged on display to be ordered.
Along with the food itself, one of my favorite things in the world, are the restaurant and street food display cabinets (might be a little strange, but I really love them).
The food display cabinet at Mae Hae (ร้านแม่แห) was huge, like a big box, almost like a little furnished house, with all the different soups and curries arranged inside.
Let's move into the food…
Gaeng hunglay (แกงฮังเล)
I'm going to begin with the gaeng hunglay (แกงฮังเล), one of the most well known northern Thai dishes, because I can hardly control my excitement to share it with you.
I've had many bowls of gaeng hunglay (แกงฮังเล) throughout my time in Thailand, from Chiang Rai to Chiang Mai, but this version at Mae Hae (ร้านแม่แห) in Lampang, was without doubt one of stand-out versions I've ever had.
The tender hunks of meat, which were mostly cubes of pork belly, were tender and juicy.
The gravy, was thick and rich, not too sweet like some versions, but instead it was nicely gingery, with fall-apart tender shallots and pickled cloves of garlic that were dripping in flavor, with a sourness from tamarind.
Seriously, if you have a chance to eat at Mae Hae (ร้านแม่แห) in Lampang, you'll want to eat many different dishes, but by all means, don't miss the gaeng hunglay (แกงฮังเล).
Moo ob (หมูอบ)
Our plate of moo ob (หมูอบ), or baked pork, included thin boneless lean meat pork steaks, stacked with flavor.
I'm not exactly sure what the the pork all included, but as with everything else, it was delicious.
The pork almost tasted to me like it was honey glazed, thin sliced pork chops, with a ginger and garlic aroma to it.
I thought it was very good, but not in comparison to the other more spice filled dishes of this meal.
Sai ua (ไส้อั่ว)
Along with all the curries and precooked dishes, another thing Mae Hae is known for, is her version of sai ua (ไส้อั่ว), the northern Thai herb sausage.
The sausage was smokier than any other sai ua (ไส้อั่ว) I had ever eaten.
And after Mae, the motherly owner of the restaurant, allowed me to go back into the kitchen to see the sausage being cooked, I found out why – they grill it using dry coconut husks – so the sausage is literally bathed in enriching smoke.
The sai ua (ไส้อั่ว) was awesome, and I was lucky to get it while it was hot and fresh off the fire.
What I liked most about their version of this delicious northern Thai sausage, was that it wasn't as fatty as some I've had, and it was nicely flavored with lemongrass, and that smokiness was ridiculously good.
Gaeng ho (แกงโฮ๊ะ)
I've had some mediocre versions of gaeng ho, but Mae Hae was NOT one of them.
Gaeng ho (แกงโฮ๊ะ) is a very popular local northern Thai dish of mung bean noodles, stir fried with a few small veggies, maybe some extra pork, and flavored with leftover curry – in this case, at Mae Hae (ร้านแม่แห), they always use gaeng hanglay (แกงฮังเล), which as I've already mentioned, was one of the best I've had.
So the gaeng ho (แกงโฮ๊ะ) was kind of like spaghetti flavored with the rich curry sauce, and it was marvelous.
Tam kanun (ตำขนุน)
Another dish I can't resist eating at nearly every northern Thai restaurant I ever eat at, is tam kanun (ตำขนุน), a dish of shredded young jackfruit, seasoned with chilies, garlic, and shallots.
I kind of think of tam kanun (ตำขนุน) as a northern Thai potato salad, but instead of mayonnaise, the dressing is dry chilies and deep fried morsels of fragrant shallots and garlic.
The jackfruit was tender and creamy, and the balance of seasoning and chili spice was perfect.
I'm a huge lover of jackfruit salad.
Nam prik ong (น้ำพริกอ่อง)
A meal in northern Thailand, no matter how many dishes you have on the table, wouldn't be complete without some nam prik – Thai chili sauces.
Nam prik ong (น้ำพริกอ่อง), the tomatoey minced pork version, is a popular choice.
At Mae Hae (ร้านแม่แห) the nam prik ong (น้ำพริกอ่อง) was chunky and meaty, tart from the tomatoes, with just a hint of sweetness.
Nam prik noom (น้ำพริกหนุ่ม)
But one of my favorite northern Thai nam prik is nam prik noom (น้ำพริกหนุ่ม), roasted green chili sauce.
Much of the time in northern Thailand, and even in the markets of Lampang, nam prik noom (น้ำพริกหนุ่ม) is simply a combination of blister roasted green chilies, peeled, and pounded, and seasoned with fish sauce.
At Mae Hae (ร้านแม่แห), they went the extra mile and included minced pork in their recipe, which I have to admit did taste pretty fantastic, but it was a little heavier and oilier than usual.
I did enjoy it, but perhaps with all the rest of the oily and meaty dishes, it was a little heavy.
Nam prik makam (น้ำพริกมะขาม)
The nam prik makam (น้ำพริกมะขาม), a chili dip made with green tamarind, was also good.
It was sour from the unripe tamarind, slightly sweet, and of course, it included pork!
Along with all the chili dips, we had a plate of boiled vegetables – eggplant, longbeans, napa cabbage, and sesbania grandiflora flowers.
Before going into Mae Hae (ร้านแม่แห), Ying and I were both extremely hungry, as we had saved our appetite in anticipation of the glories of a northern Thai feast.
After finishing our meal, we were stuffed to say the least, and I waddled out, extremely happy and satisfied.
Conclusion
The province and city of Lampang is located in northern Thailand, about an hour from Chiang Mai.
Mae Hae (ร้านแม่แห) is one of the most locally famous restaurants that serves northern Thai food in the heart of the city, and when I was there, I was not going to miss a meal there.
The food at Mae Hae (ร้านแม่แห) exceeded my expectations, each dish was fantastically flavored, nicely spiced, and there's no denying it was heavy on the pork and grease – but so incredibly good.
Although everything was delicious, the gaeng hanglay (แกงฮังเล) was probably my favorite dish of the meal.
If you're in Lampang, Mae Hae (ร้านแม่แห) is a must.
Mae Hae (ร้านแม่แห)
Address: 1017 Thanon Upparaj, Tambon, Lampang, 52100
Phone number: 054-221904
Open hours: 11 am – 8 pm daily
Prices: All dishes range in price from 30 – 50 THB per bowl / portion
ที่อยู่ 1017 ถนนอุปราช ตำบล สวนดอก อำเภอเมืองลำปาง จังหวัดลำปาง 52100
โทร. 054-221904
เปิดบริการ ทุกวัน 11.00 – 20.00 น.
How to get there:
Most of central Lampang is within walking distance, and Mae Hae (ร้านแม่แห) is right in the central part of the city, not far from many guest houses and hotels, right on Upparaj – a small street.
On the map, scroll down to "Northern Thailand," then click on "Mae Hae" to highlight the location.