Superb Northern Thai Food in Bangkok: Man Muang (ม่านเมือง)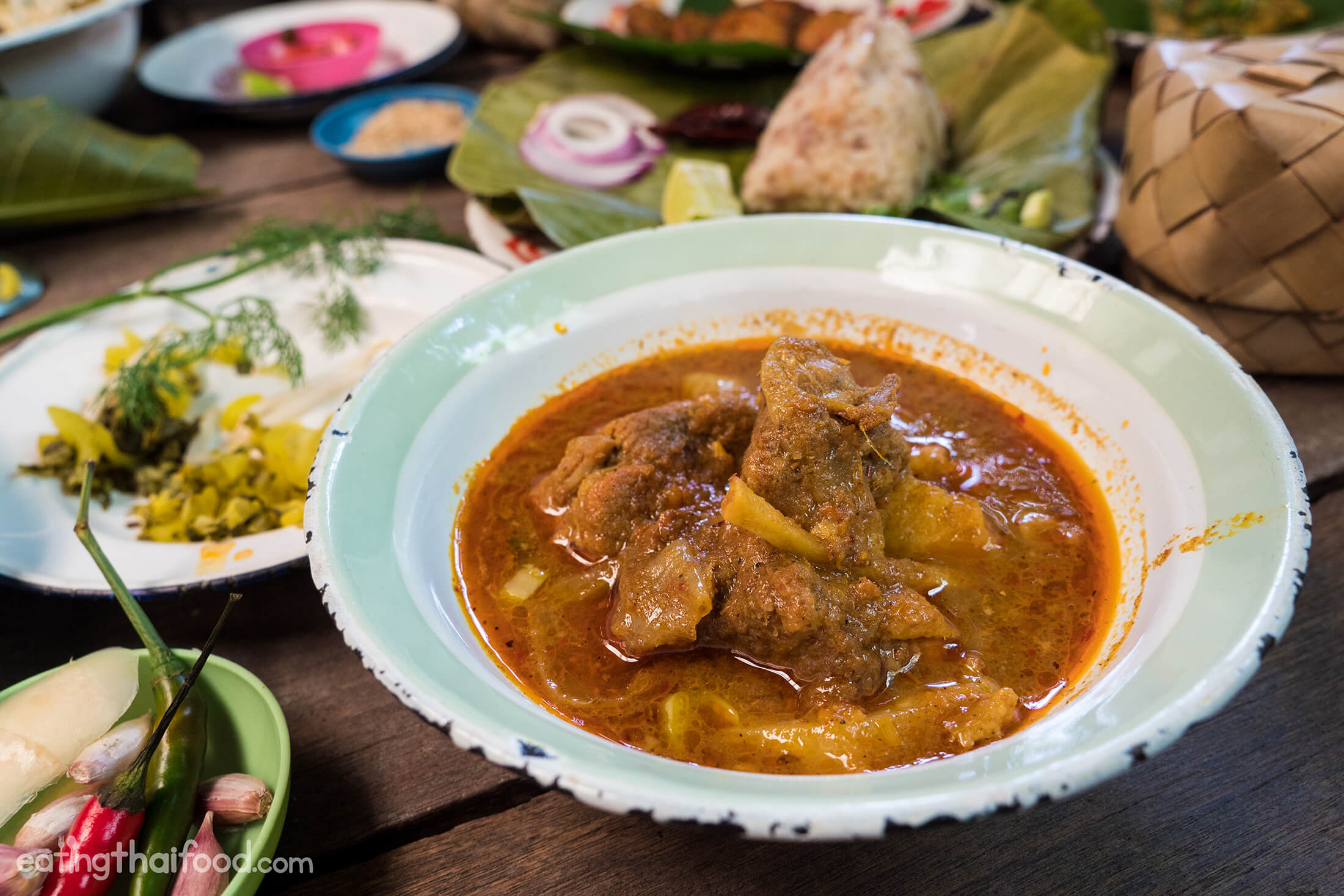 Good northern Thai food is not that easy to find in Bangkok.
But just like I love food from southern Thailand, I also love the food almost equally from northern Thailand.
So when Ying (my wife) told me she knew about a northern Thai food restaurant on the outskirts of Bangkok, I was thrilled to go immediately.
It turned out to be probably one of the best northern Thai food meals I've ever had in Bangkok.
Here's what we ate:
Man Muang (ร้านม่านเมือง) – Lanna Food
First, before we get into the food, let me just say a word about the location and atmosphere of the restaurant.
Man Muang (ร้านม่านเมือง) is located quite a distance from central Bangkok. From my house near Bang Na, it took us about 45 minutes to get there and cost about 300 THB in a taxi.
The restaurant is located out on Ramkhamhaeng Soi 112, then within the neighborhood a bit. It's a really nice upscale neighborhood and you'll pass a couple lakes getting there.
But keep going through the neighborhood and eventually you'll come to Sammakon Soi 16. The restaurant is right on the corner, and it feels like you're way into the countryside.
The restaurant itself is situated in an old wooden house, open air, and surrounded by lush plants and banana trees.
Along with being within an old wooden house, the restaurant is also decorated with old Thai traditional antiques like plates and food utensils – many things that many Thais would remember from years ago.
I believe most of the antiques on display were also for sale.
They did a really good job at decorating the restaurant, making it have an old northern Thai feel, yet not compromising the decoration of the restaurant for the delicious food – delicious food was still their priority.
The menu included many of the most famous and most popular northern Thai Lanna dishes. Everything looked amazing.
But along with the menu, most of the dishes served at the restaurant were all prepared, in curry style like northern Thai food is typically served.
So you can take a peek up at the front of the restaurant to see which dishes are available and order from up front as well.
Cha yen (ชาเย็น)
As soon as my wife took her first sip of cha yen (ชาเย็น), she told me I needed to taste it because it was so good.
I don't really care for all the Thai sweet drinks too much, but I have to admit that it was pretty good.
The tea had a nice stronger flavor than usual, and it was still sweet, but the tea came through much stronger. It was also really nice and creamy, almost like melted ice cream.
If you love Thai iced tea, don't miss it here.
Price – 30 THB
Khao soi gai (ข้าวซอยไก่)
I started off with a bowl of khao soi gai (ข้าวซอยไก่), one of the standard northern Thai dishes. I do enjoy a good bowl of khao soi, but it has to be a very good version – I'm not a fan of versions of khao soi that are sweet and oily.
So I mainly wanted to try the khao soi at Man Muang (ร้านม่านเมือง) because I was curious how it was.
Great khao soi in Bangkok!
Man Muang (ร้านม่านเมือง)
It turned out to be very good. Not the best I've had, which still belongs to Lampang, but overall, especially for a northern Thai restaurant (not specializing in only khao soi), it was very good.
The egg noodles were nice and al-dente, and the curry was not sweet, but nice and creamy yet not overly oily, and had a pleasant dry curry powder flavor to it.
But what really made the bowl of khao soi gai (ข้าวซอยไก่) good for me, was the prik pao, Thai dry chilies, deep fried, then pounded into a flaky sauce.
It was incredibly good. It was nice and spicy, with a dry roasted flavor to it – and not with any sweetness – this was just harsh, spicy, and smoky.
After adding a few spoons of the prik pao to my bowl of curry noodles, it was incredibly good.
If you're looking for a pretty good bowl of khao soi gai (ข้าวซอยไก่) in Bangkok, this is a good place to start.
Price – 55 THB
Gaeng hanglay (แกงฮังเล) – northern Thai curry
There was also pineapple in their recipe
Gaeng hanglay (แกงฮังเล)
Another popular northern Thai dish is gaeng hanglay (แกงฮังเล), a pork curry.
Unlike other versions I've had, this one included some pineapple as an ingredient, giving it a lovely citrusy sweet and sour flavor, along with the thick flavorful gravy of the curry.
The chunks of pork were incredibly tender, and not dried out, but moist, and just packed full of the curry. The flavor of the gaeng hanglay (แกงฮังเล) was excellent.
I guess my only complain, just a personal one, was that we ordered two bowls. And for the first bowl it was almost all meat, but the second bowl had a lot of fat chunks in it. So maybe ask for just meat if that's what you prefer.
Price – 70 THB
Gai neung (ไก่นึ่ง)
On the menu they just called it gai neung (ไก่นึ่ง), which would be just a steamed piece of chicken, but it was far more than just that.
The chicken, which included a drumstick and thigh, was steamed and topped in a heaping amount of curry paste, spices, and herbs.
I'm guessing the curry paste was steamed on top of the chicken so the spices seeped into the meat.
I had to actually dig for a little bit with my spoon to even get to the piece of chicken – the curry paste was literally about a centimeter thick!
The curry paste wasn't too spicy in chili heat, but it was incredibly aromatic and flavorful. I'm not sure what was all in it, but I think I could taste turmeric, shallots, garlic, and lots of finely shaved kaffir lime leaves.
For the chicken, it was a country style chicken. Not one of the overly fat juicy ones. But it had some good texture to it, and a real chicken flavor.
This was one of my favorite dishes at Man Muang (ร้านม่านเมือง), and it's something I would not miss if I eat there again.
Price – 150 THB
Aeb pla (แอบปลา)
When I'm in northern Thailand, one thing I can't get enough of, and I eat it probably everyday (as long as I can find it), it aeb (แอบ), a little packet of fish or meat with curry paste grilled in a banana leaf wrapper.
If you're interested, here's a recipe for it.
They had a number of versions available, including aeb samong moo, made with pig brains, but I decided to go for my favorite version, aeb pla (แอบปลา), made with fish.
Just the like rest of the food so far, it was excellent. The fish was nice and moist and oily (I think it was tilapia), and the curry paste was mild yet flavorful, and had a creamy custardy texture to it.
Along with fresh hot sticky rice, it's hard to beat a good aeb pla (แอบปลา).
Price – 60 THB
Khao kan jeen (ข้าวกั้นจิ้น)
Another hard to find dish in Bangkok, that's popular in northern Thailand is khao kan jeen (ข้าวกั้นจิ้น), a packet of rice and usually pig's blood, steamed in a banana leaf packet and served with some toppings on the side.
This version I think didn't have blood (which is why it was white in color and not dark brown), so it sort of lacked that rich component to bring the grains of rice together.
The rice was served with deep fried dry chilies, deep fried garlic, onions, cilantro and green onions, and a wedge of lime, all to be eaten with bites of the rice.
The khao kan jeen (ข้าวกั้นจิ้น), was alright, but perhaps it was just a different style than the versions I've had most typically in northern Thailand.
Price – 40 THB
Sai ua (ไส้อั่ว)
Finally, yet another northern Thai food that's a must eat when you have a northern Thai meal is sai ua (ไส้อั่ว), herb filled sausage.
The sausage at Man Muang (ร้านม่านเมือง) was pretty decent. It had a good ratio of meat to fat, and was fragrant with lemongrass, galangal, and some chilies.
It was also served with slices of young ginger, which were juicy and refreshing with every bite of sausage.
Price – 70 THB
Total price
There were three of us who ate, and we had all these dishes, plus 2 bowls of khao soi, and 2 bowls of gaeng hanglay, and sticky rice, and our total bill came to 641 THB.
The portions are not huge, so you can order a variety of different dishes to share with your table.
If you have a few minutes, watch the entire video of this meal below:
(Of you can watch it on YouTube here)
Conclusion
I can't say that Man Muang (ร้านม่านเมือง) has the best northern Thai food in Bangkok, but for the moment I can definitely say that it's some of the best northern Thai food I've had in Bangkok.
Everything we ordered was really good, and if I hadn't known we were in Bangkok, I could have easily been fooled (from both the food and atmosphere) into thinking we were somewhere in northern Thailand.
If you're looking for an authentic northern Thai food restaurant in Bangkok, it's worth the effort to make a trip out to Man Muang (ร้านม่านเมือง).
Man Muang Restaurant (ร้านม่านเมือง)
Address: Thanon Ramkhamhaeng 112, Sammakon Soi 16
Open hours: 9 am – 8 pm daily
Phone: 081-9133413
Prices: Portions are a little small for the price, but for the quality and flavor of authentic northern Thai food it's well worth the price. Expect to pay around 150 – 250 THB per person for a spread of dishes like we ordered.
ที่อยู่ ถนน รามคำแหง 112 สัมมากร 1 ซอย 16 สะพานสูง กรุงเทพมหานคร 10240
โทร. 081-9133413
ปิดทุกวันอังคาร ร้านเปิด 9.00 – 20.00 น
How to get there: From central Bangkok, there's actually no real good way to get to Man Muang (ร้านม่านเมือง), other than to take a taxi directly there. Should take about 45 minutes or so, and cost anywhere from about 200 – 300 THB.