New Peng Chieng (นิวเปงเชียง), for Authentic Teochew Food in Bangkok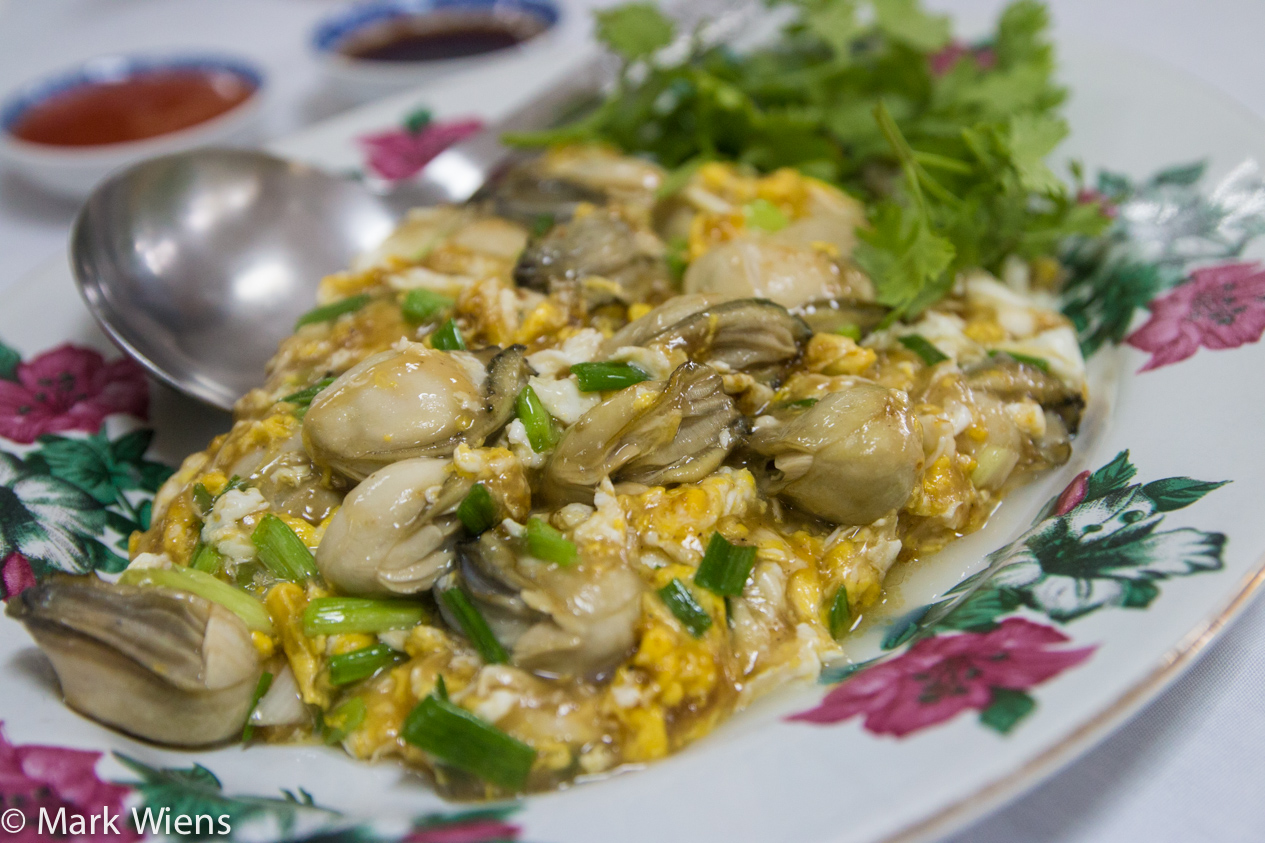 A while back I wrote about one of my favorite Chinese restaurants in Silom, and Tara, a reader, commented on the article suggesting I try a famous Teochew restaurant in town.
She mentioned that her father was Teochew from Singapore (now) and that everytime her family would come to Bangkok, New Peng Chieng (นิวเปงเชียง), was one of their families must eat at spots.
As you can imagine, I was pretty excited for a long time to try out New Peng Chieng (นิวเปงเชียง), but due to my traveling schedule, I didn't make it until a few weeks ago.
And I'm glad I did!
Step into New Peng Chieng (นิวเปงเชียง) restaurant, and it feels like you've gone to China – they have giant round tables covered in white tableclothes, lazy susan's, and most importantly, big plates of awesome looking food.
Now I don't know a lot about traditional Teochew food (most of my Chinese eating is Cantonese), but after eating at this restaurant I did do a little research.
Teochew food is known for being quite healthy, less oily, and less salty, than many other types of regional Chinese cuisine. It's also famous for using fresh ingredients – both vegetables and meats – and for just being good comfort style food.
The menu was in Thai and Chinese, I'm not actually sure if they had an English menu or not. But the staff all seemed to be quite friendly, so you shouldn't have a problem ordering.
There were only three of us eating, and though I wanted to sample the entire menu, I tried to restrain my order… so we ordered 5 different dishes in total.
One of the house specialities at New Peng Chieng (นิวเปงเชียง) is Gai Chae Lao (ไก่แช่เหล้า), the Teochew style of boiled chicken, seasoned with liquor, and served cold.
As soon as the plate came to our table, I got a nice whiff of liquor, but I couldn't actually taste it that much.
Price – 260 บาท
The chicken itself was a little on the boney side, but you just got to love those Chinese style free roaming chickens – they maybe be bony, but they are so packed with flavor and texture.
Along with the fermented soybean sauce, which wasn't too salty, the cold boiled chicken was beautiful.
Just look at those layers!
I actually, peeled off most of the skin myself – I'm not much of a fan of boiled skin. But the meat itself was almost duck-like, and had just a hint of liquor flavor to it.
Then came the dish that stole my heart… their version of Or Suan (ออส่วน), an oyster omelet.
Price – 300 THB
At many Thai seafood restaurants, Or Suan (ออส่วน) is often served on a sizzling platter, and quite a greasy dish.
But at New Peng Chieng (นิวเปงเชียง) it was quite non-greasy, and they used just the right amount starch to egg ratio, plus those luscious meaty oyster on top. I could taste the breath of the wok in every bite. It was outstanding!
I loved it.
For good measure, we also got a plate of khao pad boo (ข้าวผัดปู), crab fried rice.
Again, it was excellent, not too salty, and fried nice and dry – meaning they used an extremely hot wok yet made sure not to burn it.
Price – 200 THB
We also ordered a plate of khanom jeeb Teochew (ขนมจีบแต้จิ๋ว), steamed dumpling filled with a mixture, of what I think was a bit of pork and bamboo shoots.
Price – 200 THB
The khanom jeep Teochew (ขนมจีบแต้จิ๋ว) were served incredibly hot, right out of the steamer, and what I liked most about them was that they were topped with a generous amount of deep fried garlic and a bit of the fragrant oil it was fried in.
For our noodle dish, we got pad mee Hokkien (ผัดหมี่ฮกเกี๋ยน), stir fried noodles with bits of shrimp, ham, and bean sprouts. The noodles had a hint of sweetness to them, but they weren't all that flavorful. Good, but not my favorite dish of the meal.
Price – 200
With so much food on the table, I had nearly forgotten about the final trophy dish we ordered: pla gow neung see ew (ปลาเก๋านึ่งซีอิ๊ว), a brown marbled grouper steamed in soy sauce and stacked with green onions and ginger.
Normally I'd order this same dish with a pla kaphong (barramundi), but I was feeling like trying a different type of fish – though I didn't know this one would be about 3 times more expensive – that's ok!
This gnarly looking fish, looks so mean, because it's a carnivourous fish – but don't worry he didn't hurt me.
Price – 840 THB (I actually didn't know it would be this expensive, so if you order it with a barramundi it won't be nearly this much)
They just stacked it with almost a full gardens worth of shredded green onions, and a generous supply of shredded ginger on top.
For the actual fish, they made no mistakes – it was steamed to perfection, flaky, and juicy. The broth was a light soy sauce and wasn't too salty, but just had a perfect balance of light flavors to it. The green onions and ginger also added such a wonderful dimension of flavor to the fish. It was fantastic!
The Bottom Line
For a restaurant serving authentic Teochew food in Bangkok, New Peng Chieng (นิวเปงเชียง) is a great choice. I loved the food, everything we ordered was wonderful – and I would go again just to eat 2 plates of their Or Suan (ออส่วน) – all by myself!
New Peng Chieng (นิวเปงเชียง)
Address: 1790/1 Thanon Chan, Soi 27, Khwang Thung Wat Don Khet Sathon Bangkok 10120
Tel: 02-211-3719, 02-211-7614, 02-674-9682
Hours: 11 am – 10 pm daily
Prices: About 300 – 400 THB per person
ที่อยู่ 1790/1 ถนนจันทน์ แขวงทุ่งวัดดอน เขตสาทร กทม 10120
โทร. 02-211-3719, 02-211-7614, 02-674-9682
เปิดบริการทุกวัน 11:00-22:00 น.
How to get there:
New Peng Chieng (นิวเปงเชียง) is located on Thanon Chan Road, about 200 meters down Soi 27, right across the street from a school. The easiest way to get there is by taking a taxi.