Tasty Fire Pots of Soup at Nai Kwan Maw Fai (นายขวัญ หม้อไฟ)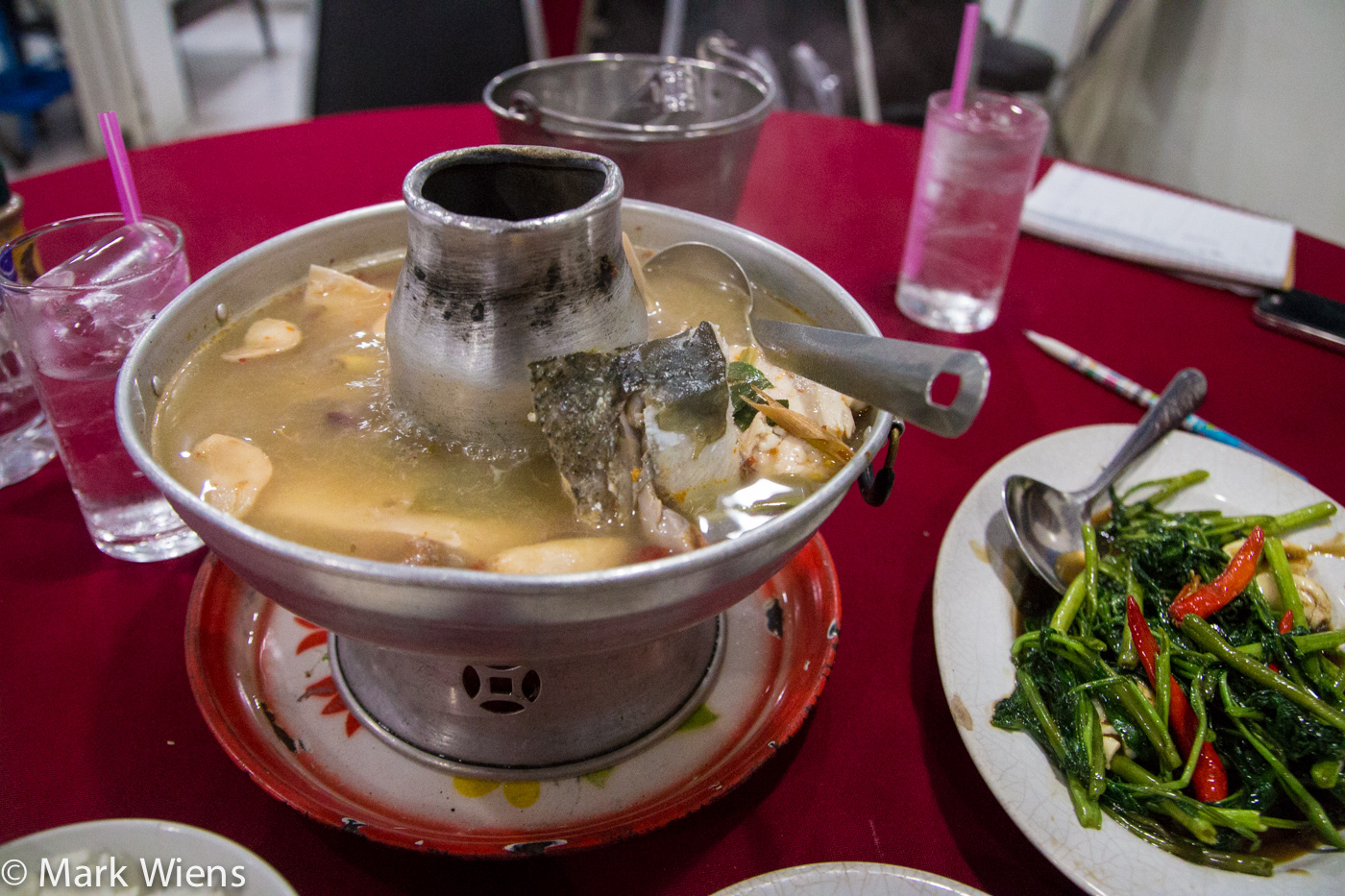 One of the most awesome ways, ever, to serve a soup, is in an elevated circular vessel, sort of in the shape of a volcano, with hot charcoal burning in the middle.
In Thailand this is known as a maw fai (หม้อไฟ), yes, a "fire pot."
Many different types of Thai soups can be served in a maw fai (หม้อไฟ), everything from tom yum, to this awesome beef soup from Heng Chun Seng.
Recommended by the awesome Thai food expert, Bangkok Glutton, we headed over to check out a restaurant known as Nai Kwan Maw Fai (นายขวัญ หม้อไฟ), specializing in fire pots and fish heads.
I immediately loved the look of the place; The restaurant is indoors, but it's hardly fancy, just round tables here and there, well used red tablecloths, and a family feel to it.
The first page of the menu was dedicated to their most famous dishes, the fire pots of different types of soup.
The following pages were stocked full of delicious sounding stir fried dishes, many of them seafood.
One of their most recommended soups was a version with chunks of taro and fish, but I decided to keep it classic and opt for the tom yum pla jeen maw fai (ต้มยำปลาจีนหม้อไฟ).
You can choose between 3 different sizes, small for 200 THB, medium for 300 THB, and biggest for 600 THB (this is most of them, some of them may vary in price). I went with medium.
Price – 300 THB
There were a few good chunks of meaty grass carp fish, white in color. The fish had a neutral flavor, and was just nice and fleshy, though you do need to be careful of the small forked bones.
Of course, the best thing about a maw fai (หม้อไฟ) or fire pot, is the fact that it remains hot throughout your whole meal – and not just hot – but piping boiling hot.
The tom yum broth was really good, very sour like I enjoy it, slightly spicy from chilies, and the broth was nice and clear, accented with galangal and lemongrass.
I thought it was wonderful, and they especially got the sourness right for me.
To supplement the tom yum pla jeen maw fai (ต้มยำปลาจีนหม้อไฟ) we ordered pad pak bung fai daeng (ผัดผักบุ้งไฟแดง), stir fried morning glory, and one of the most popular stir fried vegetable dishes in Thai cuisine.
On my first bite, and I knew they had cooked it exceptionally well.
Price – 100 THB
To make the best pad pak bung fai daeng (ผัดผักบุ้งไฟแดง), it needs to be stir fried on a dangerously high flame.
The ingredients and seasonings are normally mixed together in a bowl and tossed into the hot oil.
As soon as the ingredients go into the wok, flames of fire should leap out of the wok and singe the chefs' nose hairs (I haven't yet mastered this technique, but I'm going to start practicing with some recipes).
Morning glory should be cooked in about 10 seconds, and though I couldn't see into the kitchen, they for sure made it this way at Nai Kwan Maw Fai (นายขวัญ หม้อไฟ).
The whole cloves of crushed garlic were just about raw, yet the vegetable was wilted, but still crispy. AMAZING!
We also ordered a plate of neua pla kow pad prik thai dam (เนื้อปลาเก๋าผัดพริกไทยดำ), a stir fry of cubes of brown marbled grouper (same fish as what I ate at New Peng Chieng), seasoned with black pepper.
Price – 200 THB
The neua pla kow pad prik thai dam (เนื้อปลาเก๋าผัดพริกไทยดำ) was exactly my kind of dish.
It was so good, I had to just close my eyes to completely savor each bite.
It was, in my opinion, cooked quite Cantonese in style, very similar to Chinese dishes I grew up eating plentifully while growing up.
I could honestly eat about 3 plates of this with rice, and be really really happy.
The fish was deep fried, and then stir fried with juliennes of yellow bell pepper and slices of green onion.
It was slightly on the salty side (if I can find any criticism, but I have to admit I do love saltiness), but it was balanced with a lightly sweetened glaze, pepper, and again, I could taste the breath of the wok.
It was glorious.
The Bottom Line
The tom yum pla jeen maw fai (ต้มยำปลาจีนหม้อไฟ) was excellent, but I think I was even more impressed by their stir fried dishes.
It was one of those meals, where I happily walked away feeling incredibly satisfied, the complete "aahhh" of relief – I don't want anything else to enter my mouth right now, I'm so happy.
Fantastic restaurant, thanks again to Bangkok Glutton for the recommendation.
Nai Kwan Maw Fai (นายขวัญ หม้อไฟ)
Address: Wat Hua Lamphong Thanon Param 4, Bangrak, Sipraya, Krung Thep 10500
Phone: 02-234-3907
Open hours: 11 am – 2 pm for lunch, 5 pm – 10 pm for dinner
Prices: Be prepared to spend about 250 – 500 THB per person, we spent just over 500 THB for 2 of us. For the quality of the food, the prices are very reasonable.
ที่อยู่ ข้างวัดหัวลำโพง ถนนพระราม 4, บางรัก สี่พระยา กรุงเทพมหานคร 10500
โทร. 02-234-3907
เปิดบริการทุกวัน 11.00 – 14.00 น. และ 17.00 – 22.00 น.
How to get there:
Nai Kwan Maw Fai (นายขวัญ หม้อไฟ) is located sort of in an unlikely location, literally immediately behind the parking lot of Wat Hua Lamphong (on the left side of the temple if facing it). You can take the MRT to Sam Yan station, backtrack, walk through the parking lot into the small soi, and you'll find it.
Alternatively, take the BTS to Sala Daeng and walk from there (10 minutes).

View Bangkok Eating Thai Food Map in a larger map