Mouthwatering Thai Crab Yellow Curry: Warathana Pochana Restaurant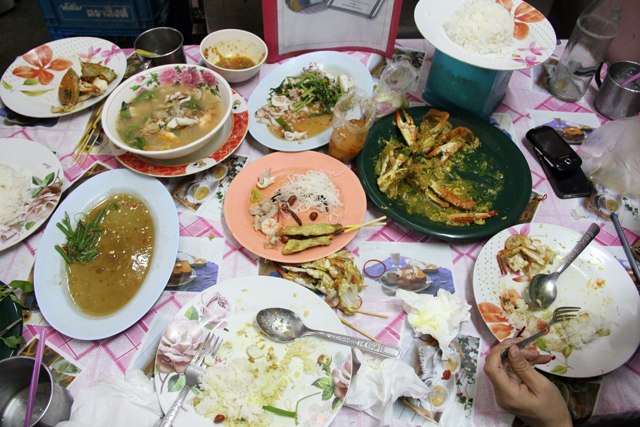 It's not all that often that I eat Boo Pad Pongali (ปูผัดผงกะหรี่), but when the feeling is right, nothing can divert a man from the craving of it.
Luckily a little neighborhood restaurant known as Warathana Pochana (วราธนาโภชนา) cooks up a mighty fine plate of crab in Thai yellow egg curry (Boo Pad Pongali).
At Warathana Pochana (วราธนาโภชนา) they cook Thai food the traditional way, using their woks on top of flaming charcoal.
You won't find propane tanks in this restaurant!
For this reason, their food seems to pack in just a hint of extra flavor than other Thai restaurants.
Their Boo Pad Pongali (ปูผัดผงกะหรี่) sure was exceptionally amazing, it was a little lighter (less rich) but a bit spicier than the version at Kuang Seafood Restaurant. I also asked for it just slightly less oily and slightly strong on the yellow curry flavor.
The Yam Pak Gachet (ยำผักกะเฉด) was really good, but I could have used a couple of extra squeezes of lime juice.
I did enjoy the nice pieces of squid and shrimp and the fresh Pak Gachet (water mimosa) used in the mixture.
One of the foundational dishes of Thai cuisine is any variation of Tom Yum soup. This dinner we opted for their version of Tom Yam Tale Nam Sai (ต้มยำทะเลน้ำใส).
Apart from not being quite sour enough for my personal taste buds again, they really nailed it.
It was seafoody, but I'm guessing they used pork broth for the soup base because it was meaty and amazing!
Note: Want to make it yourself? Here's an easy Thai tom yum soup recipe.
A pleasant addition to the menu at Warathana Pochana (วราธนาโภชนา) was Miang Ruam Mit (เมี่ยงรวมมิตร).
The dish was served with a nice portion of Sen Mee rice noodles, a mixture of steamed seafood and pork, a number of condiments, a big plate of lettuce and green herbs, and an absolutely killer spicy tangy peanut sauce.
Miang Ruam Mit is eaten in a similar "One Bit Wonder" fashion as Miang Pla Too.
Pad Yord Mala (ผัดยอดมะระ) or stir fried melon leaves, is always a hit too.
They cooked their veggies with salty soy bean paste, so it had that rich sauce, not just from the combo of soy sauce and fish sauce. Again, it had that noticeable and wonder flame fire tinge to it.
So here it was, the entire amazing feast at Warathana Pochana วราธนาโภชนา – a fantastic restaurant in Bangkok!
The Bottom Line
They make great normal Thai stir fried dishes. The Boo Pad Pongali (ปูผัดผงกะหรี่) was absolutely fantastic, as were all the other dishes.
It's not often that you still see a restaurant cooking only on charcal fire in Bangkok anymore.
Warathana Pochana Restaurant วราธนาโภชนา
Address: Thanon Sukhumvit  Soi 101/1. Watchiratham Sathit just after Soi 15.
Hours: 18:00 – 24:00
Prices: Dishes are around the 50 – 100 THB range, Boo Pad Pongali was 150 THB
วราธนาโภชนา
สุขุมวิท101/1 ระหว่างซอยวชิราธรรมสาธิต 15-17
เปิด 18.00-24.00
How to Get There

View Eating Thai Food Map in a larger map