Mor Mu Dong Restaurant – #1 Food You Must Eat in Phuket, Thailand!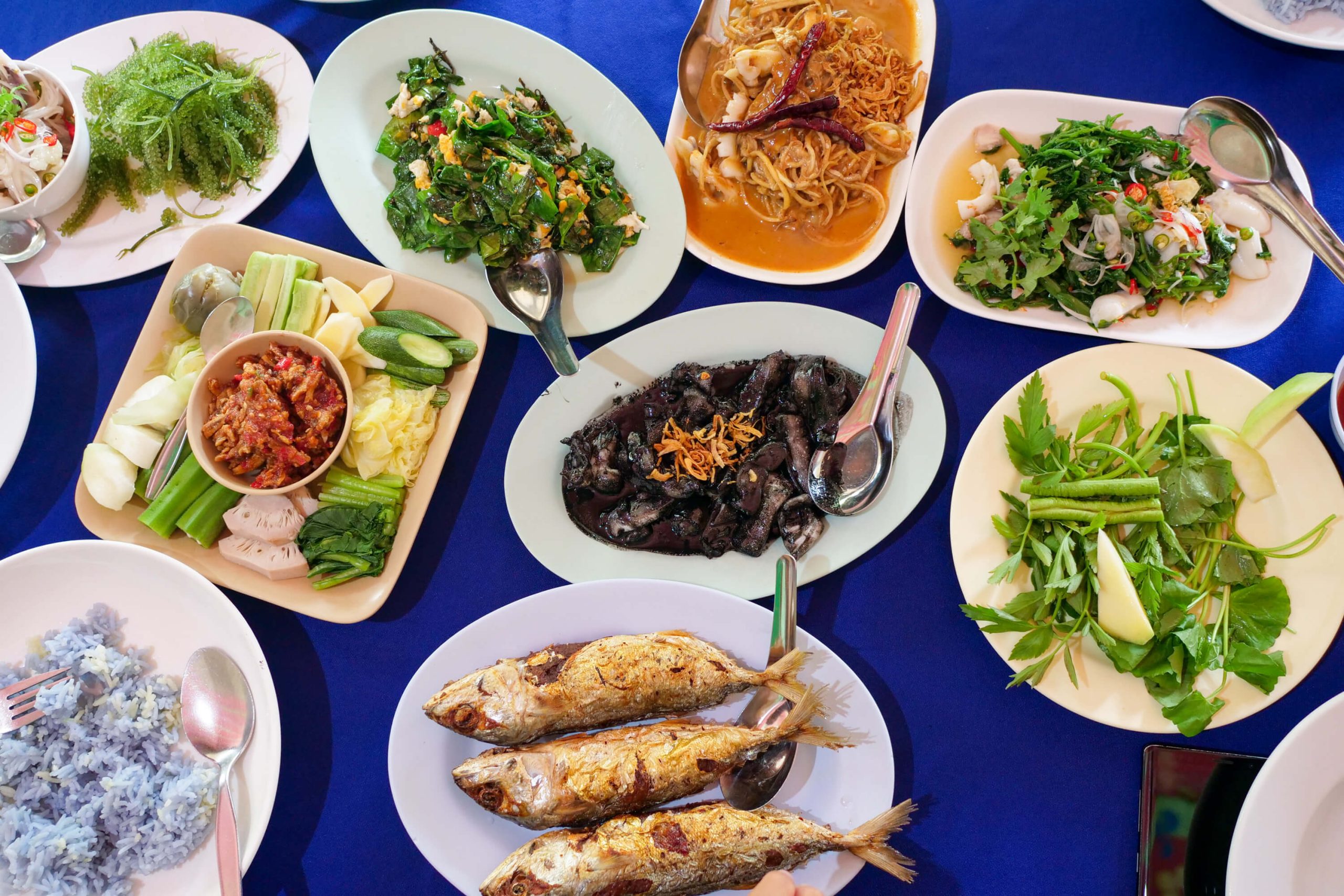 Mor Mu Dong is a restaurant in Phuket that serves some of the best and most unique local Southern Thai food on the island.
When you're in Phuket, and of course if you love to eat, this is a restaurant that you can't miss.
I'm going to quickly share with you some of the best dishes to order and what you can expect when you eat at Mor Mu Dong Restaurant (หมอมูดง ภูเก็ต)!
Mor Mu Dong (หมอมูดง)
First of all, we have to acknowledge the fact that Mor Mu Dong (หมอมูดง) is one of the most famous restaurants in all of Phuket, and to be honest, it's so well known that tourists – especially Thai tourists from Bangkok – frequent the restaurant.
Over the years, the restaurant has become more and more commercial. I think I even saw some bank commercials last time I was there.
When this happens, typically the food quality goes down.
However, such is not the case when it comes to Mor Mu Dong. Even after their widespread publicity, and being included in the Phuket Michelin Guide, and in every Thai media publication possible, they remain one of the best restaurants in Phuket.
I eat here every time I'm in Phuket, and literally every time I'm blown away by the fantastic taste and unique dishes – dishes you won't find anywhere else.
All that to say, for food lovers, Mor Mu Dong is a must eat at restaurant when you're in Phuket.
The location and setting
The restaurant is located in an area of Phuket called Chalong, about a 15 minute drive south of Phuket Town. It's tucked away in a swampy mangrove forest.
They have a variety of seating options, including communal wooden platform open air cabanas, and smaller private cabanas with a choice of floor tables or chair tables.
Despite their popularity, they've remained local style. I love the natural aspect of this type of restaurant, it has great character from the start.
Ordering
The menu is extensive, covering the vast array of Southern Thai food, local Phuket dishes, and signature dishes that are pretty much only available at Mor Mu Dong.
And that's another reason I love this restaurant so much, they have so many unique dishes.
Now, let's jump into the food, and what you should order.
Stuffed mackerel (ปลาทูยัดไส้)
One of the most famous dishes to order is their pla too yat sai (ปลาทูยัดไส้), essentially a stuffed short head mackerel.
When it comes to your table, it looks like any other fried fish.
But the surprise is the stuffing, where the inside meat of the fish and bones are removed and a spongy fish sausage that's similar to tod man, or Malaysian otak otak,is stuffed back into the fish skin.
Because it's deep fried you can eat the entire thing, skin, head, and all the sausage on the inside. You taste the red curry paste, the fragrance of the kaffir lime leaves, and the mackerel to hold it all together.
Quite simply, they are glorious.
Clams salad + sea grapes (หอยตับยำน้ำแดง)
Sea grapes are a delicacy in Phuket, and there are a number of dishes you can order to accompany it.
On my last visit, I ordered the hoy dab (หอยตับ), which which I believe are a type of clam, made into a salad with shrimp paste, chilies, shallots, and lime juice. The salad itself was fantastic, and then pairing it with the grape seaweed took it to the next level.
Squid black ink (หมึกต้มน้ำดำ)
The squid in black ink sauce is another standout dish.
First of all, the squid is tender, and the sauce is both tangy and rich from the ink. The sprinkle of crispy shallots on top added a perfect salty fragrance.
Dried fish chili dip (น้ำพริกขยำปลาฉิ้งฉ้างแห้ง)
Within the repertoire of ordering Thai food, you need to have a mix of dishes in any meal, including some spicy, deep fried, rich, and some light dishes. A type of nam prik, or chili dip, is something you should include.
There are a number of different chili dips to try at Mor Mu Dong Restaurant (ร้านอาหารหมอมูดง ภูเก็ต). I tried the dried anchovy chili dip (น้ำพริกขยำปลาฉิ้งฉ้างแห้ง), which had a nice balance of texture, flavors, and boost of umami.
It's perfect to eat with the accompanying blanched vegetables.
Snail curry (หอยขมผัดชะพลู)
They actually call this a stir fry, but it's really a rich and thick curry made with snails. The snails have a smililar texture to squid, and wrapped up in the curry sauce, they are delicious.
The thing that really makes it for me is the handful of coarsely chopped wild betel leave giving everything a nutty fresh taste.
Fern salad (ยำผักกรูด)
An excellent vegetable dish to order is their fern salad (yam pak kud ยำผักผักกูด).
The salad includes fern shoots, bits of seafood, shallots, chilies, and a dressing of fish sauce, lime juice, and probably some sugar to balance. It was salty and sour and refreshing.
Sour curry (แกงส้ม)
If you've ready any other of my restaurant reviews in Southern Thailand, you'll probably seen sour curry (gaeng som แกงส้ม) in almost every post. That's because it's one of the national dishes of Southern Thailand, and one of my personal favorites.
Typically the Phuket version of gaeng som tends to be sweet, so it's not my favorite. But the version at Mor Mu Dong was quite good, thick from the curry past, turmeric, and shrimp paste. It was sour and salty, without being overly sweet.
This time, we ordered it with taro stems.
Banana blossom salad (ยำหัวปลี)
The banana blossom salad (yam hua plee ยำหัวปลี) wasn't one of my favorite dishes because it was on the sweeter side. That being said, it's still pretty good.
The sauce included thick coconut cream and quite a lot of nam prik pao, roasted chili jam.
Melinjo leaves with egg (ผักเหมียงผัดไข่)
Another absolute classic of Southern Thai food is melinjo leaves stir fried with egg (pak miang pad kai ผักเหมียงผัดไข่).
Their version is dry and smoky, the way I like it.
Curry fried eggplant (มะเขือทอดเครื่อง)
Finally to wrap up this review of Mor Mu Dong, is another stand out dish.
The eggplant is deep fried until caramelized, then topped in a small mountain of fried curry paste, crunchy garlic and kaffir lime leaves.
It's addictively tasty – just order it!
Video
If you have some time, you can watch the full video, about eating at Mor Mu Dong (or watch it on YouTube here).
In conclusion, I would just put it simply; Mor Mu Dong is one of the best local restaurants in Phuket. It's famous for a reason, the food is really that good, and consistent.
I eat at Mor Mu Dong every time I visit Phuket, and it's definitely worth making time to eat here.
Mor Mu Dong (ร้านอาหารหมอมูดง ภูเก็ต) – Phuket, Thailand
Address: 9/4 หมู่ที่ 3 ซอย ป่าหล่าย ถนน เจ้าฟ้า Chalong, อำเภอ เมืองภูเก็ต Phuket 83130 (Google maps)
Open hours: 10 am – 9:30 pm daily
Prices: I don't have an exact bill to show you from the dishes above as the photos I took are from a few meals. But prices are about 100 – 200 THB per dish. Be aware that portion sizes are small though. If it's my wife and I eat, we order about 6 – 8 dishes and can eat them all.