Mon Food (and a Stunning Sauce) near Nonthaburi's Koh Kret Island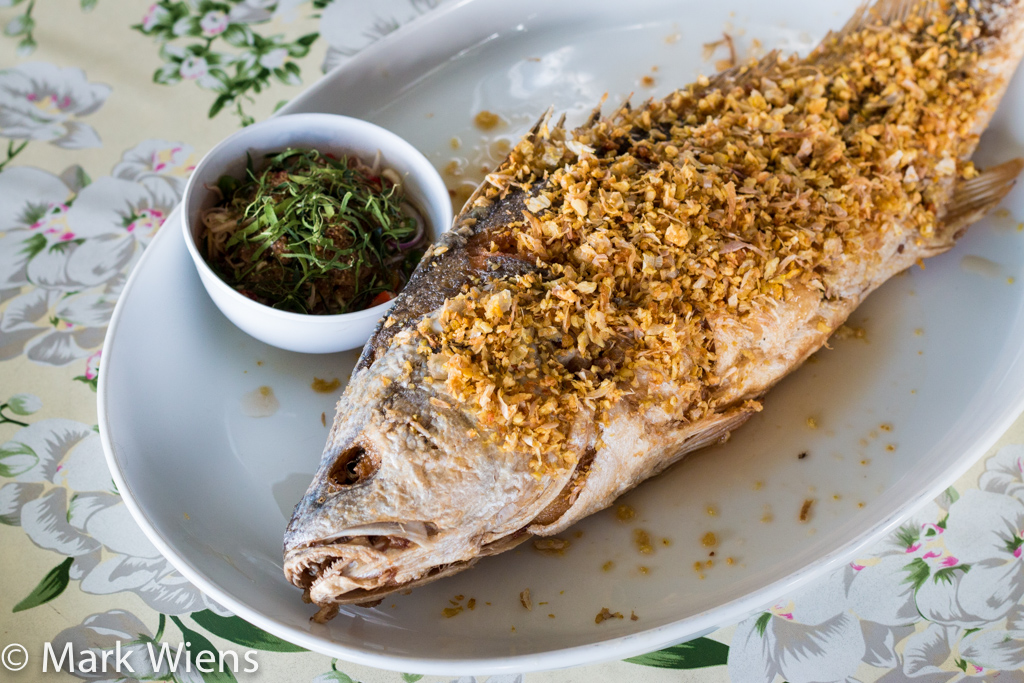 If you've been in Bangkok for a while, or have read about some of the off the beaten path things to do, you've likely come across Koh Kret Island.
The island, which is actually located within the Chao Phraya River, but upstream from Bangkok in the neighboring province of Nonthaburi, is a premiere weekend getaway from the hustle of Bangkok – very close, yet it feels so far removed.
A few weeks ago I went to Koh Kret Island again, and though I ate a few of the snacks on the island while walking around, I was much more excited to eat at Ban Mon Klang Nam (ร้านอาหาร บ้านมอญกลางน้ำ), a restaurant that serves Mon food.
Ban Mon Klang Nam (ร้านอาหาร บ้านมอญกลางน้ำ) is actually not located on Koh Kret Island, but rather across the river, but it's so close you can see the island from eating at the restaurant.
If you go to Koh Kret, you can get to the restaurant by just taking a 3 THB ferry across the river at Wat Poramaiyikawas (วัดปรมัยยิกาวาส) temple (the temple with the famous leaning pagoda).
Mon people
Koh Kret, as I mentioned previously, is an island in the middle of the Chao Phraya river. During the construction of a canal back in 1722, the island was formed, and it was settled by Mon tribes.
Still today, Koh Kret is known for being populated by Mon people.
Unfortunately, when you're walking around the island, you won't find too many Mon looking snacks or food, but luckily, there's this restaurant, owned by a lady who aims to preserve Mon cuisine.
Mee krob boran (หมี่กรอบโบราณ)
Their signature dish, the one that no table forgets to order, is mee krob boran (หมี่กรอบโบราณ), crispy noodles prepared the traditional Mon way.
Mee krob is a snack that you can often find at markets in Thailand, and it sort of looks like pink orange rice crispies, only in noodle strands. But this was much different.
It included layers of deep fried crispy rice noodles, with alternating layers of deep fried egg net, all drizzled in tangy sauce, and topped with a couple of prawns.
The mee krob boran (หมี่กรอบโบราณ) was easily the best and most unique version of mee krob I've ever had in Thailand. It was crispy, and the sauce almost tasted like a BBQ ribs sauce.
Price – 120 THB
Pla maa tod kab yam nam pla Mon (ปลาม้าทอดกับยำน้ำปลามอญ)
A pla maa, which I think in English is some type of boesman croaker fish, but in Thai translates to a horse fish, is considered to be one of the best tasting freshwater fish in Thailand.
Unfortunately, I guess due to price and lack of supply, it's not all that common to find in Bangkok, although it's more popular in Suphanburi. Anyway, they happened to have it at Ban Mon Klang Nam (ร้านอาหาร บ้านมอญกลางน้ำ), and despite the rather expensive price, we had to order it.
The fish was deep fried to a crisp, topped with fried garlic, and served with what might be one of the best sauces I've ever had (more below)…
As for the fish, it was excellent, moist and flaky.
Price – 600 THB
The Mon sauce
The Mon sauce that was served with the fish (ปลาม้าทอดกับยำน้ำปลามอญ), was one of the best sauce I've ever had in Thailand, seriously – ok I've had many best sauces, but this was one of them. They actually called it a Mon salad on the menu.
In included kaffir lime juice, lots of khao khua (roasted sticky rice powder), and then thin shavings of lemongrass, shallots, chilies, and kaffir lime leaves.
The Mon sauce was sour and spicy, and zesty from the kaffir lime juice, and paired with the crispy fried fish, it was absolutely heavenly.
Gaeng som grachiab goong sot (แกงส้มกระเจี๊ยบกุ้งสด)
For soup, we ordered gaeng som, with shrimp and okra. Gaeng som is kind of like a sweet and sour soup, and their version included shrimp and okra, a combination I hadn't seen.
The ingredients were delicious, and ovearall a very good soup, but it was slightly on the sweet side for me. However, this is often the way gaeng som is prepared in Bangkok.
Price – 180 THB
Grachiab bai krapao (กระเจี๊ยบผัดใบกระเพรา)
Typically you'll find chicken or pork stir fried up with holy basil in Thailand, but at Ban Mon Klang Nam (ร้านอาหาร บ้านมอญกลางน้ำ), they make pad krapao with okra.
It was just as delicious as it looks, fresh okra, and some minced pork, stir fried with chilies, garlic, and lots of holy basil. It worked very well.
Price – 80 THB
Galam blee pad nam pla (กะหล่ำปลีผัดน้ำปลา)
Probably the most simple dish I tried was a plate of cabbage stir fried and topped with more crispy garlic.
The cabbage was cooked in just a very light mixture of seasoning, just a touch of oil and fish sauce, and it was fried so it was still crispy and fresh tasting, and garnished with that wonderful crispy garlic, and a sprinkle of pepper.
Just simple and delicious.
Price – 80 THB
Conclusion
Ban Mon Klang Nam (ร้านอาหาร บ้านมอญกลางน้ำ) is relaxing restaurant, located just across a channel of water from Koh Kret Island, in Nonthaburi, Thailand.
The owner is Mon, and she specializes in serving traditional Mon food, which is both unique and extremely delicious. I had an amazing time eating at Ban Mon Klang Nam (ร้านอาหาร บ้านมอญกลางน้ำ), and I'm telling you, that was one of the greatest sauces I've ever had in my life.
The food was good, the owners were kind, and you can't beat the relaxing atmosphere along the river. If you take a day trip to Koh Kret, a meal at Ban Mon Klang Nam (ร้านอาหาร บ้านมอญกลางน้ำ) is definitely worth seeking.
Ban Mon Klang Nam (ร้านอาหาร บ้านมอญกลางน้ำ)
Address: 12 Moo 3, Soi Sukaprachasawan 1 Soi 6 Akan Wat Sanam Nua, Thanon Chaeng Wattana, Pak Kret
Phone: 02-584-5574  or 086-533-8899
Open hours: 10 am – 8 pm daily
Price: This is a more upscale restaurant, you're probably looking to pay around 200 – 300 THB per person, and more if you get that expensive fish I had.
ที่อยู่ : 12 หมู่3 ซอยสุขาประชาสรรค์ 1 ซอย 6 อาคาร วัดสนามเหนือ ถนนแจ้งวัฒนะ ตำบลปากเกร็ด อำเภอปากเกร็ด
โทร. 02-584-5574  or 086-533-8899
เปิดบริการทุกวัน 10.00 – 20.00 น.
How to get there:
If you come from Koh Kret island, go over to Wat Poramaiyikawas (วัดปรมัยยิกาวาส), and take a ferry ride across the river to Wat Sanam Nua (วัดสนามเหนือ), and the restaurant is located just to the side of the temple.
If you come from Nonthaburi, take a taxi to Pak Kret and then on to Wat Sanam Nua (วัดสนามเหนือ) and the restaurant will be to the right side of the temple, veering off on a small side road.
To see the restaurant on the map, scroll down and click on Ban Mon Klang Nam (ร้านอาหาร บ้านมอญกลางน้ำ), and it should highlight the restaurant on the map.