Mihara Tofuten – My Gourmet Tofu Omakase Experience in Bangkok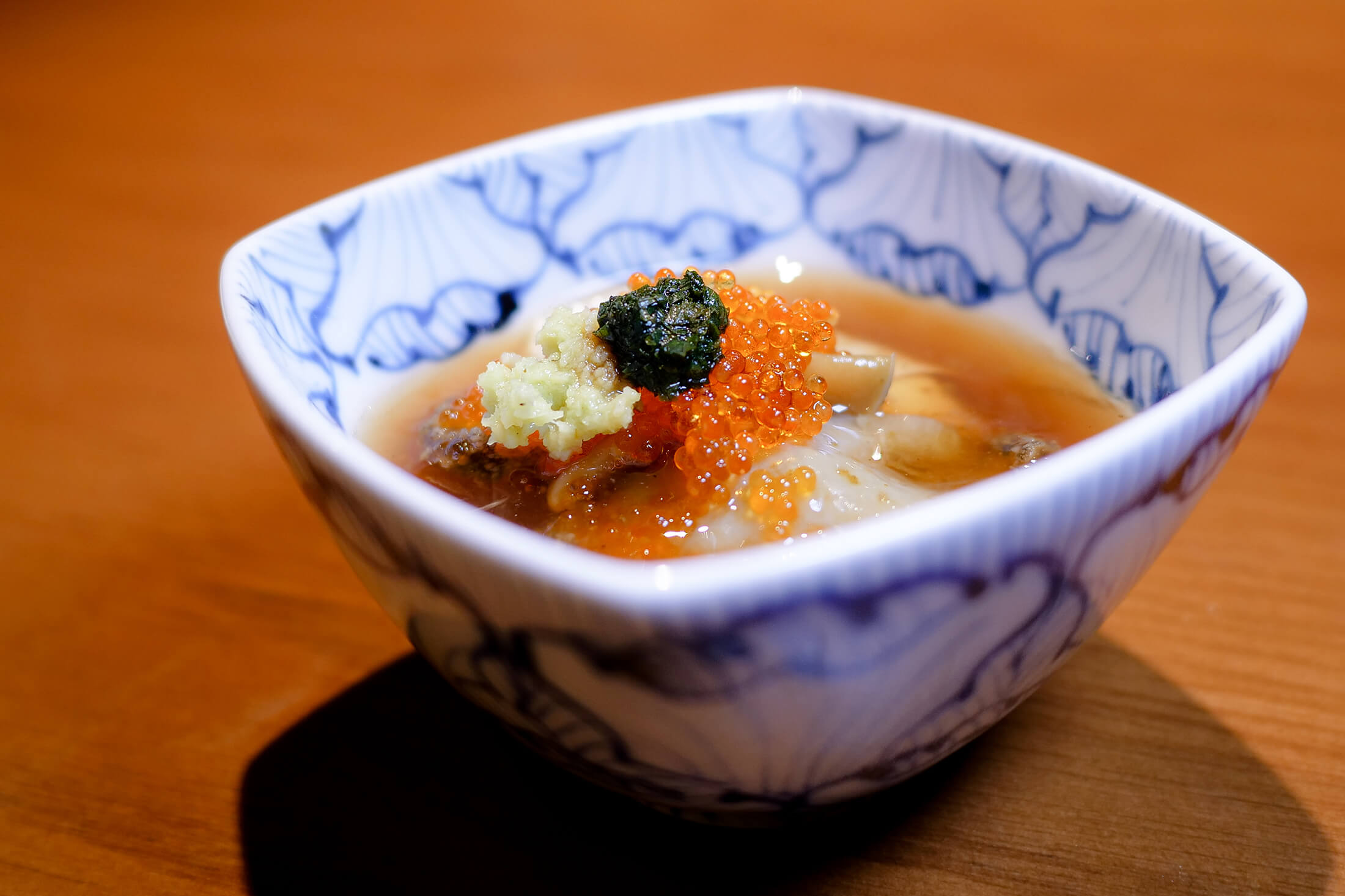 Mihara Tofuten is a gourmet tofu restaurant in Bangkok that serves the world's first tofu omakase (course by course, chef's menu).
During your meal, you'll have combinations, flavors, and textures of tofu (plus numerous bean curd and soybean combinations) you had never even imagined were even possible.
I'm going to share my entire Mihara Tofuten omakase meal experience with you in this article.
Mihara Tofuten Restaurant
Mihara tofu comes a small town called Kashima in Saga Prefecture of Japan. In 1957 the Mihara family bean making small batches of hand-made tofu using local ingredients.
In 2015 when Chef Gaggan Anand was traveling in Japan, he ate at Mihara Tofuten, and according to what he said,"he discovered new gems of Japanese cuisine."
Later he partnered with Khun Tan and original chefs and family from Mihara, and moved the tofu restaurant to Bangkok, opening as an omakase style restaurant which opened in 2018.
For me, one of the greatest things about Mihara Tofuten is its dedication to quality and preserving the exact taste of the original tofu and bean-curd. Even the water to make the tofu is transported direct from Kashima, the original source, because it plays such a role in the taste of the tofu.
Ok, now that we have a bit of history, let's get started eating.
Note: They offer both a vegetarian and non-vegetarian meal option, I had the non-vegetarian.
Fresh homemade tofu
Opening course at Mihara Tofuten was fresh home-made tofu, made at the restaurant in Bangkok, but all ingredients, including water, from Japan.
The tofu was incredibly soft and silky, and I didn't even need to chew, it just sort of slid down. The wasabi on top was mild and complementing.
Tofu mix tray
Next course came as a stack of Japanese dishes, wrapped like a package in a napkin before being opened at your table.
There were three different dishes, yuki tofu caprese, soybean chili con carne with okara chips, yuba mille feuille with maguro from Nagasake sashimi.
My favorite of the three was the tuna sashimi sandwiched with layers of yuba, tofu skin. The texture of the melt in your mouth tuna with the slightly chewy tofu skin, plus shiso leaf and wasabi, was awesome.
Edamame ball, yuki tofu, dashi, crab
I was hanging out with P'Tan during this meal, and he told me this is one of the most umami bites of the entire tofu meal. And I thought to myself, how will it be umami?
This edamame ball, with a fried chunk of tofu, wrapped up all in a thick gravy like dashi stock with strands of crab, was a burst of umami flavor – which I presume came from the dahsi stock, paired with the fried tofu and soybean ball, and the crab.
Tofu shirae melon gazpacho
Next dish was unique, like a sour-ish jelly foundation, topped with tofu and herbs.
It had a slight tomatoey tart taste, but very abstract and textural. It wasn't my favorite bite of the meal, but still good.
Kabayaki grilled saury fish
Next course was an absolute stunner, and a fish I don't think I've ever had before.
The saury fish was quite similar in texture and oiliness to eel. It was grilled to caramelized crispiness and topped on a little dab of mashed potato with I believe fried tofu straws on top.
This dish was delicious, the fish turned to oil in my mouth.
Momen tofu, aubergine yuzu
If you are vegetarian, you can order the vegetarian omakase meal at Mihara Tofuten, and this is one of the purely vegetarian dishes.
Momen tofu is a type of tofu that's slightly firm, yet spongy at the same time. The tofu was deep fried, stuffed into a creamy eggplant cup, and seasoned with an incredible yuzu citrus glaze.
Deep fried zaru tofu
One of the unique parts of eating at Mihara Tofuten in Bangkok is that it's different, and a learning experience. Really, I learned a lot about the process, diversity, and textural qualities of tofu during my meal.
Zaru tofu is tofu made in a bamboo basket, and for this course, it was deep fried, and topped with roe.
This bite seemed so simple, but like many of the other dishes, it was so pure, so perfect in texture, and the seasoning just brought out the taste of the tofu.
Rice puff donburi, yuba
At first I didn't even know there was rice on the bottom, but in Japanese a donburi is a rice bowl. The rice was topped in sheets of yuba (tofu skin), and abalone.
So delicate, such a play on textures again, and sometimes I could hardly tell if I was chewing the abalone or yuba.
Tofu ganmodoki
Yes, I definitely thought it was a chicken nugget at first.
But actually ganmodoki is a Japanese tofu fritter, and believe it or not, it does sort of taste like a chicken nugget – or a tofu nugget.
It had this awesome spongy texture, similar to Thai fried fish cakes, but again, made from tofu, with a few crunchy vegetables inside as well.
Mozuku seaweed, yuba
Next course at Mihara Tofuten restaurant in Bangkok was vinegar cured mozuku seaweed, I believe from Okinawa. Because it was cured in vinegar it was like a pickle, and the seaweed itself had a chewy, yet crunchy texture at the same time.
On top of the seaweed were thinly cut strands of yuba. It had a very refreshing sour taste.
Fresh onion soup sukiyaki, momen tofu, wagyu
One of the main signature dishes of Mihara Tofuten is their sukiyaki with a twist. Instead of the traditional soup stock, they used a French onion soup, stocked with momen tofu, and A5 wagyu from Hokkaido.
It was great, very fragrant soup, slight sweet, oniony, and balanced, with melt in your mouth slices of wagyu beef, and silky tofu.
Somen in tofu milk dashi
Without a doubt, the somen in tofu milk dashi was one of the highlight dishes for me at Mihara, a dish that immediately made me go "wow."
Somen are Japanese quite thin wheat noodles. The noodles themselves were amazing, so pure, and slightly chewy. But the real highlight was the cold tofu milk dashi soup that the somen came swimming in.
It's a little hard to explain in words, because again, like most of the dishes, the flavors were mellowed out, balanced, just pure.
But in the soy milky soup, I could taste the slightly smokiness of the dashi, and somehow it was just incredibly flavorful. I liked it even better when I seasoned with the side of sesame seeds and sesame oil, which added to the umami broth.
Tofu chocolate
On to tofu dessert, and first we were served hojicha soy milk gelato, which was pretty good.
But the real highlight, and possibly one of the most memorable dishes and desserts I've had in a very long time was the tofu chocolate. I'm not usually a fan of desserts or sweets, but this series of chocolates was awesome. I thought they were even silkier than normal chocolates.
Conclusion
I usually like to eat spicy and crazily, extremely flavorful food.
But what blew me away about my meal at Mihara Tofuten was its simplicity, pureness, and exquisite quality. On top of that, the endless possibilities and different textures of tofu and tofu products was impressive.
It was an amazing, gourmet, and unique tofu meal and learning experience. It was an art, and craft of a meal.
Mihara Tofuten – Bangkok
Address: 159/3 South Sathorn Road Tungmahamek Sathron Bangkok, Thailand 10120 (google map)
Open hours: Wednesday – Monday from 11:30 am – 1:30 pm, 6 – 11 pm (closed on Tuesdays)
Price: 4,900 THB for full omakase
Contact: Website, Facebook, 083 655 4245 reservations required
Note: Thank you to P'Tan for inviting me to eat at Mihara Tofuten, he's a friend of mine, and I did not pay for this meal.