Northern Thai Food at Lu Lam Restaurant (ร้านหลู้ลำ) in Chiang Rai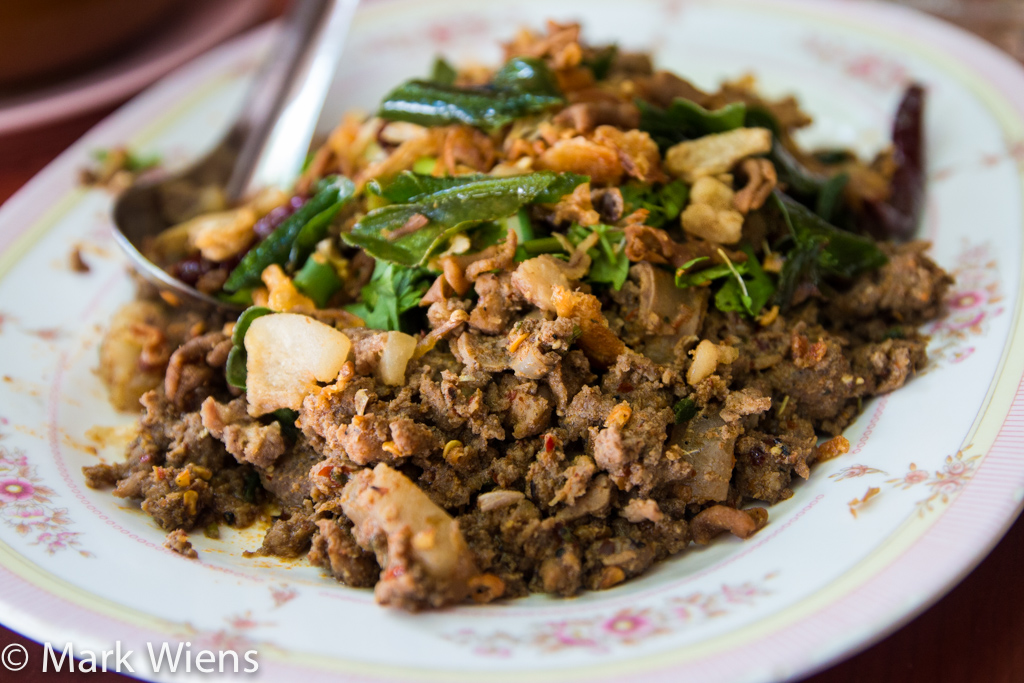 In a beautiful location, with a river-view, Lu Lam (ร้านหลู้ลำ) is one of the more well known restaurants in Chiang Rai.
It's located on the quieter side of the city, the same general area as many other good restaurants.
The hotel I was staying at, Amarin Resort*, was actually located just a 5 minute walk from Lu Lam (ร้านหลู้ลำ), so it was the first restaurant I ever ate at in Chiang Rai.
There are a couple of different dining room sections at Lu Lam (ร้านหลู้ลำ), but the main area is right along the river, shaded by an overhang and trees.
Pictured is our view during lunch – considering I was fighting traffic in Bangkok just a few hours before – wow was it a beautiful relief to be in Chiang Rai with a peaceful river view.
The menu
On the menu at Lu Lam (ร้านหลู้ลำ) you'll find most of the typical northern Thai dishes that you'll find at other restaurants, but there are also some extra unique things, more Chiang Rai regional dishes.
They did have both a Thai and an English menu, but I compared the two, and it looked like there were about 10 times as many dishes on the Thai menu. So you might want to have a look at both.
Gaeng hanglay (แกงฮังเล)
Ranking as one of the most famous northern Thai dishes, gaeng hanglay (แกงฮังเล) is something my wife and I often order when we eat at a northern Thai restaurant.
It's kind of a cross between a curry and stew, and the version at Lu Lam (ร้านหลู้ลำ) was more soupy than other versions I've had which are more curry like.
Price – 99 THB
The first thing I liked about the gaeng hanglay (แกงฮังเล) was that instead of big chunks of fat, they used huge chunks of meat – it was really meaty – and there was lots of meat included.
The curry sauce had a nice flavor balance, and I liked how it wasn't sweet, but it sort of lacked the richness that you usually get in a gaeng hanglay (แกงฮังเล).
However, I had gaeng hanglay (แกงฮังเล) a few more times in Chiang Rai, and most times it was a similar flavor and richness, so I think the overall Chiang Rai style of gaeng hunglay (แกงฮังเล), as opposed to the Chiang Mai version, is less rich. Anyone have any experience with this?
Lab moo khua (ลาบหมูคั่ว)
One of my favorite northern Thai dishes is lab moo khua (ลาบหมูคั่ว), a blend of minced pork, mixed with a number of dry spices like makhwaen (similar to Sichuan pepper), and topped with crispy shallots and kaffir lime leaves.
Price – 99 THB
The lab moo khua (ลาบหมูคั่ว) was quite good. It had a lovely smokey flavor in the meat, a wonderful balance of spice, and I loved the crispy fragrant ingredients to top it off.
Nam prik nam boo (น้ำพริกน้ำปู)
One of the most famous forms of northern Thai nam prik is nam prik noom, a roasted green chili sauce.
Nam prik nam boo (น้ำพริกน้ำปู) is quite similar, except it includes the addition of crab juice called nam boo (น้ำปู). The chili dip was served with a nice plate of boiled vegetables (พร้อมผักต้ม).
Price – 79 THB
The nam prik nam boo (น้ำพริกน้ำปู) tasted like a green chili salsa, but with an extra added kick of sharp bitterness from the crab, and zero sweetness to it.
I personally really liked the nam prik nam boo (น้ำพริกน้ำปู), but if you don't like bitter things, you might want to stick to the normal version of nam prik noom.
Gaeng naw mai pla haeng (แกงหน่อไม้ปลาแห้ง)
One of the reasons Ying and I ordered a bowl of gaeng naw mai pla haeng (แกงหน่อไม้ปลาแห้ง), is because neither of us had eaten it, at least in a northern Thai context – I'm always looking for an opportunity to eat a dish I've never had before.
Gaeng naw mai pla haeng (แกงหน่อไม้ปลาแห้ง) would translate to curry with bamboo shoots and dried fish.
Price – 159 THB
It turned out to be, both for Ying and myself, one of our favorite dishes of the meal – the dish we both scooped clean and each of us wanted to lick the bowl.
Rather than a curry, it was more like a soup, thin but flavorful broth. It was a little on the salty side, coming from the dried salted fish, but it was salty in a good kind of way, the way beef jerky is salty.
The bamboo shoots were delicious, having a wonderful crispness, and there was a handful of herbs and chilies mixed in as well. The gaeng naw mai pla haeng (แกงหน่อไม้ปลาแห้ง) was delicious.
Just like all restaurants in Chiang Rai and throughout northern Thailand, when you eat at Lu Lam (ร้านหลู้ลำ), you'll be served a nice basket of assorted vegetables and herbs.
Conclusion
Lu Lam (ร้านหลู้ลำ) is a great well-rounded restaurant in Chiang Rai that serves mostly a selection of northern Thai food. You'll find dishes like lab moo khua (ลาบหมูคั่ว), a delicious blend of minced pork with spices and herbs, northern style nam prik (น้ำพริก) chili sauces, and lots of herbs and fresh vegetables.
Along with the food, I really like the location of Lu Lam (ร้านหลู้ลำ), situated in a quiet area of Chiang Rai city, with a nice view of the river. If you get a chance to meet the owner, P'Chan, he's also an incredibly nice guy.
Also, if you're interested in trying the exotic dish of northern Thai pig's blood soup, this is the place to try it.
Lu Lam Restaurant (ร้านหลู้ลำ)
Address: 188/8 Moo 20 Dambon Rawb Wiang, Chiang Rai, Thailand
Phone: 053-748223
Open hours: 10:30 am – 10 pm daily
Prices: Our total bill came to 516 THB ($16.90), and portion sizes were quite big, so I thought it was quite decent value for money
ที่อยู่ 188/8 ม.20 ต.รอบเวียง อ.เมือง จ.เชียงราย
โทร. 053-748223
เปิดบริการทุกวัน 10.30 – 22.00 น.
How to get there:
Lu Lam is located across the highway from the central downtown part of Chiang Rai town. You can either catch a taxi or a rot songthaew to get there.