Thai Chili Frog (ผัดเผ็ดกบ) That Made Me Cry, Loong Thai (ลุงไทยข้าวแกง (เพชรบุรี), Chiang Mai
Loong Thai Khao Gaeng (ลุงไทยข้าวแกง (เพชรบุรี) is a fine restaurant in Chiang Mai and serves northern Thai style rice and curry. Their dishes are insanely spiced with chilies, and my meal made me cry tears of joy, but it was so incredibly delicious.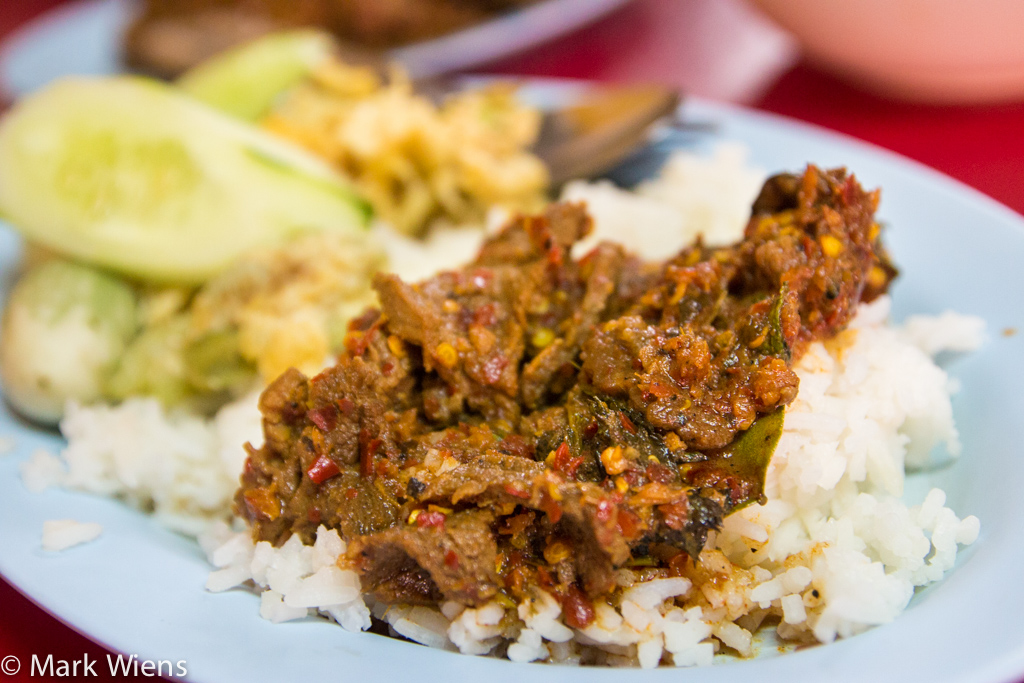 Occasionally the best restaurants you'll eat at are not planned at all.
Some of my favorite street food experiences, both in Thailand and other countries, have been the result of walking around randomly, seeing a busy restaurant or street food stall, and stopping in to eat.
In Thailand, when you see a big crowd at a restaurant, you can pretty much be assured they're cooking something right (or the food is cheap, but usually the former).
Loong Thai Khao Gaeng (ลุงไทยข้าวแกง (เพชรบุรี)
That's the way Ying and I found Loong Thai Khao Gaeng (ลุงไทยข้าวแกง (เพชรบุรี), in Chiang Mai.
After having just explored Ton Payom market, and sampling some rather amazing sai ua, the northern Thai herb sausage (more on this soon), I was ready for a full meal.
Note: On their sign they spell the English as Lung Thai, but their name in Thai is "loong" sounding rather than "lung."
Loong Thai Khao Gaeng (ลุงไทยข้าวแกง (เพชรบุรี) serves khao gaeng, or Thai style rice and curry.
You can either choose to order rad khao which is a plate of rice with a few dishes on top, or gap khao which is separate plate of rice and separate dishes.
We ordered a bit of both.
Notice on the sign, picture above, everything is in Thai, apart from the word "HOT" written in red – that's a good sign of a quality restaurant if I've ever seen one.
It was a tough choice, many of the dishes looked fantastic.
1st plate
For my first plate I ordered rad khao (ราดข้าว), and got a scoop of pad ped neua (ผัดเผ็ดเนื้อ), chili beef curry, and mara pad kai (มะระผัดไข่), bitter melon fried with egg.
Price – 40 THB
Thin slices of beef were curried in a blend of chilies and spices with basil.
The beef was on fire, and it was marvelous. It was a bit of a tough cut, but it was sliced thinly, so it wasn't hard to chew, but had that wonderful natural beef texture and flavor.
The chili curry was outrageously hot, nicely spiced, slightly sweet, and lit up my tongue with flavor overjoy.
Bitter melon with egg is always a wonderful addition to any Thai meal (if you like bitter melon), and since that dish wasn't spicy at all, it complemented the beef nicely.
Lon tao jeow (หลนเต้าเจี๋ยว)
Lon tao jeow (หลนเต้าเจี๋ยว) is not a dish you'll find too often.
Lon is like a relish, different from a nam prik as they normally contain coconut milk, but more like a dip or sauce used to supplement rice or vegetables.
This particular version was made with tao jeow, which are fermented soy beans. It was almost cheesy in flavor, and had a smooth texture to it, and was quite sweet.
I didn't like it too much, as the main flavor the sweet, but nevertheless, it was alright, and did go well with some fresh crisp pieces of cucumber.
Pad ped kob (ผัดเผ็ดกบ)
Just as a I sat down to eat, I noticed nearly everyone else at the restaurant was ordering pad ped kob (ผัดเผ็ดกบ), chili curry frog.
It's hard for me to be at any restaurant and miss out on the dish everyone is ordering, so just before digging in, I ordered a separate plate of pad ped kob (ผัดเผ็ดกบ).
Just like the beef, the frog was radiating with chilies.
The pad ped kob (ผัดเผ็ดกบ) was absolutely delicious, but I have to say it was intense.
It was probably one of the single pre-made hottest dishes I've ever had in Thailand (of course one could make a dish more spicy by the addition of extra chilies on the side, but this was a pre-prepared curry).
The frog very good, and layered in a beautiful glaze of Thai red curry and straight up chili seeds.
I shed tears (of joy).
I eat a lot of chilies on a daily basis, but I'm not embarrassed to admit, I shed some tears during this meal.
My lips turned red, sweat dripped down my forehead like I was in a sauna, and I cherished every moment of it.
Watch the full video…
(If you can't see the video, watch it here: http://youtu.be/TdQfeZ2VRIE)
Conclusion
Loong Thai Khao Gaeng (ลุงไทยข้าวแกง (เพชรบุรี) serves spicy northern Thai khao gaeng (rice and curry) in Chiang Mai.
Not all the dishes are spicy, but many of them are, and their most popular dishes are heavily spiced. If you're up for a real tear jerker, go straight for the pad ped (chili curry) dishes.
They don't joke around with their use of chilies – and it's marvelous.
I thought the food was very tasty, good local northern style khao gaeng (rice and curry) in Chiang Mai.
Loong Thai Khao Gaeng (ลุงไทยข้าวแกง (เพชรบุรี)
Address: Thanon Suthep, Chang Klan, Amphoe Muang, Chiang Mai
Phone: 08-6977-8593
Open hours: 4 am – 2 pm, so you can get a breakfast chili base in your stomach if you like, but it's a good place for an early lunch
Prices: About 40 THB per plate
ที่อยู่ ถนนสุเทพ ตำบล ช้างคลาน อำเภอ เมือง จังหวัด เชียงใหม่ ทางเข้ากองบิน 41 ข้างโรงแรมพิงค์พยอม
โทร.08-6977-8593
เปิดจันทร์ – ศุกร์  04.00 – 14.00 น.
How to get there
Loong Thai Khao Gaeng (ลุงไทยข้าวแกง (เพชรบุรี) is located on the road right before the Ton Payom Market in Chiang Mai, across the street from Chiang Mai University. The easiest way to get around Chiang Mai is by rot songthaew (back of truck taxi).