Lock Tien (ลกเที้ยน) – Hokkien Style Fried Noodles in Phuket Town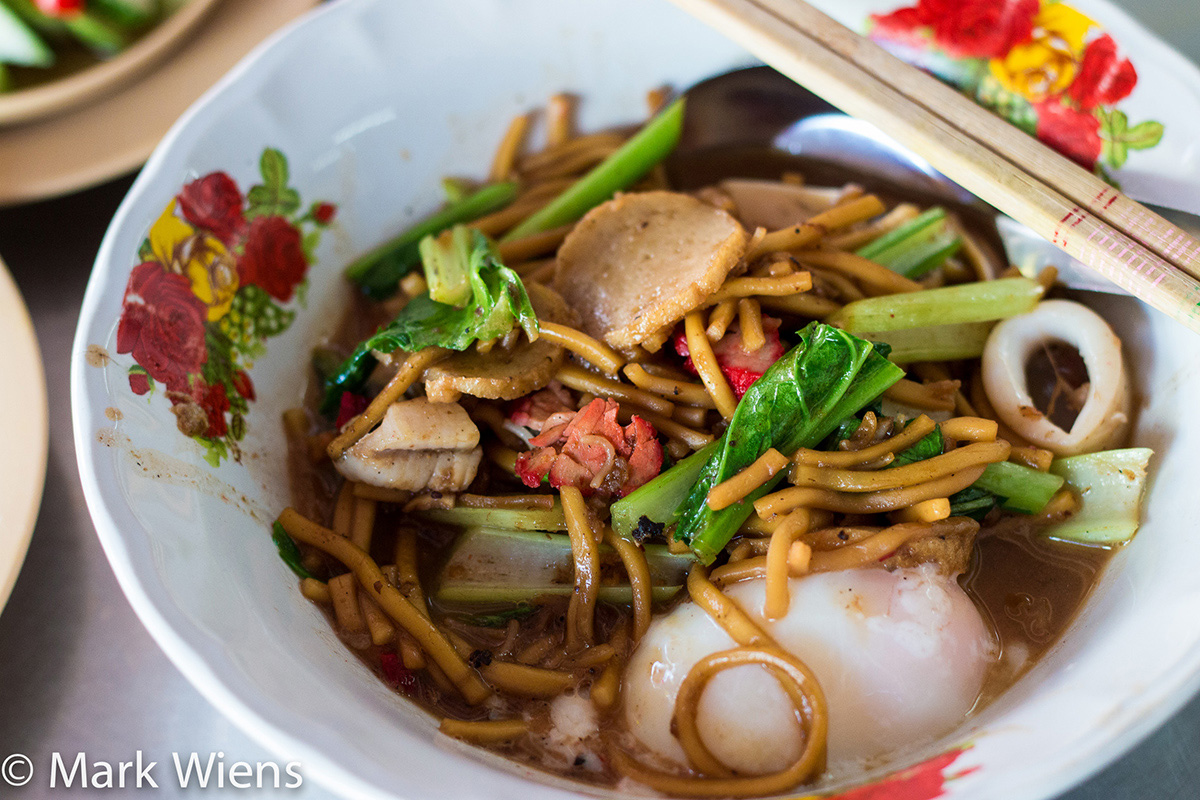 Phuket is an amazing melting pot of cultures and cuisines.
One of the most widely present cultural representations, immediately evident as you're walking around Phuket town, is the Chinese influence, which is positively reflected into the local Phuket food.
Lock Tien (ลกเที้ยน) is a long-standing restaurant in Phuket town, known especially for their Hokkien style fried noodles.
The restaurant atmosphere is my kind of style, an open air food court with plenty of space (although it does get pretty busy), and the food is cooked and served from food carts, which are positioned around the outer edges of the restaurant.
You still order off the menu, and pay to the waiter / waitress, so it's not completely a food court style, but the setup is.
As I was eating there I noticed Lock Tien (ลกเที้ยน) attracted a crowd of both local Phuket residents and also many visiting Bangkok Thais, and even though I went right at about 11 am, it was still pretty busy.
The menu is simple, but includes a number of different famous Phuket style dishes.
The most famous things to eat are bowls of noodles and fresh Fujian style spring rolls, which I didn't end up ordering (so if you do, let me know how they are).
Without wasting any time, I decided to go straight for, what is I think is their most well-known dish: mee leung pad Hokkien sai kai (หมี่เหลืองผัดฮกเกี้ยนใส่ใข่), Hokkien style fried yellow noodles with an egg.
The Hokkien part likely means that it's based off Fujian cuisine.
Price – 50 THB
I think almost everyone who eats at Lock Tien (ลกเที้ยน) orders at least one bowl of mee leung pad Hokkien sai kai (หมี่เหลืองผัดฮกเกี้ยนใส่ใข่) to taste.
The noodles came quickly after I ordered them, with steam rising from the surface of the bowl.
Included in the dish, were strands of the yellow noodles, squid, char siu (red bbq pork), slices of Chinese cabbage, and finally a soft boiled egg plopped on the side.
It smelled amazing, and after tasting it initially, I then added some extra chilies flakes and a few spoons of vinegar to give it an extra hit of flavor.
At first when I ordered, I thought it was going to be more of a drier fried noodles, similar to Malaysian or Singaporean Hokkien mee, but it was actually not really dry, but not really soup either – it was somewhere in-between, like a sauce.
The mee leung (หมี่เหลือง), the yellow noodles were wheat based egg noodles, and after being cooked and fried they had a slightly chewy texture in a delicious kind of way.
The sauce was lightly salty, and had a nice smoky wok flavor to it like the Hong Kong noodles in Bangkok – so it was definitely fried on a volcano flame.
But what really elevated my bowl of mee leung pad Hokkien sai kai (หมี่เหลืองผัดฮกเกี้ยนใส่ใข่) to the next level, was the addition of the runny soft boiled egg on top.
Breaking the yolk was like anointing the noodles with butter, rich and delicious butter.
I started off eating my bowl of noodles quite orderly and neatly, but part way through I decided to swirl and mix the entire thing, coating all the ingredients in sauce and egg. It was wonderful.
My wife Ying went for the behoon pad Hokkien sai kai (บี้หุ้นผัดฮกเกี้ยนใส่ไข่), a type of noodle in Thailand I hadn't heard of before, but it was essentially the same exact noodles as what is normally called sen mee, thin rice noodles.
Other than the switch in noodles, the mix was essentially the same, including bits of seafood, char siu, Chinese broccoli, all wrapped in the smoky soy sauce based sauce.
Both were good, just depending on your noodles preference, I think I preferred the yellow chewy egg noodles.
Price – 50 THB
I mentioned above, I wasn't feeling like eating the fresh spring rolls (they are normally quite sweet for my taste), so even though they are another one of the the most famous dishes at Lock Tien (ลกเที้ยน), I didn't get to try them.
Instead, we ordered a plate of moo satay (หมูสะเต๊ะ), grilled pork satay.
Price – 15 sticks for 70 THB
Ying really liked the satay, and I will say that the meat had nice flavor, and was cooked so it was very juicy. The sauce was rich and nutty.
However, overall, both the meat and the sauce were a little on the sweet side for me, but that is typical.
If you like Thai satay, definitely don't miss it here.
Lock Tien (ลกเที้ยน) is one of the most well known local restaurants in Phuket town, and there's plenty of evidence along the wall.
It has received numerous awards, and it's a restaurant many visiting Thais and famous people come to eat at when they visit Phuket.
Conclusion
Lock Tien (ลกเที้ยน) is a well known Thai Chinese, kind of indoor street food, restaurant in Phuket town serving a mixture of Hokkien and local adapted dishes.
One of their signature dishes is mee leung pad Hokkien sai kai (หมี่เหลืองผัดฮกเกี้ยนใส่ใข่), yellow egg noodles fried Hokkien style with an egg on the side. It was pretty good.
It's a nice low-key kind of restaurant to eat and sample a number of dishes when you're in Phuket town, and definitely worth checking out for either a meal or even a snack (portion sizes are quite small, so if you just have 1 bowl, you probably won't be too full, so you can eat again!).
Lock Tien (ลกเที้ยน)
Address: Thanon Dibuk, Phuket Old town, 8300 (it's right at the intersection of Yaowarat road and Dibuk road)
Phone: 087-3873-703
Open hours: 10 am – 5 pm daily (it's a popular lunch spot)
Prices: Around 50 THB per dish, portions are small but sufficient
ที่อยู่ ถนน.ดีบุก เมืองภูเก็ต จังหวัด ภูเก็ต 83000
โทร. 087-3873-703
เปิดบริการ 10.00 – 17.00 น.
How to get there:
If you're staying somewhere near Old Town in Phuket, you can easily walk to Lock Tien (ลกเที้ยน), it's located right at the intersection of Dibuk and Yaowarat roads, and pretty easy to recognize. Sign is well placed on the corner intersection and written in both Thai, Chinese, and English.
Fo the map, scroll down to "Southern Thailand" and click on "Lock Tien – Phuket" to see the location.