Lan Loong Lui Restaurant – Lip Licking Thai Food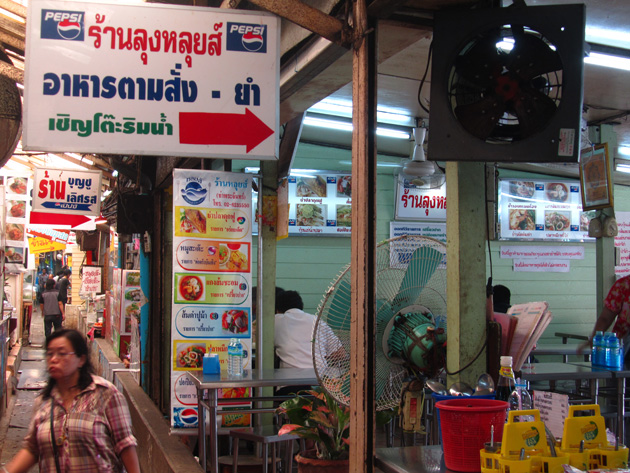 Catering to a crew of prestigious Thammasat University students, Lan Loong Lui Restaurant ร้านลุงหลุยส์ (ท่าพระจันทร์) serves an array of almost any kind of Thai food imaginable. Every dish I've ordered has been exceptional, and there's a nice view of Bangkok's Chao Phraya river.
A full meal spread at this restaurant will set you back about 100 THB or less.
Their stir fried fish with celery leaves (pad pla keun chai ผัดปลาคึ่นฉ่าย)(50 THB) was wonderful. Many Thai restaurants deep fry the fish prior to making this dish, but I was pleased to just have white meat fish without the extra oil – fantastic flavor!
The stir fried chayote leaves (pad pak yot mala ผัดยอดมะระ)(40 THB) were cooked so fast over a flame of heat that they retained their crispy freshness and soaked up some of the lovely sauce.
The dish that really took the crown was this spicy and sour catfish soup (tom klong pla duk ต้มโคล้งปลาดุก)(60 THB). The ingredients combined created an intricate flavor of lemongrass and fresh herbs; the catfish gently fell off the bones.
Another dish that Lan Loong Lui Restaurant can be extremely proud of is this Thai shrimp and lemongrass salad (yam takrai goong sot ยำตะไคร้กุ้งสด)(50 THB). The best part was the full bodied shrimp and the freshly roasted cashew nuts for a nice touch!
How to Get There
There's are a slew of restaurants around this area, but my favorite is the one on the left hand side, facing Ta Prachan pier station, with a view overlooking the Chao Phraya river. They don't even really have an address, just located in the labyrinth of makeshift market stalls on a walking street.
Just outside the gates of Thammasat University, facing Ta Phrachan Station, you will follow the stalls to the left.
You enter the market right here.
And continue just a couple meters, until you get to this walking street. The restaurant is on the right hand side.
Address of Lan Loong Lui Restaurant
Lan Loong Lui Restaurant
Ta Prachan Pier (adjacent to Thammasat University Ta Prachan campus)
Bangkok, Thailand
Open: Lunch and Dinner
Tel. 0-2623-5550
ร้านลุงหลุยส์ (ท่าพระจันทร์)
ติดกับท่าเรื่อท่าพระจันทร์
โทร. 0-2623-5550

View Eating Thai Food Map in a larger map