Lan Larb Bpet – Bangkok's Duck Mouth Street Restaurant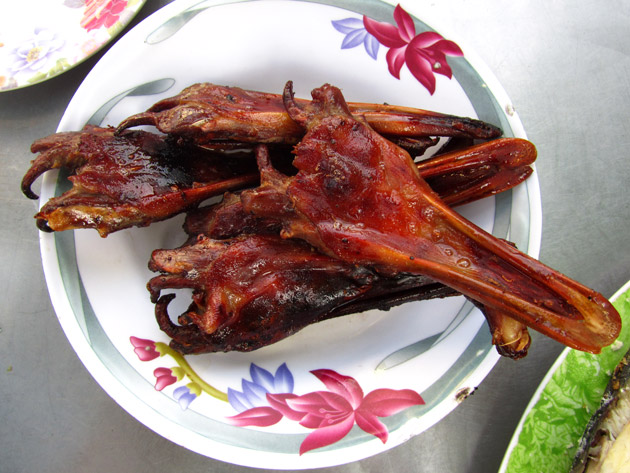 The Mighty Ducks have taken their final flight.
Smoke billows from the series of makeshift grills that set up around 5 pm just outside of Tesco Bangpakok, in the Southern part of Bangkok, Thailand. The restaurant is known as Lan Larb Bpet (ร้านลาบเป็ด).
They are grilling 1 thing: Duck Mouth's – their renowned specialty!
There are so many duck beaks in fact, that the curbside diner is forced to set up half of its grills on the asphalt of Suksawat road.
There's a duck mouth grilling assembly line; the heaps of duck mouth's begin in a bucket of marinade before getting neatly arranged on the first of the grills. As they become more and more cooked, they move down the assembly line until they reach the real street cart itself – and that's when they are nearly ready to be served!
The restaurants consists of no more than an overflowing smoky street cart, a handful of grungy metal tables, and a few eager diners waiting for tables to clear.
The principle grill man is simply passionate about beaks, there's a certain twinkle in his eyes with every flip.
In fact when I was taking these photographs, he got excited, and he began to hold up the best looking beak from the lot, in an effort that I could take a picture (unfortunately his hand was shaking, so it's not the clear quality shot that I was really going for).
Though Lan Larb Bpet (ร้านลาบเป็ด) does serve the normal array of Isan dishes, no one dares sit down without ordering the specialty. We ordered the mini-plate, consisting of only 5 duck mouth's – 60 THB / 5 beaks).
The bite of duck mouth (bpaak bpet ปากเป็ด) encompassed the entire range of textures with every chew. Some bits were soft, others were outrageously chewy, some were boney and still other bits felt like a cross between cartilage and jelly.
I watched as a particularly large gentleman at the table next to me devoured beak after beak, utilizing an efficient technique to rip the mouth apart with precision, the mark of an experienced duck mouth indulger.
Hoping to cut the grease from the duck beaks, I ordered a helping of som tam Thai (ส้มตำไทย) – a definite winner here! Though they left out the extra chilies that I usually demand, the lime juice bite was perfectly sour!
There's something about roasted fish (pla pao, ปลาเผา) that intrigues me; When I see it, I have to order it. It's as simple and predictable as gravity.
The fish at Lan Larb Bpet (ร้านลาบเป็ด) was quality, a husky creature that wasn't over cooked, but remained moist and tender with that accentuated tinge of fish sweetness.
What left me with the most significant impression of Lan Larb Bpet (ร้านลาบเป็ด) was the jim jao sauce that was meant to accompany the roasted fish. It looked like a normal Thai dipping sauce, but this concoction could be described as nothing short of liquid ambrosia.
I dipped a ball of sticky rice into the mixture. It was like the chef had detonated a savory bomb at the exact moment the sauce connected with my tongue. An explosion of taste filled my mouth and left me feeling joyous!
This is what was left of the small flock of ducks that we dined upon!
In the end, the duck mouth's were surprisingly good, a marinade that really spruced them up and a texture that felt as though I was biting through the entire carcass of some small animal.
The som tam Thai was excellent, the fish was superb (because it's fish), but that dipping sauce took the money as the reason I will be dining again at Lan Larb Bpet (ร้านลาบเป็ด)!
Check out this live video of the meal:
How to Get There
Lan Larb Bpet (ร้านลาบเป็ด) is a street cart that sets up on the curb of Suksawat Road, immediately outside of Tesco Lotus Bangpakok.
Closest BTS station is Wang Wian Yai, from which you can walk to the main road and catch bus number 82, 20, or 75 to Bangpakok Market. Another option is to just take a taxi.

View Eating Thai Food Map in a larger map