Krua Kon Dee's Amazing "City-Style" Khao Soi Gai (ข้าวซอยไก่) in Bangkok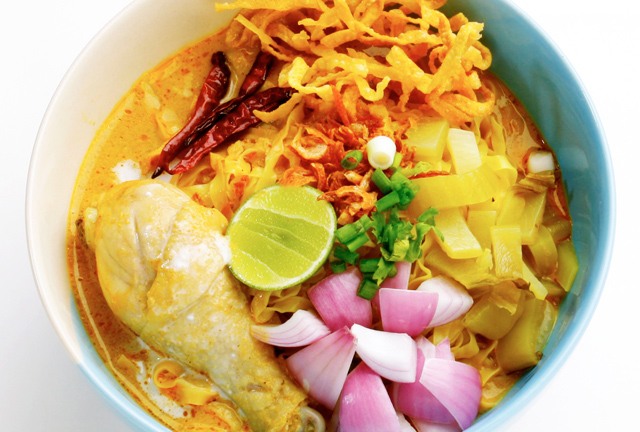 NOTE: Unfortunately, Krua Kon Dee is not here anymore… I'm not sure if they have moved, or have closed for good, but I'll update if I find out anything else. Thanks.
About the Author: Jerard Fagerberg is a writer and poet who just so happens to love Thai food. He is currently living in Bangkok and working as an English teacher. For more of his work, check out jgfagerberg.bandcamp.com.
Krua Kon Dee
Rittirong Thongngarm, better known to his regulars as "Richie," runs a little 5-table soup joint in Bang Kapi, Bangkok, right behind The Nine Shopping Center.
What makes Richie's Krua Kon Dee (roughly, "Nice Guy's Restaurant") worth the visit is not only the pleasant demeanor of the aptly-named shop owner but also his unique recipe for one of Northern Thailand's most famous street dishes – khao soi gai (ข้าวซอยไก่).
Khao soi is a curry-based soup which is highly derivative of the Burmese dish "on ne khauk swe." Like its Burmese counterpart, the curry in khao soi is made traditionally with masala – a spice which Richie has found expensive and difficult to find in Bangkok. Therefore, he usually does not include masala in his recipe, creating what he calls "khao soi for city people."
The lack of masala in the broth makes the dish taste and smell more uniquely Thai. Without masala, a diner is not immediately tackled by the overwhelming Indo-Burmese scent signature of the curry. In addition, Richie adds raw sugar to his soup which lends a characteristic sweet smell without mellowing the light spice of the curry. (Note: Richie has recently begun experimenting with low levels of the spice, though he has not otherwise altered the recipe.)
Portion size is generous and bowls are served with the pickled cabbage, raw onion and lime on the side – the mark of any good khao soi joint. Egg noodles are crisp and placed gently on top immediately before serving to avoid sogginess.
The chicken is tender to the point of falling off the bone, which allows the broth to soak deep into the meat for a balanced and full flavor.
The broth is thick but not to the point where it can't be slurped from a spoon. It could almost be served over rice were it not for the milky texture Richie gains from adding extra coconut milk to the mix. The result is an equally-balanced flavor that will get your nose running but will not sting your lips the way a Northern khao soi might.
The Bottom Line:
Krua Kon Dee serves both khao soi gai and khao soi moo for dine-in and takeaway customers. The restaurant also serves a handful of other soups but their signature dish – the cheese worth hunting through the maze for – is their delightful, innovative take on khao soi gai. When put up against traditional Northern fare, Richie's "city-style" recipe comes out on top.
Krua Kon Dee
Address: Behind The Nine on Rama 9, Soi 41
Phone: 087-711-6157
Hours: Monday-Saturday 10:00-20:00. Closed Sundays.
Prices: Khao soi gai and khao soi moo both cost 50 baht. Soft drinks are 10 baht with a 2 baht charge for ice.
How to Get There:
The easiest way to get there is to take a taxi to the rear of The Nine and walk down soi 41 until you see it on your left. There's no sign but it's about 100 meters up the road under an orange/yellow striped awning. The Hua Mak stop on the Airport Link is the closest public transit point, but it's still about a 50 baht taxi/motorbike ride from there.

View Eating Thai Food Map in a larger map