Halal Malay Food in Phuket at Krua Charifa (ครัวชารีฟ๊ะฮ์)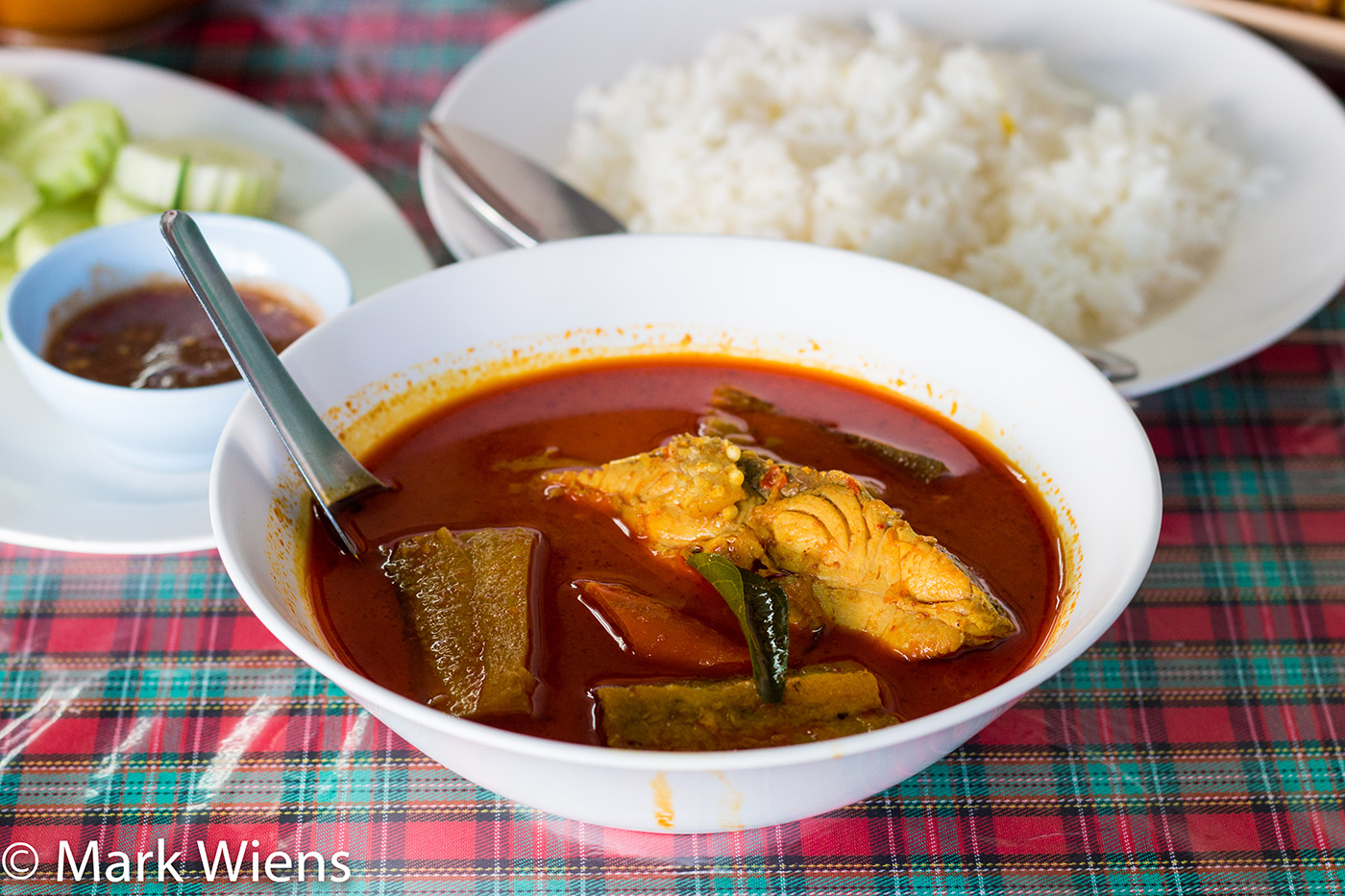 One of the things you're going to love about eating in Phuket is the diversity of food and restaurants available.
While I was in Phuket Town, for lunch one day my wife and I walked over to Krua Charifa (ครัวชารีฟ๊ะฮ์), a rice and curry restaurant specializing in halal local Phuket Malay style food.
As soon as I entered the restaurant, actually from outside the doors, I got the distinct aroma of what I immediately detected as curry leaves, and I could hardly wait to order and eat.
Curry leaves put off an almost unbelievable curry smell – when you get a whiff, you'll think an entire pot of curry is sitting before you, and yet all that aroma comes from just a natural leaf.
In Thai, curry leaves are called bai mui (ใบหมุย), but they aren't very common, only occasionally used in the cooking in the south or Thailand.
From the aroma of the curry leaves at the restaurant, I knew the food was going to be good.
Krua Charifa (ครัวชารีฟ๊ะฮ์) is a typical Thai style khao gaeng restaurant ร้านข้าวแกง. This means all the dishes are pre-cooked, and sitting on display and waiting to be ordered.
Even without knowing what to order, you can take a look at what's available and decided what to choose.
After doing some more smelling and looking at the selection, it didn't take long before I found the source of the curry leaves, from the gaeng gari pla (แกงกะหรี่ปลา), a red colored fish curry.
Gaeng gari pla (แกงกะหรี่ปลา)
Gaeng gari (แกงกะหรี่) is a popular Thai curry available throughout Thailand, but rather than having a standard taste, I've found that it really varies with flavor throughout Thailand.
Sometimes gaeng gari (แกงกะหรี่) can be a very mild yellow curry with coconut milk flavored with yellow curry powder, other times it's more pungent and oily.
The version of gaeng gari pla (แกงกะหรี่ปลา) at Krua Charifa (ครัวชารีฟ๊ะฮ์) was a Halal Malay style, made with fish, and I'd say it was the best version of gaeng gari pla (แกงกะหรี่ปลา) I've had in a very long time.
The gaeng gari pla (แกงกะหรี่ปลา) included fish cut into steak pieces, slices of eggplant, okra, and then a few curry leaves floating around.
The curry sauce was oily and rich, and you could just see all the spices within, just from looking at it.
On my first bite I almost fell out of my chair because of how flavorful and tasty it was. I immediately thought I was back in Malaysia.
The flavor of the curry was pungent with spices, packed full of curry powder, turmeric and cumin, and the sharp curry flavor of the leaves.
I believe there was also coconut milk within the curry, which is where most of the oil came from, making it rich and creamy.
The fish was excellent, but my favorite item from the gaeng gari pla (แกงกะหรี่ปลา) were the slices of eggplant, which were as tender as butter, and when I bit into them, they just exploded with the taste and juice of the curry.
It was so good, I could hardly believe it.
Pad ped pla kraben (ผัดเผ็ดปลากระเบน)
The next dish I tried at Krua Charifa (ครัวชารีฟ๊ะฮ์) in Phuket was pad ped pla kraben (ผัดเผ็ดปลากระเบน), stingray cooked in a spicy curry sauce.
The stingray was cut into bite sized pieces, and then stir fried with southern Thai style curry paste, plus slices of fingerroot, and kaffir lime leaves.
Pad ped (ผัดเผ็ด) is always a delicious southern Thai dish if you enjoy spicy and full of flavor dishes.
The stingray was very firm, almost like chicken breast, but moister. Each piece, covered in southern Thai curry paste, was excellent.
Yam Phuket (ยำภูเก็ต)
For my final dish, I wasn't sure what to get, but I wanted to eat something unique and something with vegetables, so I asked the owner of the restaurant, Khun Charifa, what she recommended.
Her immediate answer was Yam Phuket (ยำภูเก็ต).
Yam Phuket (ยำภูเก็ต) really just means Phuket salad, so it could really be anything.
Taking the expertise of the chef of the restaurant, I ordered the Yam Phuket (ยำภูเก็ต)… and I wasn't disappointed.
The yam Phuket (ยำภูเก็ต) included quite a mixture of different ingredients.
On the bottom was what I think was a mixture of small dried fish mixed with toasted grated coconut, and maybe it was dressed in a sour lime juice and tamarind dressing. The salad was then topped with a handful of shredded sour green mango and some nuts.
From the small shrimp it had a little fishy taste, but it was beautifully balanced by the fragrant toasted coconut, and the sour lime juice and green mango.
I'm not sure if you'll find this version of yam Phuket (ยำภูเก็ต) elsewhere in Phuket, or if it's just Khun Charifa's own creation, but you can definitely enjoy it at Krua Charifa (ครัวชารีฟ๊ะฮ์) if you go to Phuket.
Ying and I both loved it.
If you have a few minutes, watch the video below for more delicious views of the food:
(If you can't see the video, watch it here)
Conclusion
Krua Charifa (ครัวชารีฟ๊ะฮ์) is a Halal rice and curry restaurant in Phuket Town, located right across the street from the market, that serves mostly local southern Thai Malay style dishes.
The owner is extremely friendly, and her food is fantastic.
If you're looking for an excellent restaurant in Phuket that serves halal curry, this is a place you should check out.
Krua Charifa (ครัวชารีฟ๊ะฮ์) – Phuket, Thailand
Address: 113 Tilok Utis 2 Road, Muang, Phuket 83000, Thailand
Phone number: 076-221908
Open hours: 8 am – 4 pm daily
Prices: Our total meal cost 220 THB, so each dish is about 50 – 60 THB
ที่อยู่ ถนนดิลกอุทิศ2 ต.ตลาดใหญ่ อ.เมือง จ.ภูเก็ต
ทร. 076-221908
เปิดบริการทุกวัน 8.00 – 16.00 น.
How to get there: Krua Charifa (ครัวชารีฟ๊ะฮ์) is located across the street from Talad Kaset Market in Phuket Town. If you're staying right in the center of Phuket Town*, you'll be able to walk here in just a few minutes.
For the map, scroll down to Phuket, then click on "Krua Charifa (ครัวชารีฟ๊ะฮ์)," to highlight its position: