Krua Apsorn Restaurant in Bangkok – Don't Miss the Crab Meat!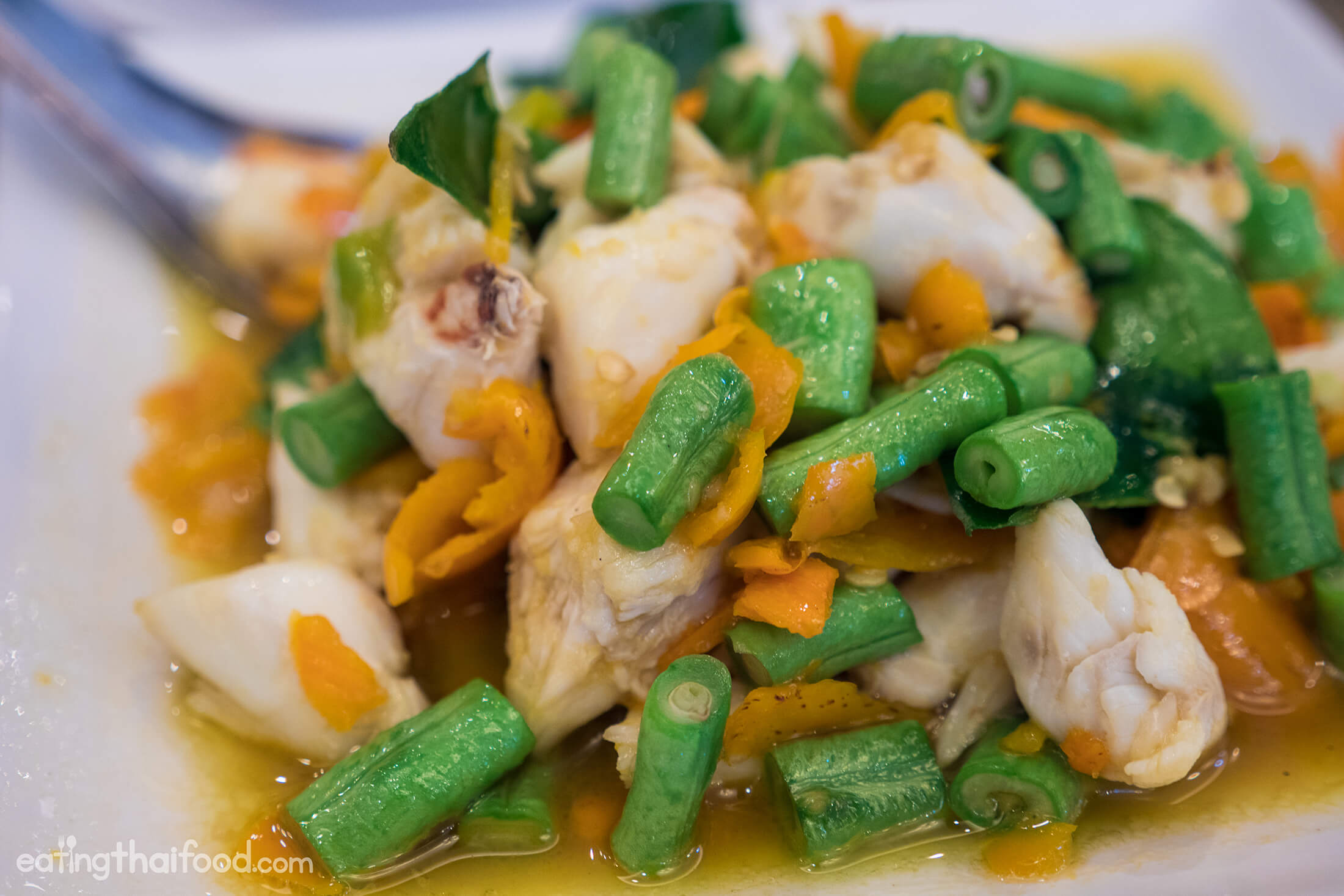 Krua Apsorn Restaurant in Bangkok is no secret:
It's been written about in all sorts of Bangkok guidebooks and covered by news stations, tv shows, and news websites.
Being based in Bangkok since 2009, I've eaten at Krua Apsorn (ร้านครัวอัปษร) a number of times, but it's a place hadn't gotten around to writing about for some reason.
So here's a quick overview of eating at the legendary Krua Apsorn in Bangkok and the dishes you can order.
Krua Apsorn Restaurant (ร้านครัวอัปษร)
One of the reasons Krua Apsorn originally rose to fame was because the owner cooked a handful of dishes that were a favorite of a member of the Thai Royal family.
The food has withstood the test of time, and it remains a legendary heritage restaurant in Bangkok that serves delicious food consistently.
The original branch of Krua Apsorn is located in Bangkok's Dusit district, along Samsen Road, but there's also a very well established branch on Thanon Dinso (near Democracy Monument and Khao San Road).
Additionally, there are now a number of Bangkok mall food court locations, including one at Emquartier, where Krua Apsorn is not offering their full restaurant menu, but just a few rice and curry dishes. I tried a plate one day, and it was pretty good.
The Menu
I forgot to ask if they had an English menu as my wife and I were just given the Thai menu (if I go back again anytime soon I'll ask).
But the menu is nicely laid out with photos and they have all the signature dishes on one side of their menu with pictures so you can decide what to order quite easily.
Krua Apsorn is not a cheap Thai restaurant, but at the same time, for the dishes and ingredients that go into the cooking, I don't think it's overly expensive either.
Heart shaped rice
Rice is of course the staple to eat with this type of Thai food, and at Krua Apsorn they serve it to you in a heart shape.
Taohoo Tod (เต้าหู้ทอด)
To begin our meal, my wife and I ordered the deep fried tofu (เต้าหู้ทอด). It's a dish that's not even officially written on their menu, but at least at the Samsen branch of the restaurant, it's posted up on the wall as a never ending special.
The tofu is so crispy on the outside, but when you bite into it, it just melts with silky soft tofu on the inside.
The deep fried tofu is a good way to begin your meal at Krua Apsorn.
Price – 60 Baht
Bik gai tok (ปีกไก่ทอด)
Just like the deep fried nuggets of tofu, another good dish to begin your meal with is the bik gai tod (ปีกไก่ทอด), deep fried chicken wings.
They serve only the wing part, not the drumsticks in the dish, and they are marinated in what I'm guessing is just the right amount of fish sauce and then deep fried until crispy.
The saltiness was perfect, all wrapped up by the juicy and oily wings. Again, another simple, yet wonderfully produced dish at Krua Apsorn. And they are seriously addictive.
Price – 90 Baht
Boo pad prik leung (ปูผัดพริกเหลือง)
One of the prized signature dishes that nearly every table of customers orders at Krua Apsorn Restaurant is their crab meat dish with yellow peppers and Chinese long beans and kaffir lime leaves (ปูผัดพริกเหลือง).
What I loved so much about this dish is its simplicity.
I'm a spicy food lover, and this dish is not even spicy, but somehow the flavors just work so well together and all the ingredients are cooked perfectly.
The nuggets of crab were outrageously tender and succulent, the long beans were crisp and refreshing, and the pieces of yellow peppers were slightly sweet and smooth.
This is one of the dishes you don't want to miss at Krua Apsorn.
Price – 430 Baht
Gaeng leung lai bua (แกงเหลืองไหลบัว)
On my latest meal at Krua Apsorn, my wife and I decided to order the gaeng leung lai bua (แกงเหลืองไหลบัว), which is a curry (but eats more like a soup) that's sour, filled with turmeric, and in this case, lotus stems and shrimp.
Gaeng leung (also called gaeng som in southern Thailand) is a southern Thai curry and one of my favorite dishes in Thailand.
This version was quite sweet for me, so it wasn't my preference – it was kind of a cross between gaeng leung and a Bangkok style gaeng som (sweet and sour curry coup).
Although sweet for my liking, it was quite addictive. And also I'm always a big fan of lotus stems which absorb all that broth and burst with flavor.
Price – 130 Baht
Kai foo boo (ไข่ฟูปู)
Describing an omelet as juicy, might not sound that appealing, but when the juice comes from nuggets of shell-less crab, it might change your mind.
Their special Thai omelet, is not even called an omelet, but it's called a kai foo (ไข่ฟู), which translates to an egg fluff. And it's not just fried with minced pork like a common Thai omelet, but it's mixed with crab and cooked in a shape that resembles a flattened tennis ball.
This is one of my favorite dishes to eat at Krua Apsorn. It's salty, juicy, oily, and packed with flavor. The combination of egg and crab is just insane.
Price – 90 Baht
Pla krapong nam pla prik (ปลากระพงน้ำปลาพริก)
Since Ying and I were feeling pretty hungry on our visit to Krua Apsorn, we also decided to get a deep fried barramundi (ปลากระพงน้ำปลาพริก), marinated in fish sauce, and topped with fresh chunks of garlic and chilies.
The fish was a little overcooked in my opinion and a little dry.
Price – 340 Baht
But what I did especially enjoy were all the nuggets of garlic and chilies, which were just slightly sautéed to break their complete harshness, while preserving most of their flavor.
Sataw pad goong moo sab (สะตอผัดกุ้งหมูสับ)
On a previous meal at Krua Apsorn I ate the sataw pad goong moo sab (สะตอผัดกุ้งหมูสับ), stink beans with shrimp and minced pork. I think it was also fried with some shrimp paste as well.
It was awesome. We didn't order it this time just to try some different dishes, but it's a dish I would highly recommend at Krua Apsorn if you go.
Price – 150 Baht
Prices
NOTE: The bill pictured above does not include the last dish pictured in this blog post, but it includes everything else.
Food prices at Krua Apsorn are not cheap. But at the same time, I think for the ingredients that you get in their cooking, it's not overly expensive either. It's on the upper end of mid-range.
Our total bill for my wife and I came to 1,207 Baht, but we ate an over amount of food for 2. I think the same amount of food could have happily fed 4.
Conclusion
Krua Apsorn (ร้านครัวอัปษร) is a long time classic heritage restaurant in Bangkok.
The restaurant (the Samsen location), being located in a government district of Bangkok, has a strong following of officials who often come for a good solid classic Thai meal.
What I like about Krua Apsorn is that I think the restaurant thrives on simplicity. To me, the simple dishes, which are cooked just right, using just the right amount of seasoning, are the best dishes at Krua Apsorn.
Krua Apsorn Restaurant (ร้านครัวอัปษร)
Address:
Branch #1: 503 Samsen Road (near Samsen Soi 9) Wat Sam Phraya, Phra Nakhon, Bangkok 10200, Thailand (this is the branch I featured in this blog post)
Branch #2: 169 Dinso Rd, Wat Bowon Niwet, Phra Nakhon, Bangkok 10200, Thailand
Open hours: 10:30 am – 7:30 pm from Monday – Saturday, closed on Sundays
Prices: Dishes have a pretty big range in price, but I think a typical meal would cost about 300 – 500 THB per person. It could be cheaper if you eat with a group and share a variety of dishes.
Phone: 02-2418528, 02-6688788 – When I just came here for lunch at noon it was packed and many people had reserved tables. So it's actually best to come here a little off meal peak time, or it might be best to make a reservation.
ที่อยู่ 503 ถนนสามเสน เขตดุสิต กรุงเทพ 10300
โทร. 02-2418528, 02-6688788
เปิดบริการ จันทร์ – เสาร์ 10.30 – 19.30 ( ปิดทุกวันอาทิตย์)
How to get there: To get to the Samsen Road branch, the closest BTS station is Victory Monument, and from there it's easiest to take a taxi directly to the restaurant. You can also get to the Samsen branch pretty easily from the Banglamphu / Khao San road area, just a straight shot north on Samsen Road until you get to Soi 9.