Korean All-You-Can-Eat Pork Buffet in Bangkok: Kwang Han Roo Restaurant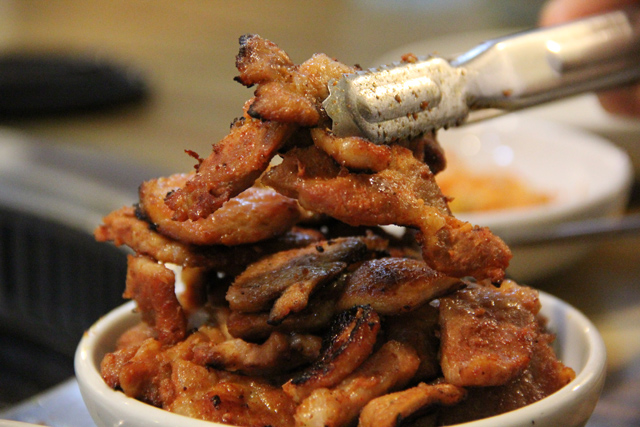 If I step outside the land of Thai food for a meal, I tend to venture to other Asian nations for culinary delight.
Korea is one of those countries that has amazing cuisine, and luckily there are lots of Korean restaurants in Bangkok.
เมื่อไหรที่ผมจะเปลี่ยนจากการกินอาหารไทย ไปทานอย่างอื่นแล้ว ผมก็จะเลือกอาหารจากที่อื่นๆในเอเชีย
อาหารเกาหลี เป็นหนึ่งในอาหารที่มีเอกลักษณ์มาก และในกรุงเทพก็มีหลากหลายร้านให้ได้ทานกัน
Kwang Han Roo Korean Barbecue Restaurant, located in Bangkok's Korea Town between Asoke and Nana, has a pretty decent all-you-can-eat pork barbecue buffet.
They have plenty of other food options on their menu as well, but I normally go straight for the pork – it also comes with all the great Korean salads!
The meal starts off with a bowl of green leaf salad drenched in their tasty sesame oil dressing.
ร้่านอาหารปิ้งย่างที่ชื่อว่า Kwang Han Roo Korean Barbecue Restaurant  ตั้งอยู่ในย่านที่มีคนเกาหลีอาศัยอยู่มาก
ในเมนูของร้านนี้ มีอาหารหลายประเภทให้เลือกทานกัน โดยส่วนตัวแล้วผมจะชอบทานเนื้อหมู ซึ่งจะเสริฟกับผักสดหลายชนิด
อาหารมื้อนี้นั้น เรื่มต้นด้วยสลัดแบบเกาหลี
One of the reasons I love Korean is because of all the side salads and garnishes.
Kimchi is something that I could incorporate into almost every meal I eat; I'm almost afraid to go to Korea, for fear that I will overdose on kimchi.
หนึ่งในเหตุผลที่ผมชอบทานอาหารเกาหลี ก็เพราะเครื่องเคียงที่ทำมาจากผักต่างๆหลากชนิด
'กิมจิ' คือเครื่องเคียงชนิดหนึ่ง ที่ผมสามารถนำมาทานกับอาหารได้แทบทุกมื้อ มันเกือบจะทำให้ผมไม่กล้าไปเที่ยวเกาหลี เพราะกลัวว่าจะเกิดปัญหาเรื่องการบริโภคเกินขนาด
I also really love daikon radish kimchi – though the Thailand version might be made with green papaya?
กิมจืที่ทำจากหัวผักกาด มีรสชาตืดีทีเดียว แต่คนไทยนั้นอาจจะเปลี่ยนไปใช้มะละกอดิบแทน
The side little salad dishes even come with a few pieces of deep fried pork hamburgers!
เครื่องเคียงเหล่านี้ ยังมีหมูทอดขนาดจิ๋วมาให้ด้วย
So after the salad is served and all the side salads are presented before you, the waitress starts brings plates of pork to the table.
หลังจากอาหารเรียกน้ำย่อยแล้ว พนักงานของร้านก็เริ่มนำเนื้อหมูมาเสริฟบ้าง
Each table is set-up with a charcoal grill in the center so it's easy to grill all the marinated pork you desire.
โดยแต่ละโต๊ะก็จะมีเตาถ่านอยู่ตรงกลาง เพื่อความสะดวกในการปิ้งอาหารของเรา
I think there are about 6 different kinds of pork on the buffet menu; There are 2 types of marinade and 3 cuts of the pig.
ในเมนูบุฟเฟ้ มีเนื้อหมูอยู่ 6 ประเภท มีวิธีหมัก 2 แบบ
After each piece of pork is done roasting over the coals, I like to wrap it up in a piece of lettuce, add a slice of raw garlic, some sliced chili peppers, and a spoon of the Korean red sauce.
It's rather similar to the one bite wonder of Miang Pla Too!
เมื่อย่างเนื้อหมูจนสุกได้ที่แล้ว ผมชอบห่อด้วยผักกาดหอม ทานพร้อมกับกระเทียมสด พริกสด และราดด้วยน้ำจิ้มช้อนโต
คล้ายๆ กับการทาน 'เมี่ยงปลาทู' ของไทย
This time around, I also ordered an unnecessary plate of "gimbop," or Korean style sushi rolls.
They were alright, but I'd recommend just sticking with the pork barbecue!
ครั้งนี้ ผมลองสั่งข้าวห่อสาหร่ายสไตล์เกาหลีมาทาน ซึ่งไม่ได้สร้างความประทับใจมากนัก
The Bottom Line
I've been to Kwang Han Roo Korean barbecue a number of times – all you can eat pork and I especially love the variety of Korean salad condiments.
If you eat the buffet you can eat as much pork as you want and they will also re-fill your salads to your hearts desire.
At 290 THB it's not too cheap, but it's still and good deal…a great meal!
ผมได้เคยมาทานอาหารร้านนี้หลายครั้งแล้ว เพราะชอบในความหลากหลายของเนื้อหมูให้ลองทาน รวมถึงสลัดหลากชนิดที่มากับอาหารหลักของเรา  ถ้าเลือกทานเมนูแบบบุฟเฟ่แล้ว คุณก็จะได้ทานทั้งเนื้อเนื่อหมูและผักสดได้อย่างไม่มีจำกัด
Kwang Han Roo Korean Restaurant
Address: 212/18 1F Sukhumvit Plaza, Sukhumvit Soi 12, Klongtoey, Bangkok, Thailand 10110
Phone: 02-251-8096
E-mail: [email protected]
Price: 290 THB for the pork buffet (comes with vegetables)
How To Get There
Korean Town in Bangkok is located smack in the middle of Nana and Asoke BTS stations on Sukhumvit Road Soi 12. It's easy to walk from either station, or as always in Bangkok, you can hop in a taxi!
'korean town' อยู่ที่ใจกลางกรุงเทพ ระหว่างสถานึรถไฟฟ้าอโศก กับนานา บนถนนสุขุมวิทซอย 12

View Eating Thai Food Map in a larger map