Phenomenal Khao Soi (ข้าวซอย) in Lampang
Khao Soi Islam (ข้าวซอยอิสลาม ลำปาง) is a well known restaurant in Lampang, Thailand, that's famous for serving khao soi (ข้าวซอย), egg noodles in curry. They serve one of the best bowls I've ever had.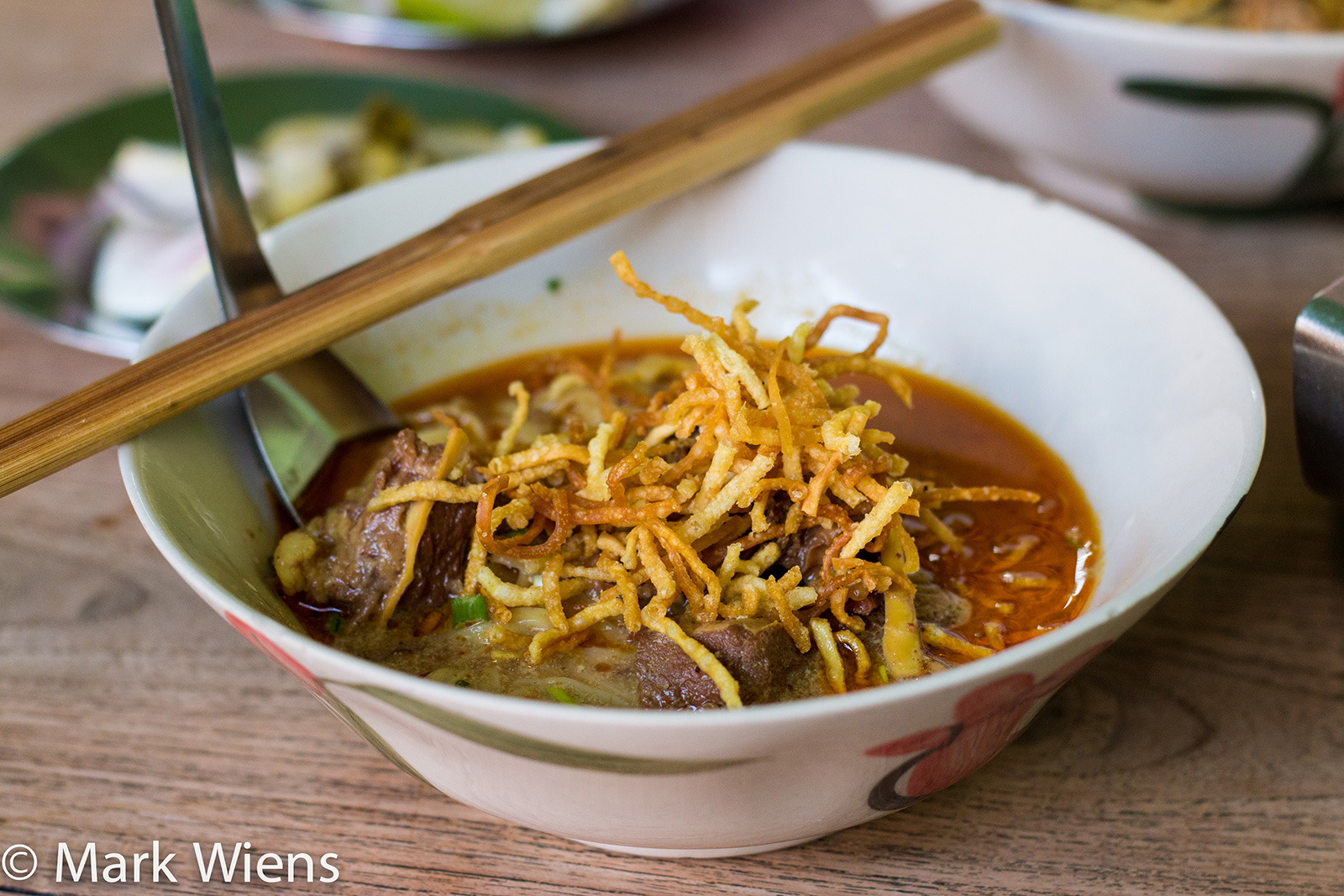 I've probably said this before, but khao soi (ข้าวซอย) is one of those Thai dishes that can be extraordinarily good OR just not good at all.
Formerly, one of my favorites bowls of khao soi was in Chiang Mai, and while that one is still incredible, I have a new favorite…
Khao Soi Islam in Lampang served me a bowl of khao soi (ข้าวซอย) that blew my mind (and tongue), and after taking my first few bites, I determined it was my new standard for the best bowl of khao soi I've had Thailand.
Khao Soi Islam (ข้าวซอยอิสลาม ลำปาง) – Lampang
Khao Soi Islam (not to be confused with the same name restaurant in Chiang Mai) is a restaurant in Lampang, that has been open and serving khao soi for a number of generations.
Their khao soi is an original version of the dish, influenced by Chinese Yunnanese Muslims. This restaurant is also fully halal.
Menu
The menu at Khao Soi Islam (ข้าวซอยอิสลาม ลำปาง) is simple, includes just a few choices, and it's written in both Thai and English.
Also, I couldn't help but enjoy the little boy, photoshopped onto the menu with a loudspeaker, proclaiming "the chili is very spicy!"
The chili wasn't too spicy, but it was perfect, and the flavor was beautifully smoky and fragrant.
For myself, this roasted chili sauce, is the one and only condiment I need with my khao soi – and while the khao soi here tasted marvelous even with nothing else added, a few scoops of this chili oil sauce enhanced it even more.
The Egg Noodles
Part of the reason why the khao soi at Khao Soi Islam (ข้าวซอยอิสลาม ลำปาง) was the best I've had in Thailand so far, was because of their egg noodles.
Many restaurants tend to use factory made egg noodles in their khao soi, but at this restaurant, they make their noodles themselves by hand.
As soon as you walk in the door, you'll not only be greeted by the friendly owner of the restaurant, carefully boiling the noodles, but on the left hand side, you'll likely see a tray of the fresh noodles.
You can actually see the quality of the noodles, before you even order your bowl of khao soi (ข้าวซอย).
After your order, the owner loads a handful of egg noodles into his boiling pot, and expertly boils them until fully cooked, yet not over cooked, and fishes them out with a pair of chopsticks.
The noodles, according to this guide, were size-wise right in-between the thin and wide wonton noodles, not as wide as the 1/4 inch noodles I often have seen in Chiang Mai.
He then divides them into bowls.
I'm telling you, this wasn't just the best bowl (bowls) of khao soi I had in Thailand, but these were also some of the best noodles I've ever had in Thailand.
Despite loving spicy and overly flavorful foods, I would have almost been completely happy with just a bowl of his freshly boiled noodles – almost like a fresh baked loaf of bread – plain, yet irresistible.
Khao soi neua (ข้าวซอยเนื้อ)
I started with a bowl of khao soi neua (ข้าวซอยเนื้อ), beef khao soi, and I ordered the special (พิเศษ), which is probably just a little larger than the regular size (and 5 THB more expensive).
After the noodles were added to the bottom of the bowl, a ladle of the curry was spooned on top, including nuggets of tender beef, and finally, just like all bowls of khao soi, a handful of deep fried crunchy noodles on the very top.
Price – 45 THB
Starting with the noodles, they were silky, with a hint of chewiness, and I could really notice the freshness in each bite. I could not have asked for anything more in a noodle, they were perfect.
The curry sauce was beautifully balanced with yellow curry powder, not overpowering, yet incredibly soothing, with rich buttery coconut milk.
What I most loved about the khao soi was that it wasn't sweet at all – and I even asked the owner and he mentioned that he didn't use any sugar in his recipe.
Khao soi gai (ข้าวซอยไก่)
After polishing off my bowl of beef khoa soi in just moments, I immediately had to order a second bowl.
This time I went for the chicken khao soi (ข้าวซอยไก่), and again I ordered the bigger sized bowl.
Price – 45 THB
The noodles and the curry sauce tasted nearly identical, but instead of the nuggets of beef, this time there were chunks of chicken.
While the chicken was just about as good, I think the beef had the edge, mostly because I love beef.
With a few generous scoops of the chili oil sauce, this was one of the most amazing things I have eaten in northern Thailand in a long time.
While khao soi (ข้าวซอย) can really be hit or miss for me, both bowls at Khao Soi Islam (ข้าวซอยอิสลาม ลำปาง) made me nearly speechless how good they were.
Beef satay (เนื้อสะเต๊ะ)
In addition to the khao soi (ข้าวซอย), Ying and I also got an order of 14 sticks of their beef satay (เนื้อสะเต๊ะ). I took a photo of the satay before the sauce arrived, so sorry I didn't show the sauce, but it did come with it, along with some pickles as well.
Overall, the satay was good, but I thought pretty average, not incredible… or it may have been that I was so amazed by the khao soi that I didn't really even pay full attention while tasting the satay.
Price – 14 sticks for 70 THB (14 ไม้ 70 บาท)
Khanom pang na gai (ขนมปังหน้าไก่)
Finally, to wrap up our award winning meal in Lampang, we got a plate of khanom pang na gai (ขนมปังหน้าไก่), pieces of bread topped with chicken and deep fried.
I'm not usually one to jump at ordering something like this, so it was my wife who really wanted to try this, but I did sample a few bites and I would have to say that it really was quite tasty – extremely crunchy and salty.
Price – 30 THB (ชุดละ 30 บาท)
The inside of Khao Soi Islam (ข้าวซอยอิสลาม ลำปาง) is small, but friendly and cosy.
The owner family of the restaurant are all very nice as well, especially the master who dishes out the khao soi like an artist, and his passion for khao soi shines.
Conclusion
Khao Soi Islam (ข้าวซอยอิสลาม ลำปาง) is a restaurant in Lampang, Thailand, that specializes in khao soi (ข้าวซอย) – egg noodles in a coconut milk based curry.
When I walked into the restaurant for the first time, I knew it was going to be something special – I could see the hand-made egg noodles waiting to be flash-boiled, and I could smell the aroma of dry spices.
I started off by ordering their beef khao soi (ข้าวซอยเนื้อ), and on my first bite, I immediately fell in love. It's probably the best khao soi (ข้าวซอย) I've had in Thailand so far.
The curry sauce was rich and creamy from the coconut milk, perfectly flavored with yellow curry powder, and without even a hint of sweetness – it was just pure spice and cream… and the home-made yellow egg noodles were extraordinary.
If you ever visit Lampang, along with eating northern Thai food, you have to eat at Khao Soi Islam.
Khao Soi Islam (ข้าวซอยอิสลาม ลำปาง) – Lampang, Thailand
Address: 3 Thanon Pongsanuk, Wiang Neua, Lampang, Thailand
Phone: 054-227-826
Open hours: 8 am – 2 pm daily
Prices: Eat a couple bowls for under 100 THB per person – and I'll reassure you, it's worth every single Baht you spend
ที่อยู่ 3 ถนนปงสนุก ต.เวียงเหนือ อ.เมืองลำปาง จังหวัดลำปาง
โทร. 054-227-826
เปิดบริการ ทุกวัน 8.00 – 14.00 น.
How to get there: The restaurant is located right in the heart of the old part of Lampang city, across the Ratsada bridge, on Pongsanuk road. If you're staying in central Lampang town*, it should easy to walk here.
On the map, scroll down to "Northern Thailand," then click on Khao Soi Islam.