Khao Mok Gai – hidden in the midst of Khao San Road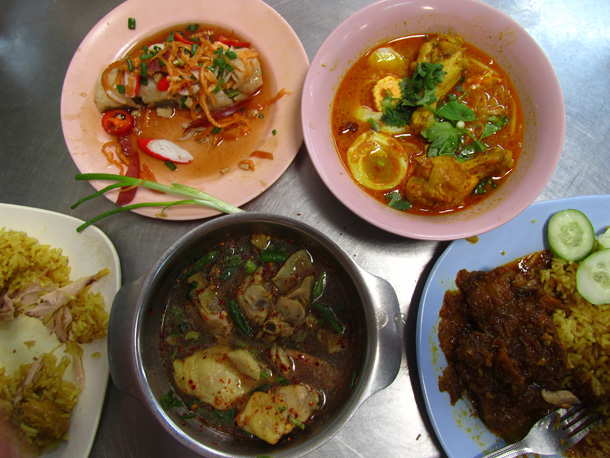 Khao Mok Gai (ข้าวหมกไก่) is one of those dishes that can easily control you.
From the moment you develop the thought of eating it, you have a very narrow time-frame to search it out, find it, and eat it – that is, if you want to remain satisfied. For me, that window is about 2 – 3 hours.
Every now and then I'll be sitting on the computer, happily working away when the inevitable feeling hits, and I know I need some quality Khao Mok Gai.
A great choice in Bangkok is Areesaa Lote Dee (อาอีซะฮ์ รสดี). Surprisingly, it's located frighteningly close to Khao San road, the hood of backpacker central.
Rest assured, the food has not been poorly modified to accommodate to its setting, in fact this restaurant is tucked away, and unless you know it exists, you might walk past and never know.
To get there you sort of walk into damp alley way, reminiscent of a cave entrance. About 20 meters into the cave, the structure opens up into a cavern of Khao Mok Gai, a gym like room that is the home to some of Bangkok's prized Muslim dishes.
Whenever I have a chance to dine on beef in Thailand, I either order it without thinking (because I'm excited to eat beef), or avoid it at all costs because I know the pork will be better.
If you are in the mood for beef, Areesaa Lote Dee (อาอีซะฮ์ รสดี) serves a plate of khao mok neua that is very special. The beef itself is stewed in a secret biryani sauce that tastes like it was blessed by a grandmother.
The rice is cooked so it doesn't all stick together, yet each grain is individually glazed with just enough chicken stock.
The green-ish khao mok gai sauce is another Thai sauce to rave about. The slightly sour, herbaceous tinge, really adds to the rice and chicken to complete each and every bite.
Another dish that's always appealing is the noodles in a thick curry sauce (kuay teow gaeng ก๋วยเตี๋ยวแกง). The curry sauce here is rich and nutty, with a wonderful garnishing toss of cilantro.
I'm also a big fan when it comes to Thai soups. I like most soups to reach their maximum flavor per bite potential, meaning soups should be sour, spicy, and exaggerated with whatever flavor intended.
With a couple extra spoons of chili flakes (prik bon), the Soup Neua (ซุปเนื้อ) was good, but I probably prefer the version at the Khao Mok Gai Siam (though it's located far away).
Last time I went, I ordered a sample of the por pia sot (soft shelled spring rolls). The little rolls were decent, but overall the sauce that they were drenched in was a little too much like a pancake syrup – sweeter than a dessert.
If you enjoy khao mok gai, you won't be disappointed with Areesaa Lote Dee อาอีซะฮ์ รสดี!
How to get there:
Areesaa Lote Dee อาอีซะฮ์ รสดี
178 Tanee Rd., Bangkok 10200
Tel. 0-2282-6378
Open: 9 am – 4 pm & 5 pm – 10 pm
อาอีซะฮ์ รสดี (Khao Mok Gai Khao near Khao San Road)
178 ถ.ตานี กทม. 10200
โทร. 0-2282-6378
เปิด-ปิด 9.00-16.00 น. และ 17.00-22.00 น.

View Eating Thai Food Map in a larger map