Jadjan Restaurant Phuket – 5 Star Hotel Chef Cooks Thai Street Food!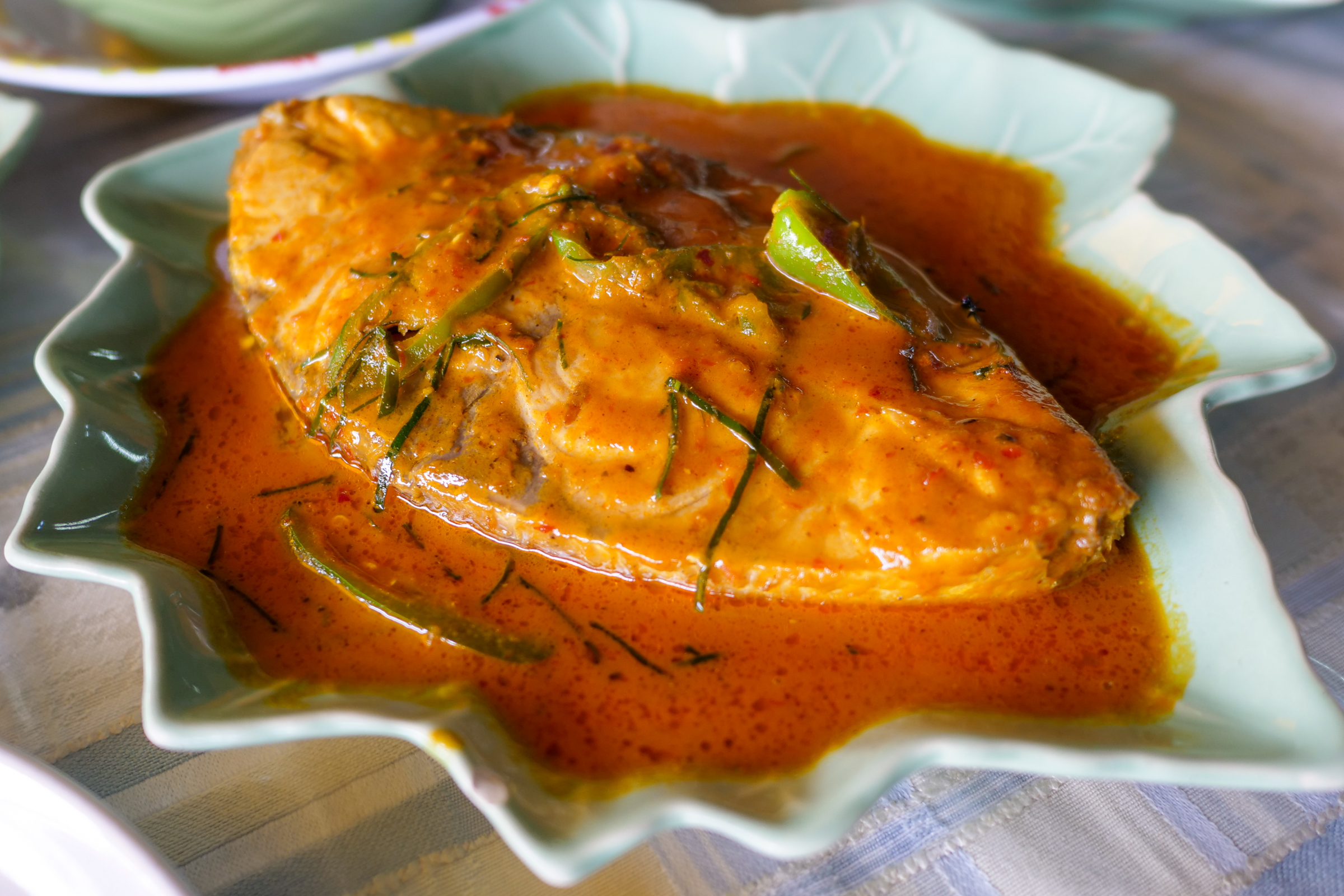 Jadjan (จัดจ้าน), is actually the Thai word for strongly or intensely flavored. And so I already loved the name and philosophy of this restaurant before even going.
At Jadjan Restaurant (ร้านจัดจ้าน) in Phuket, Thailand, you will find a mix of Southern Thai / Central Thai food, and seafood on their menu. It's a fantastic laid back meal experience, and Chef Dang, the owner and head Chef is skilled and so incredibly friendly.
In this post, I'm just going to quickly share the delicious food I ate.
Jadjan Restaurant (ร้านจัดจ้าน) – Phuket, Thailand
First of all, let's quickly meet Chef Dang (or Danny as he calls himself) the owner and head Chef of Jadjan Restaurant (ร้านจัดจ้าน).
I got to chat with him a little bit as he was cooking and hear about his background. The first thing you will notice is that Chef Dang is extremely friendly and welcoming. He's the type of chef that comes to say at every moment, or when he's extremely busy in the kitchen, he still yells out a "hello" or "welcome," to anyone coming in.
If you have a few minutes, watch the video above to watch Chef Dang's cooking skills and all the food!
Chef Dang worked in 5 star hotel restaurants, including the Marriott for over 20 years. He even worked at Benihana in Texas at one point. But over 20 years ago, Chef Decided to open his own small restaurant in Phuket. And from hanging out with him in the kitchen for a little while, I can tell you with certainty that Chef Dang loves what he's doing, and puts his love and care into everything he cooks.
Jadjan is also included in the Michelin Guide Phuket.
Fish Curry (แกงปลา gaeng pla)
I have to first tell you that one of the signature most famous dishes at Jadjan Restaurant (ร้านจัดจ้าน) is the crab curry with wild betel leaves (แกงปูใบชะพลู).
But unfortunately, the day we went for lunch, he didn't have crab (Chef Dang mentioned he normally has it at dinner). But he did recommend some fresh fish that he had for the day, "pla mong hui siem (ปลามงหัวเซี้ยม, I think in English it's a Long Nosed Emperor fish, not fully sure)," that he said was very delicious in a coconut milk curry. So that's what we ordered.
It was delicious. The fish itself was meaty and fresh, and he made a curry that wasn't as powerful of a taste as some Southern Thai curries, but kind of a balance of Southern Thai and Central Thai. It almost had a flavor like a panang curry. However, it was delicious, and very fragrant with a handful of finely chopped kaffir lime leaves.
Seafood Tom Yum (ต้มยำทะเล tom yum talay)
Next we ordered the mixed seafood tom yum, and we ordered it "nam khon," meaning the milky version of tom yum, which includes evaporated milk.
My wife especially loved the tom yum, with a mild, creamy soup base, plenty of seafood – mainly fish and squid, and a nice balance of salty, sweet, and spicy.
Shrimp, stink beans (กุ้งกะปิสะตอ goong kapi sataw)
Next up for shrimp with stink beans fried in shrimp paste with minced pork. He stir fried this dish on high heat in a flame and cloud of smoke, so what stood out to me was the vibrantly smoky taste. The shrimp paste always gives a boost of umami, and the stink beans were huge.
Could have been spicier for me, but the taste was wonderful and smoky.
Fried squid, fresh chilies (หมึกทอดพริกสด meuk tod prik sod)
But without a doubt the meuk tod prik sod (หมึกทอดพริกสด) was the highlight dish for me, and one of the best versions of this dish I've had in Thailand. Although on the menu they called it fried squid with fresh chilies, it was more like a fried garlic squid.
To make this dish Chef Dang mixed the squid with some seasoning, a sprinkle of flour, a heaping handful of garlic, and fresh chilies, then deep fried it all. There was so much garlic, that they entire jumble was sticky. If you love crispy fried garlic, this is a must.
Total price
Total price came to 910 THB ($28.95 at the time of writing this), which is reasonable for the seafood we ate, the quality, and the portion sizes are also pretty good size. Also included in our bill (but not pictured in this article), my son got the crab fried rice (khao pad boo ข้าวผัดปู), which was fantastic – I had a few bites!
Even though the restaurants name is Jadjan Restaurant (ร้านจัดจ้าน), which means intensely flavored, the food here is not extremely spicy like some other restaurants in Phuket, but I think what the name intends is that the food is very well seasoned and balanced.
For me, the food was delicious, and I especially loved it as a family restaurant that everyone can enjoy. My wife loved the food, as did my son.
It's a great family restaurant, delicious food, easy, laid back, and friendly.
Jadjan Restaurant (ร้านจัดจ้าน) – Phuket, Thailand
Address: 9, 3 Sakdidet Rd, Tambon Talat Nuea, Mueang Phuket District, Phuket 83000 (Google maps), located in Phuket Town, just south of the the center old town.
Open hours: 10:30 am – 10 pm daily
Prices: Our total bill came to 910 THB ($28.95)