Issaya Siamese Club – Beautiful Food, Touristy Flavors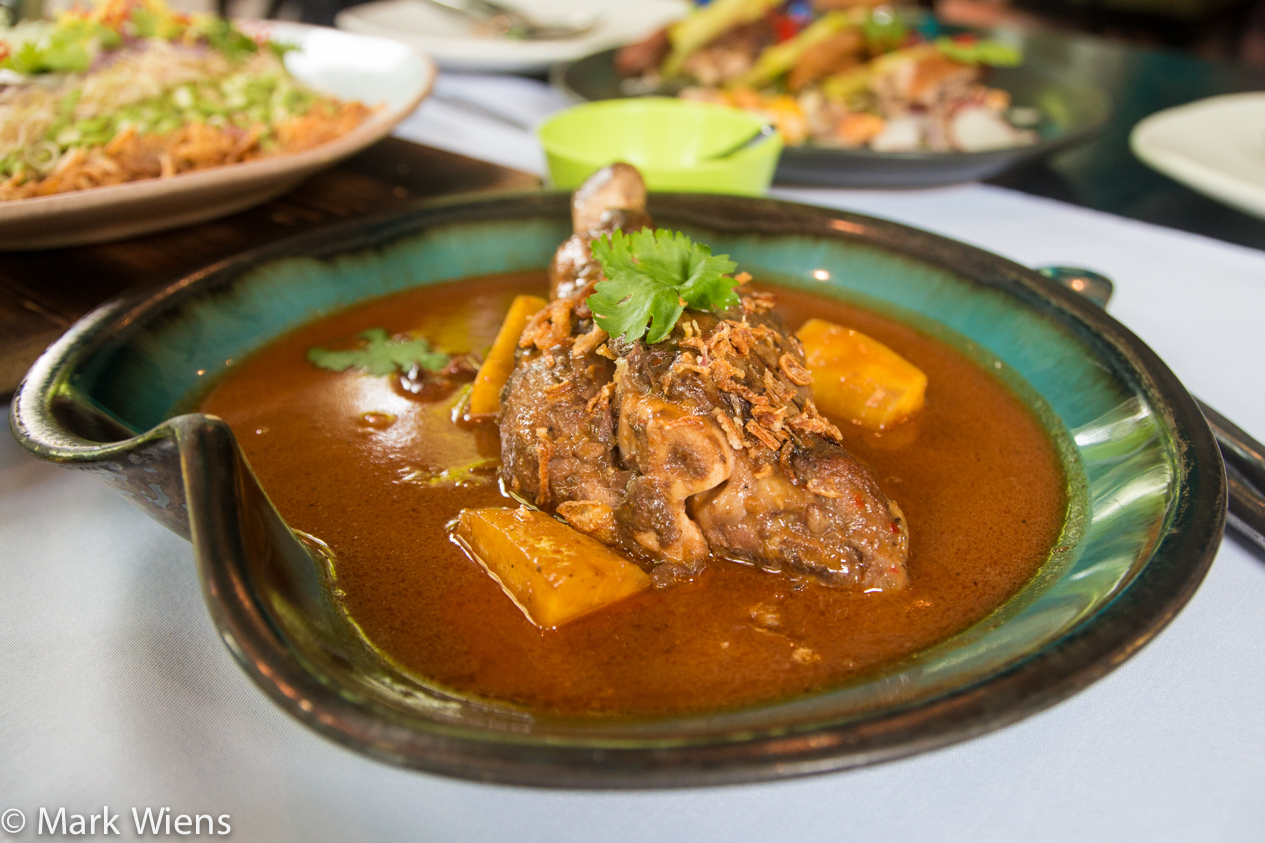 Featured on the list of top 50 restaurants in Asia, Issaya Siamese Club is a restaurant that's been making headlines in Bangkok lately.
It's not exactly our normal street food dining experience in Bangkok, but it was a special occasion, so Dwight and I, along with our spouses, decided go and check it out.
Issaya Siamese Club is the restaurant of Thai celebrity Chef Pongtawat Chalermkittichai (Ian Kittichai), a chef who began his food career as a street food vendor, eventually went to culinary school, cooked in Australia, and was the executive chef at The Four Seasons in Bangkok. His success story is very inspirational.
Issaya Siamese Club is located in an unlikely location, tucked quietly by itself somewhere below multiple elevated highways and just a stones throw from the chaos of Klong Toey market.
The villa, which is a restored Thai home built in the 1920's, is very impressive.
It has a feeling of Thai luxury and tradition, yet at the time it's calm and relaxing. The gardens are neatly manicured and the facility is extremely well designed.
Enter from the left hand door, you'll pass through the outdoor patio, and can either choose a garden front outdoor table, or the elegant indoor seating – furnished with colorful tables and sofas.
The interior design at the restaurant was done by Hans Bogetoft Christensen, and I would say he did a fantastic job – the design of Issaya Siamese Club really stands out from the beginning.
The bottom floor of Issaya Siamese Club is the Issaya Restaurant, while the upstairs floor is what they call the Siamese Club, including rooms that are designed with a lounge bar concept.
This is the type of place you want to come with a group of friends to enjoy a nice evening out with some cocktails. Again, the traditional yet contemporary atmosphere is really spectacular.
To drink, there were a number of signature cocktails on the menu. I didn't actually have any myself, but Dwight had a Ginger Basil Kicker, which was decent, but at a steep price.
Price – 330 THB
The menu included just enough dishes to the point where there was a good amount of choices, but not so many that's it's overwhelming (like some Thai restaurants can be).
One of the recommended starters at Issaya Siamese Club is the yam hua plee sot gab yot ma prow (ยำหัวปลีสดกับยอดมะพร้าว), a salad of banana blossom flower and coconut shoots.
Price – 260 THB
The bottom of the dish included the thin strips of banana blossom mixed with coconut shoots, all tossed in a prik pao (roasted chili) relish. The top was slivers of both ingredients deep fried to a crisp.
Overall, it was alright, but it didn't come off to me as flavorful enough.
My wife being from southern Thailand, we love Khao Yam Bangkok (ข้าวยำกรุงเทพ), a southern style Thai rice salad with a host of beautiful toppings.
It goes without saying, the presentation quality at Issaya Siamese Club is amazing, everything is very well arranged and presented.
Rice was of course on the bottom of the plate, and then each topping was arranged in strips including crispy fried shallots, thinly sliced long beans and lemongrass, shallots, coriander, cucumbers, pomelo, kaffir lime leaves, and finally some toasted garlic chips.
Price – 260 THB
Khao yam (ข้าวยำกรุงเทพ) is always served with a sweet tamarind sauce, which you drizzle over the dish and then mix everything up.
I thought the khao yam (ข้าวยำกรุงเทพ), was good because of the refreshing collection of ingredients.
Appetizer complete, we next tried salad phet krob (สลัดเป็ดกรอบ), a crispy duck salad.
The dish was arranged in a pattern stack, with crispy fried duck, slotted in-between slices of starfruit, and decorated with radish, cashews, coriander, and foam, plus probably quite a few other ingredients that I'm forgetting.
Price – 380 THB
The salad phet krob (สลัดเป็ดกรอบ) was tasty, bites of crispy salty duck with juicy sweet starfruit was awesome. The foam, was just for decoration, but it did look pretty cool.
We only wished the portion size had been a bit bigger, there really wasn't a lot of duck in there.
On there menu, there are a couple of set menus which you can order, but since we were four people, we decided to mix and match to order our own complete menu.
In the end, I think it might actually be better on the budget to choose one of the set menus – but we wanted to try a few things that were different from the chosen dishes on the set menu.
Here's the thing, massaman curry is a very well known Thai dish, but I've got to be honest and say that I don't always like it. It's often way too sweet and not spicy enough for me.
But after carefully going through the menu, we decided to try out their chef recommended gaeng massaman kha khae (แกงมัสมั่นขาแกะ), Thai mssaman curry with a lamb shank.
Price – 720 THB
The glistening shank of lamb was presented on a plate, sitting in a pool of dark, almost maroon colored curry.
The lamb was extraordinarily tender, .
Unlike many versions of massaman curry, the one at Issaya Siamese Club had an almost barbecue sauce flavor to it, yet of course with a much more quality blend undertone of spices.
It was lightly sweet, had a smokey cinnamon touch, and was just plain wonderful.
The lamb, which slid off the bone, was buttery and rich, and paired with the sauce it was excellent. Not a traditional Thai massaman curry, but it really worked well for me.
I think Dwight and I both agreed that the lamb massaman was the highlight of our entire meal at Issaya Siamese Club – this is a dish you don't want miss if you go – even if you're not a huge massaman lover like me.
The most disappointing dish of our meal was the pla kapong luey suan (ปลาลุยสวนอิษยา), a deep friend Asian barramundi fish, topped with a variety of pretty herbs, and paired with a tamarind sauce.
Again, it was beautifully displayed, on a classic platter, over a banana leaf.
Price – 1,250 THB
The fish was cut from the central spine, and sliced into pieces in traditional Thai cooking fashion. After being deep fried it was covered in thin slices of lemongrass, shallots, leaves of coriander, and what I think was pak blung (ผักปลัง) – buds from the basella alba vine.
The sauce was a very mild, too mild for me, a blend of tamarind and khao khua (roasted pounded sticky rice) with barely a hint of chili, and a few more herbs to make it pretty.
It wasn't bad, after all it was a fish, but it lacked flavor to me, both the fish and the sauce.
And the real shocker for me was the price tag, which I thought was extremely high for what it was.
Another speciality was the khao ob nahm liab hed paw (ข้าวอบหนำเลี้ยบกับเห็ดเผาะ), a mixture of rice and beans in a hot earthenware bowl.
Price – 280 THB
Korean food is famous for using these eathernware bowls in their serving, and I'm assuming this dish was influenced from Korean cooking.
I did enjoy the khao ob nahm liab hed pao (ข้าวอบหนำเลี้ยบกับเห็ดเผาะ), with piping hot rice coated in fragrant olive oil and bits of toasted garlic, but I didn't find it overly special.
After polishing off our meal at Issaya, we took a leisurely stroll around the compound, walked around the upstairs club, and admired the fresh herbs and vegetables growing on the side of the restaurant.
The Bottom Line
The atmosphere and design of the restaurant is very impressive. They have done an exceptional job at re-creating modern Thai tradition in a relaxing elegant environment.
For myself, with the exception of the masssman lamb, the food was a bit bland, and overpriced for what it was.
However, perhaps the menu is catering more towards foreign visitors than people who eat Thai food frequently and live in Thailand – I'm not sure.
I think the atmosphere is brilliant, and if you're visiting Thailand and concerned about spice heavy food, I think Issaya Siamese Club will be a perfect fit for you. I think for these prices, the food at Issaya Siamese Club needs to improve.
Issaya Siamese Club (ร้านอิษยา) – Bangkok
Address: 4 Soi Sri Aksorn, Chua Ploeng Road, Sathorn, Bangkok
Open hours: 11:30 am – 2:30 pm for lunch, 6:00 pm – 10:30 pm for dinner, open everyday
Prices: Be prepared to spend about 800 – 2,000 THB per person
Website: http://www.issaya.com/index.html
ที่อยู่ 4 ซอยศรีอักษร ถนนเชื้อเพลิง สาทร กรุงเทพฯ
โทร. 02 -672-9041 , 02-672-9040
เปิดทุกวัน เวลา 11.00 – 21.00 น. และ 18.00 – 02.00 น.
How to get there:
Easiest way to get there is by taking a taxi. Here's the map:

View Bangkok Eating Thai Food Map in a larger map