Authentic (and Fiery Hot) Isaan Food: Lan Larb Ubon Restaurant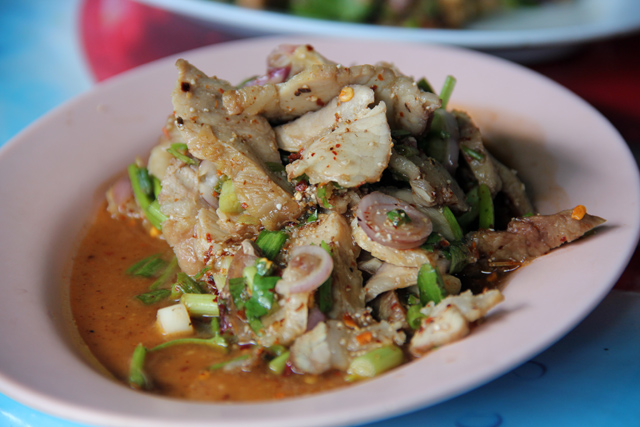 One rule of Bangkok street food is that where there is a large school, there will be a high concentration of delicious street food.
Ramkhamhaeng University may be the largest university in Bangkok, and they pack a near unfathomable amount of street eats into the vicinity.
One of the those truly lip-licking joints is known as Lan Larb Ubon (ร้านลาบอุบล), a little hole in the wall restaurant located just 50 meters into Ramkhamhaeng Soi 29.
At the moment, their Larb Pla Duk (ลาบปลาดุก) is what I consider one of the best in Bangkok. They use only smoked and roasted catfish so it really has an incredible smokey flavor.
Their Larb Pla Duk (ลาบปลาดุก) is not saucy, but it's almost the kua kling of Isaan food!
This is one restaurant in Bangkok that if you ask it for "really spicy," they will actually deliver.
Skip all the joking around.
When you order spicy, they give it to you spicy.
This plate of flaming hot Som Tam Thai above was on fire…and it's one of the reasons I keep coming back frequently!
Here's another shot of their delicious Som Tam.
Of course, if you aren't so much into spicy food I'm sure you can order it normal and even omitting most of the chilies.
Another specialty at Lan Larb Ubon ร้านลาบอุบล is their Yam Mamuang (Green Mango Salad).
It's made nearly identical to the Som Tam, just with shaves of green sour mango instead of green papaya.
The food is not by any means fancy, it's just good classic Isaan dishes done very right.
Another classic dish is just a normal plate of Nam Tok Moo (น้ำตกหมู) – but just like the rest of the dishes, they pay attention to the details and pack as much flavor as they possibly can in every single bite!
The Bottom Line
You aren't going to go wrong at Lan Larb Ubon ร้านลาบอุบล if you order any of the classic Isaan dishes. Also, if you ask them to make your food "spicy" they won't fail in the task!
Lan Larb Ubon ร้านลาบอุบล
Address: Located just 50 meters into Ramkhamhaeng Soi 29, opposite Ramkamhaeng University.
Phone: 081-8042208, 081-4224473
Prices: Normal street food prices, 30 – 40 THB per dish
How to Get There

View Lan Larb Ubon ร้านลาบอุบล in a larger map