Irresistible Southern Thai Curry at Sam Long Market Restaurant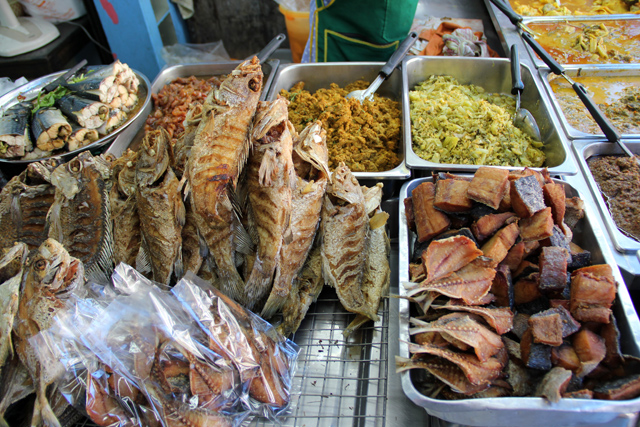 Seeing the all familiar line up of southern Thai food leaves me no choice but to make a pit stop.
As much as I love Thai food from around the country, absolutely nothing satisfies me more than a feast of southern Thai food!
Marked by a few pods of Sataw (stink beans popular to eat in southern food) sitting in the door way and an aroma of turmeric root and a fusion of delicious humid fumes I stepped inside Lan Song Palinya Gaeng Pak Dtai (ร้านสองปริญญาแกงปักษ์ใต้).
Tip: It's always good to eat southern Thai food in the morning or for lunch when the food is still fresh and somewhat hot.
The friendly owner of the restaurants cheerfully waited as I took a few photos of her food and decided on a few of the dishes I would sample for the day.
Everything looked awesome.
We started things off with fresh steamed rice and Kai Dtom Yang Matum (ไข่ต้มยางมะตูม) – hard boiled egg made with an egg yolk that is slightly orangey and saltier than normal.
The Gaeng Taypo (แกงเทโพ), though slightly on the cold side was excellent.
Gaeng Taypo a milky sour curry filled with morning glory vegetables and fried fish. The chunks or deep fried fish were still crispy on the outside and flaky with just a few bones on the inside.
My mouth was already overjoyed.
One of the best Thai dishes I can't get enough of these days is Goong Pad Sataw (กุ้งผัดสะตอ).
I actively and frequently search it out. Shrimp, stink beans (sataw) and chili curry paste is about all that goes into this one hit wonder.
Another classic southern Thai dish is Gaeng Som, that can be made with a variety of filling ingredients. Gaeng Som Sapalot (with pineapple) is wonderful as is Gaeng Som Malago (with green papaya) and Gaeng Som Normai (with bamboo shoots like above).
It was spicy, down to earth spicy…and sour to go with that.
This Ganeg Som Nor Mai (แกงส้มหน่อไม้) was made just the way I dream of it to be: out of control spicy, ridiculously sour, and absurdly flavorful.
Lastly for this little pre-market brunch we ordered a side of Nam Prik Makam (น้ำพริกมะขาม) – tamarind based chili sauce.
One of the really nice additions to Lan Song Palinya Gaeng Pak Dtai (ร้านสองปริญญาแกงปักษ์ใต้) was that they served their raw vegetables on a huge platter sitting on each and every table – meaning you can basically eat as much of the veg as you want – nice touch in my opinion!
Too full, I wasn't even able to sample some of the great looking other dishes like the Thai dry curry (Kua Kling Moo คั่วกลิ้งหมู).
Or this Pla Too and nam prik!
I guess it will have to wait for next time!
The Bottom Line
They make good solid southern Thai food, really really good. Then again, if you are making mediocre Thai food around Sam Long Market (ตลาดสำโรง), you won't last long with all the competition around.
Their dishes are definitely on the spicy side, so if you are up for it, it's wonderful!
Lan Song Palinya Gaeng Pak Dtai ร้านสองปริญญาแกงปักษ์ใต้
Address: 731 Across the street from Imperial Sam Long Big C. On Sukhumvit Soi 111 – 113
Phone: 02-3802445
Prices: Each bowl is about 30 THB
ร้านสองปริญญาแกงปักษ์ใต้
731 ตรงข้ามอิมพีเรียลสำโรง
โทร.02-3802445
How to Get There
Take the bus or a taxi down to Sukhumvit Soi 111. The restaurant is located opposite the street from Imperial Big C shopping center.

View Eating Thai Food Map in a larger map