Invigorating Ginger Soup with Black Sesame Filled Dumplings (Bua Loy Nam Khing)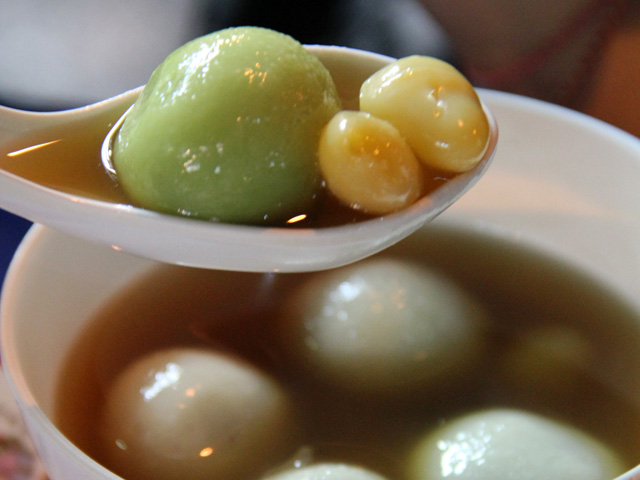 Yaowarat (Chinatown) is home to a fantastic array of Bangkok street food which includes a number of carts that specialize in Thai Chinese sweet treats.
In Yaowarat where only the fittest street carts survive, it's pretty safe to assume that if the stall is bumping with business, they are serving something delicious.
One of my favorite sweet Thai treats is Bua Loy Nam Khing (บัวลอยน้ำขิง), little rice flour dumplings filled with black sesame butter and swimming in invigorating ginger water. I could eat this all day.
The soup is powerful and soothing on the throat and the little dumplings burst with a nutty sesame sensation.
This particular bowl also included the healthy gingko nuts called pae guay in Thai.
Price – 50 THB (without the extra health nuts it's 30 THB)
We also tried the little chunks of cantaloup and green tapioca pearls in cool milk. It was very refreshing and I really like this combination too. Being not too sweet and a little bit fruity, it was perfect for me.
Price – 40 THB
Opinion
Great little stall for delightful bua loy and nam khing in Yaowarat. I love the strength of the ginger. It's a bit expensive but normal price for being in its location.
Bua Loy Nam Khing Yaowarat:
These soupy Thai desserts are found all over Bangkok and are quite popular throughout all of Yaowarat (Chinatown). I ate these particular bowls a stall that opens in the evening directly opposite the White Orchid Hotel on Thanon Yaowarat.
Open Hours: Opens starting in the evening till late at night
They have a phone number but no address: 085 188 1085
How To Get There:

View Eating Thai Food Map in a larger map