Indian Host – Fine Indian Dining in Bangkok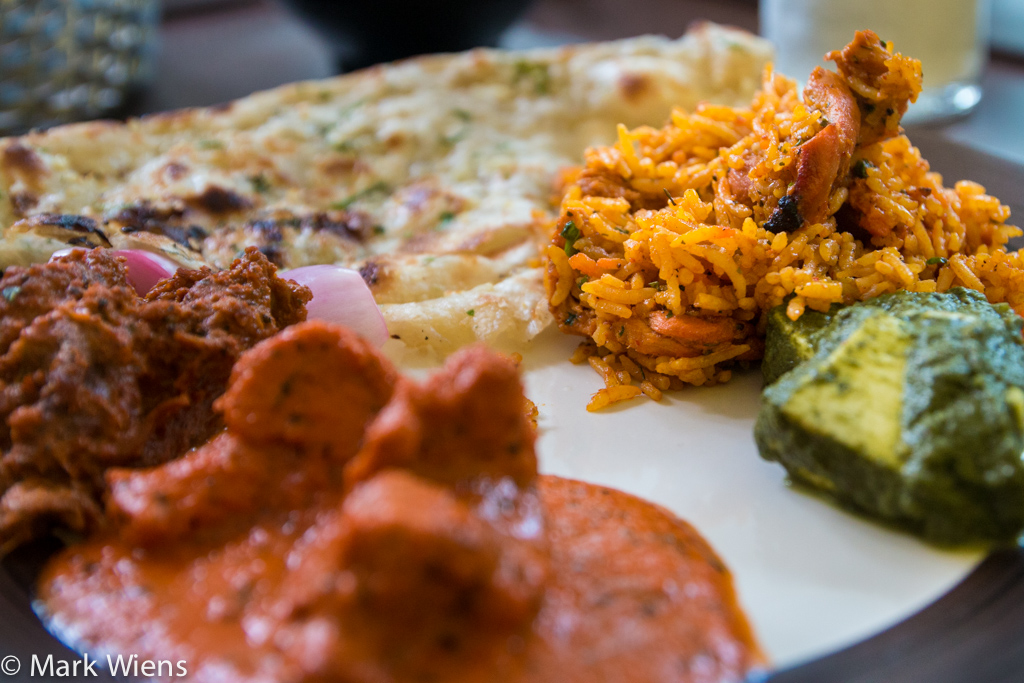 Along with Thai food, I'm a huge lover of Indian food (ok, I love almost every kind of food, but Thai and Indian food are two of my absolute favorites).
There are plenty of restaurants in Bangkok serving a variety of different genres of Indian food, from Pahurat to Silom, to dozens of places scattered along Sukhumvit.
Not long ago, I was invited, along with Dirk and Barbara, to eat at Indian Host, located down Bangkok's Sukhumvit Soi 22.
Indian Host aims to serve authentic and high quality Mughlai north Indian cuisine in Bangkok.
The owner, Ravi, explained to us that he originally started the restaurant because he noticed that there were plenty of Indian restaurants in Bangkok, but many of them under-delivered in quality.
Ravi and his wife Renu, arranged for us to meet for a lunch that included a full tasting menu, plus a few dishes that were just being tested, not yet on the real menu (but maybe coming soon).
We got started with papadums, made form lentil and chickpea flour, rolled thin, and cooked to a crisp.
These papadums were nice and light, and very thin.
Along with some pickled shallots, which were mild with just the right amount of oniony kick, and a few spoons of the green yogurt coriander sauce, the papadum was good.
One of the items, not yet on the menu was murgh kalmi kebabs, chicken marinated and cooked in a tandoor oven.
The drumsticks were marinated in yogurt and light spices, then all the meat was pulled to one side of the bone.
There was flavor caked onto the chicken, and I what I loved most about it, was that it was so juicy and not overcooked.
Another dish, straight out of the tandoor was tulsi fish tikka, tender marinated fillets of fish.
The fish was flaky and fresh, and again, it was cooked so it was still juicy and not dried out – I thought it was fantastic.
It was flavored with mint and served with fresh rocket and a sauce made with pine-nuts and a hint of wasabi. This was a bit of a fusion dish.
Probably the most stunning of all the dishes, and one of Indian Host's award winners, is their version of mutton kabuli raan, a north Indian style leg of lamb.
The lamb presentation was awesome – it was deboned and shredded, then placed in a mound on top of the end of the bone, with a flashy silver ribbon bouquet on the opposite end – beautiful.
Price – half leg 525 THB, full leg – 925 THB
The lamb was marinated overnight, cooked in the tandoor, then deboned and shredded.
The meat was tender, yet it still had some good texture to it, and it was well flavored with a nice balance of spices. Garnished with a bit of yogurt coriander, it was fantastic.
Off the "coming soon" menu, we sampled a new recipe of tandoori malai broccoli, something I had never seen or tasted on an Indian menu before.
The broccoli was marinated in cream cheese and herbs, then roasted in the tandoor, and decorated with edible silver. It was cheesy and rich, but wasn't overly flavorful to me.
It was good, but to me, though I do love broccoli, I'm not a real fan of creamy or cheesy broccoli. It was alright, but not my favorite.
For our final starter, we had bhuttey ki tikki, little vegetarian fritters of minced corn, deep fried and garnished with tomatoes, and kernels of sweet corn.
They were like little deep fried cornbreads, and Barbara mentioned that they almost tasted Mexican, which I agreed with as well.
These are good, especially if you're looking for a veg dish at Indian Host.
Price – 230 THB
Although it may seem like we already ate an entire meal, that was actually just the beginning.
After the starters, the chef and manager then brought out a well rounded range of north Indian dishes, and by this time my stomach was primed and ready to eat more.
Along with the main curry dishes, we had garlic butter naan, which was cooked perfectly and nicely seasoned with the right amount of butter and minced garlic.
It was chewy and crunchy at the same time – so good with the curry sauces.
Price – 75 THB
We also had a basket of a variety of other breads including laccha parantha, a layered bread, and my first time to try missi roti, a yellow bread made from gram flour – it was fantastic.
Price – laccha parantha 75 THB, missi roti 55 THB
One of the most famous dishes on the menu is something they referred to as "mutton authority," which has to be one of the coolest names of an Indian dish that I've heard of.
When a name of a food has mutton and authority in it, you know they're not joking around.
The lamb was shredded and tender, cooked in a beautiful balance of spices, and finally garnished with fresh shreds of ginger.
I was pretty happy, it took authority of my belly nicely.
Price – 350 THB
The palak paneer, a puree of spinach with cubes of paneer cheese, again was good, but I thought it could have included a little extra of all the spices that went into it – so it was a little plain for my taste buds.
Price – 235 THB
The murgh makhani, also popularly known as butter chicken (the orange curry on the left of my plate) was delicious. The cubes of chicken were incredibly tender, and just melted in my mouth with flavor.
That butter chicken gravy was heavenly, and not too buttery oily, but really rich and flavorful with a nice subtle tomatoey and nutty fragrance.
Price – 290 THB
We also had the murgh biryani, chicken biryani. The basmati rice was fluffy and wonderfully flavored, coated in spices, and with good chunks of chicken mixed within.
The chicken biryani was fantastic.
Price – 290 THB
One of my favorite dishes of our meal at Indian Host was the dal makhani Indian Host, their special version of this northern Indian staple.
When I was in Delhi, I could not get enough dal makhani; It's one of my favorite types of dal.
The black lentils were slow cooked overnight and mixed with spices and a bit of tomato puree. It was creamy and rich (but not greasy), packed with flavor, and I could taste that slow long cook to it.
It's stunning, you can't miss their dal makhani if you go to Indian Host.
Price – 190 THB
It was quite a north Indian meal we ate, and there was plenty of food… so much so that I wanted to keep on eating more and more, but unfortunately I became quite stuffed, as is the case most times when a feast is set before you.
For dessert, we tried a work in the making, gulab jamun topped with bits of barfi and a scoop of ice cream. It was quite wonderful, especially for anyone who loves sweets.
And also, we decided to each have a couple bites of mango kulfi.
In Delhi, I had one of the greatest mango kulfis ever, filled into a mango and cut with a hacksaw blade.
This was more elegant, but just as satisfying.
Finally, to fill in all remaining pockets of stomach space, I nursed down a cup of chai, a great way to end a great meal.
Don't forget to grab a few morsels of candy coated licorice on your way out the door.
The Bottom Line
Care and precision was put into every dish, and I could taste that everything was cooked as it should be – no shortcuts in the preparation (for example the dal was simmered overnight instead of being rushed).
Additionally I liked how the dishes were not oily like north Indian cuisine can often be. Also, the spice blends were really well balanced in every dish and very flavorful.
I thought perhaps the overall amount of spices could have been kicked up a notch, but then again I'm a bit flavor crazy, so for most people, it would have probably been just right.
Overall, excellent food, great experience. I would recommend Indian Host as a nice sit down, special occasion, Indian restaurant in Bangkok.
Indian Host – Bangkok, Thailand
Address: 30 Soi Sukhumvit 22, Klongtoey Bangkok 10110
Phone number: 0 2260 1115-7, 0942417527
Open hours: 11:30 am to 11:30 pm daily
Website: http://www.indian-host.com/index.html
Prices: Expect to pay about 400 – 600 THB per person
ที่อยู่ 30 ซอยสุขุมวิท 22 อาคาร ด้านหน้าโรงแรมมาร์เวลแบ็งคอก ถนนสุขุมวิท แขวงคลองเตย เขตคลองเตย กรุงเทพฯ
โทร. 089-499-9589
เปิดทุกวัน เวลา 11.30 – 23.30 น.
How to get there:
The restaurant is located on Sukhumvit Soi 22, in between Phrom Phong and Asoke BTS station, but a bit closer to Phrom Phong. From the Phrom Phong station, you can walk to Soi 22, make a left, and go down Soi 22 for about 300 meters. Indian Host is located right next to Marvel Hotel, and is on your right hand side. Alternatively you can hop in a taxi directly there.

View Bangkok Eating Thai Food Map in a larger map
*DISCLOSURE: I didn't pay for my meal at Indian Host, but all opinions, thoughts, and photos in this article are my own. – Mark Wiens