Restaurant Review: Hua Seng Hong Seafood (ฮั่วเซ่งฮง)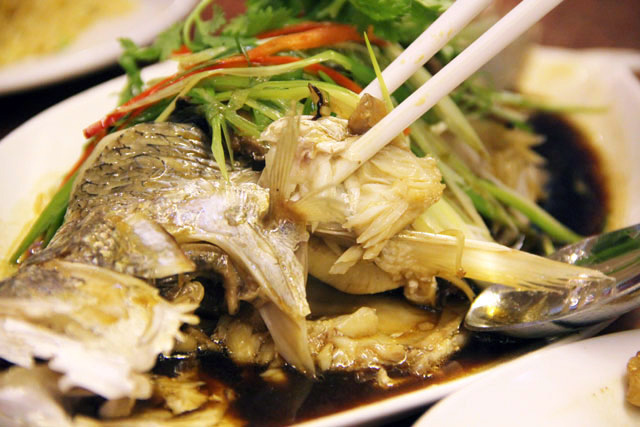 One of my favorite reasons for being such a Thai food connoisseur is that I can eat seafood for just about every meal if I choose.
While I was growing up, it was only on special occasions that I'd get to eat shrimp, squid or even fish.
But in Thailand, things are different.
I eat fish or shrimp nearly every day and occasionally go HI-SO and indulge at one of the many nicer Thai Chinese seafood restaurants.
This time, rather than going to one of my all time favorite Thai seafood restaurants, I decided to give Hua Seng Hong  (ฮั่วเซ่งฮง) a try.
Hua Seng Hong is a seafood palace of Thai Chinese food. Along with their alluring menu of seafood, they also serve dim sum (which I haven't tasted) and a bunch of Hong Kong style sweets.
At Hua Seng Hong Seafood Restaurant you can either order completely a la carte off the menu or you can choose one of their combination specials.
I went with the special "Family Set" that was a meal set up for 3 – 4 people. Choose 1 fish, 1 vegetable dish, 1 soup, and a choice of a few kinds of fancy fried rice, all for 899 THB.
The Neua Boo Pad Pongali (crab meat yellow curry เนื้อปูผัดผงกะหรี่) was NOT included with the Family Set, so we ordered it as a welcomed addition.
Unlike many restaurants serving boo pad pongali, this crab was shell less, saving lazy eaters the agony of having to de-shell it themselves.
It was a truly stunning masterpiece of a dish, pinky sized chunks of succulent crab cooked in a thick egg creamy blanket of  yellow curry.
Price: 200 THB
To begin the Family Set I ordered the Pad Pak Buay Lang (spinach ผัดผักปวยเล้ง). Now when it first arrived, I thought it was just an ordinary plate of fried veg, but after digging in, I realized it was a vegetable bursting with flavor.
It tasted basically like spinach, but the scorched garlic and bits of mushrooms made this green vegetable extremely flavorful.
Similar to tom yum goong, Potak Tale (โป๊ะแตกทะเล) is a sour clear seafood soup.
It was delivered to our table in one of those Thai style rounded bowls with the flame lit in the center. The soup must have contained a blend of 10 different goodies from the sea – big chunks of fish, squid, shrimp, a few different shellfish and I'm not even sure what else.
Along with the seafood the Potak Tale included mushrooms, dried chillies, lemongrass and sweet basil. It was soured with lime juice and served piping hot. I was in seafood heaven.
In my opinion, no other variation of fried rice compares to Khao Pad Boo (crab fried rice ข้าวผัดปู).
Hua Heng Song (ฮั่วเซ่งฮง) used those same beautiful chunks of shell less crab that they used in the pongali curry in the fried rice. The egg was spread so evenly on rice that it coated all individual grains.
A quick squirt of lime juice and a few chillies from the prik nam pla made the khao pad boo something to cherish.
Everything was amazingly delicious, but the Pla Kahpung Neung See Ew (steamed sea bass in soy sauce ปลากะพงนึ่งซิอิ๋ว) was the HIGHLIGHT of my night.
It was a monster, probably a good 2.5 kilo beauty. He was steamed in his oily juices along with soy sauce, and I could really taste an amazing fragrance of sesame oil.
After being steamed the fish was laced with shreds of green onions, peppers, and ginger.
The Pla Kahpung Neung See Ew was ambrosial, a fish so good that I've been dreaming about it ever since I ate there.
For the sweet tooth devotees, you'll be extremely happy to know that there's a huge amount of Thai desserts and other sweets on the menu.
We sampled this slice of Creppe Cake เครปเค้ก, which was good, but maybe not quite as fluffy as I had imagined. The strawberry syrup was fantastic though.
They had a wide range of other desserts that looked enticingly sweet and attractive, but I was just too stuffed to even consider another option.
The Bottom Line
If you like seafood and want to dine in a nice modern atmosphere, you'll fall in love with Hua Seng Hong – I did!
The food is extremely tasty, the seafood is super high quality, and the specials on the menu are decently priced for the value.
Hua Seng Hong Seafood Restaurant (ฮั่วเซ่งฮง)
Address: Soi Sukhumvit 101, Sukhumvit Rd., Bang Chak, Phra Khanong, Bangkok 10260 Thailand
Website: Here's the official Huang Seng Hong site
Hours: 10 am – 10 pm daily
Phone: 0-2730-5141-2
Prices: Be prepared to spend anywhere from 300 – 600 THB per person, maybe more if you dip into the higher priced seafood dishes (or the suckling pig). When I went, our bill came to about 400 THB per person, but if you wanted, you can just get that special without anything extra.
ฮั่วเซ่งฮง
สาขาสุขุมวิท 101ถนนสุขุมวิท ปากซอยสุขุมวิท 101 บางจากโทร. 0-2730-5141-2
How to Get There
Hua Seng Hong is a chain of restaurants with a number of locations around Bangkok. I've only been to the branch on Sukhumvit Soi 101, right below the Punnawhithi BTS station.
Take the BTS to Punnawithi Station, and the restaurant is right below the station on the corner of Sukhumvit Road and Soi 101.

View Eating Thai Food Map in a larger map