Hong Khao Tom Pla (ฮ้องข้าวต้มปลา): Serious Cooking in Phuket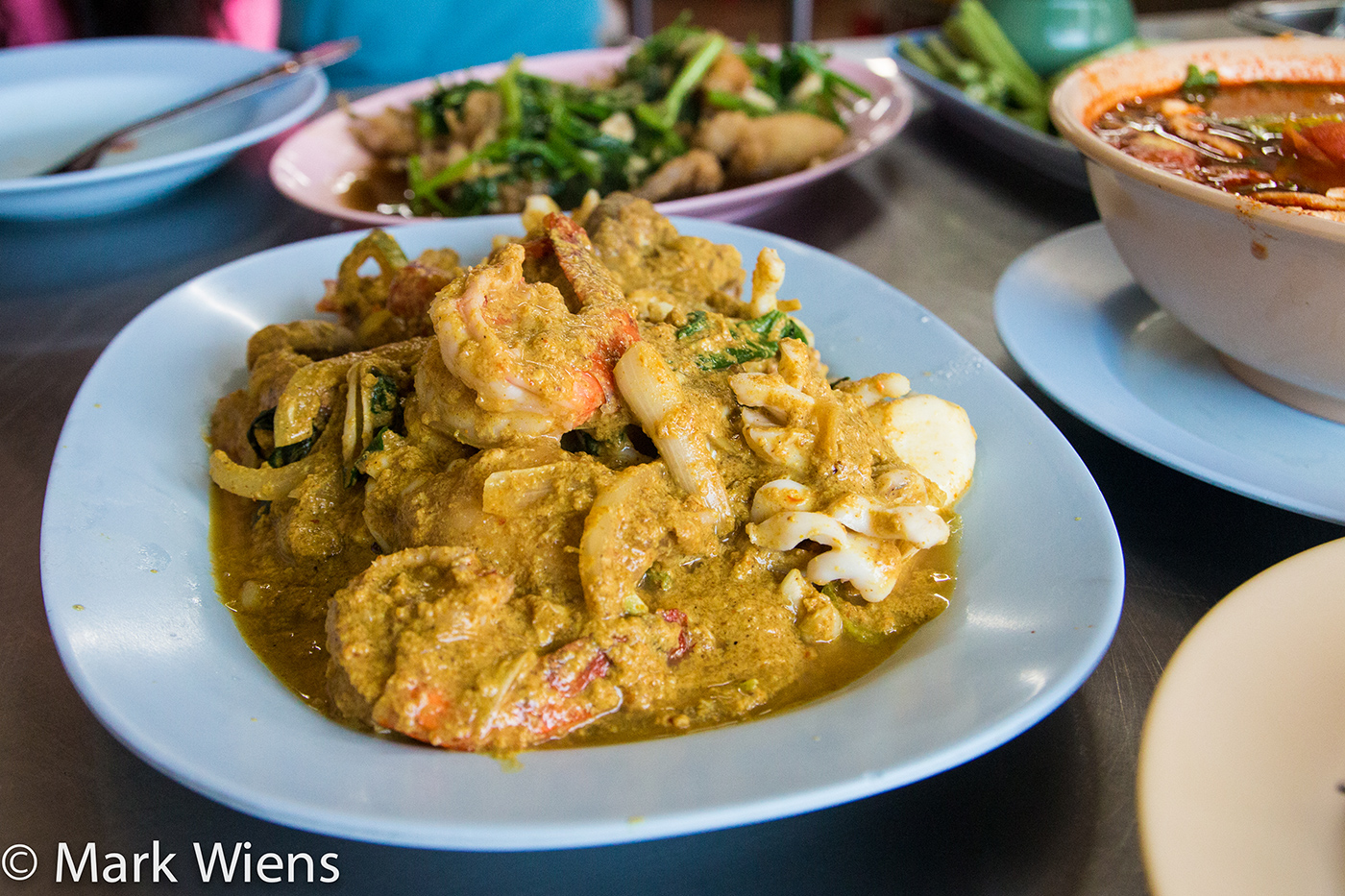 When my wife tells me there's a restaurant we NEED to eat at, I listen.
And when we were in Phuket, one evening she said, "Mark, this place looks exactly like a place you'd love."
And so one evening when we were in Phuket town, we made our way to Hong Khao Tom Pla (ฮ้องข้าวต้มปลา), a locally famous and unique Thai Chinese restaurant in Phuket.
Although there are many amazing places to eat in Phuket, this restaurant turned out to be one of my favorite experiences…
The atmosphere
While a famous restaurant in Phuket like Raya is elegant and peaceful, Hong Khao Tom Pla (ฮ้องข้าวต้มปลา) is the exact opposite: loud, fast paced, and dishes are served up in big portions, without caring much about presentation (other than how beautiful the food is).
The restaurant is located just a short distance from Talad Kaset, one of Phuket's best morning markets (don't miss it if you're looking for a delicious local breakfast in Phuket).
It's housed at the bottom of an old Phuket wooden home, with a hand painted sign, and just from looking at the outside, you know it's the type of restaurant that's going to be good.
There were only about 6 or 7 tables inside, which filled up very fast, and there's always a long line of people who order for takeaway.
We arrived just after they had opened in the late afternoon, and were able to grab a table.
Character of the restaurant
Hong Khao Tom Pla (ฮ้องข้าวต้มปลา) opens each evening, to a crowd of hungry customers who come to enjoy the incredible flavors, unique dishes, and overall character of the restaurant… and I'll tell you, this restaurant in Phuket has some unforgettable character.
The first thing you'll notice is that the chef is extremely loud, but in a very cool kind of way.
While he is cooking on a volcano sized flame, he's yelling out commands to his staff, in a stern shouting voice of control.
To add to the fast pace of the restaurant flow, every few seconds the chef ignites an explosion of flame shooting from the wok, illuminating the entire restaurant with flickers.
And them BOOM, another dish is flash cooked and served.
Although I enjoy relaxation occasionally, for myself, nothing beats the fast pace of a Chinese wok stir fry restaurant.
Tom yum pla nam sai (ต้มยำปลาน้ำใส)
The first dish we ordered was tom yum pla nam sai (ต้มยำปลาน้ำใส), tom yum with fish, the clear version without evaporated milk in it (though this was hardly clear as you can see in the photo).
Normally when you order the clear version of tom yum soup (nam sai น้ำใส), it really is pretty clear, a see through broth.
Not at Hong Khao Tom Pla (ฮ้องข้าวต้มปลา).
Price – 120 THB
The chefs' version of tom yum pla nam sai (ต้มยำปลาน้ำใส) was blood red, vibrant and colorful, and absolutely packed full of ingredients like mushrooms, pieces of fish, onions, kaffir lime leaves, and tomatoes.
It was beautiful.
The broth was thick and tomatoey, with subtle chili spice, the sourness of lime juice, and lots of citrusy kaffir lime leaves. It was almost like a stew, and unlike any other version of tom yum (ต้มยำ) I've ever had in Thailand.
I thought it was fantastic, and the generous supply of ingredients, made it even better.
Pla pad keun chai (ปลาผัดคึ่นฉ่าย)
One of the standard dishes I order at Thai Chinese restaurants throughout Thailand is pla pad keun chai (ปลาผัดคึ่นฉ่าย), fish fried with Chinese celery.
And again, at Hong Khao Tom Pla (ฮ้องข้าวต้มปลา) the chef made no mistakes.
The fish tasted fresh, and it was deep fried so it had a crispy layer around the outside, and then it was stir fried with slices of ginger and Chinese celery, and just the right amount of oyster sauce and soy sauce.
Being cooked on a high flame fire, it had the breath of the wok, a charred flavor to it.
Price – 100 THB
Gui chai pad nam man hoy (กุ้ยฉ่ายผัดน้ำมันหอย)
For vegetables, Ying and I chose gui chai (กุ้ยฉ่าย), garlic chives stir fried with oyster sauce.
Garlic chives are delicious, they sort of have that same fresh crisp texture like young asparagus, but even more crisp, and since they are hollow on the inside, they are easy to chew, and spring with juiciness in every bite.
The garlic chives were fried with garlic, oyster sauce, and soy sauce, and probably that's about it. Again, what stood out was how the chef flash fried it in a wok, giving it that always marvelous smoky flavor.
Price – 60 THB
Talay pad pongari (ทะเลผัดผงกะหรี่)
Lastly, probably the dish I loved the most of our meal at Hong Khao Tom Pla (ฮ้องข้าวต้มปลา) was the talay pad pongari (ทะเลผัดผงกะหรี่), a mix of seafood prepared in Thai pongari curry (ผงกะหรี่) – a curry flavored with curry powder and thickened with eggs.
Just like the tom yum, this pongari curry, was unique from other versions typical throughout Thailand. Pongari can often be a little bit sweet, and quite oily, but this was neither sweet nor oily.
Instead, it was marvelously flavored with curry powder, thickened with eggs, but not even the slightest bit oily – I'm not even sure if the chef used oil in the cooking, because at the bottom of the plate was just water, not oil.
The mix of seafood included a generous amount of shrimp, squid, shell fish, and fish, plus big chunks of just slightly cooked green onion.
The flavor was excellent – this is one of the dishes you shouldn't miss eating at Hong Khao Tom Pla (ฮ้องข้าวต้มปลา).
Price – 80 THB
Conclusion
Hong Khao Tom Pla (ฮ้องข้าวต้มปลา) is a unique Thai Chinese restaurant in Phuket Town, that has some serious character to it.
The chef, though nice, is loud and commanding, and he is a wizard on the wok.
Ying and I ordered four different dishes at the restaurant, everything was delicious, but I especially loved the talay pad pongari (ทะเลผัดผงกะหรี่), a mix of seafood in yellow egg curry.
On top of serving delicious food, the portion sizes at Hong Khao Tom Pla (ฮ้องข้าวต้มปลา) are huge, and the prices are, even by Thai standards, pretty cheap.
For Thai Chinese food with character, Hong Khao Tom Pla (ฮ้องข้าวต้มปลา) in Phuket Town, is a fantastic place to eat.
Hong Khao Tom Pla (ฮ้องข้าวต้มปลา), Phuket, Thailand
Address: Thanon Kra, Siyaek Bang Niaw, Tambon, Talad Yai (Corner of Kra Road and Phuket Road)
Phone: 086-2778067
Open hours: 5:30 – 11 pm daily
ที่อยู่ ถนนกระ สี่แยกบางเหนียว ตำบล ตลาดใหญ่ อำเภอเมือง จังหวัดภูเก็ต
โทร. 086-2778067
เปิดบริการทุกวัน 17.30 – 23.00 น.
How to get there: The restaurant doesn't seem to have an address number, but it's located a few houses down from the southwest corner of Kra Road and Phuket Road, and around the corner from La Gaetana, a popular Italian restaurant which I haven't eaten at yet.
Click here for the map, and scroll down to "Phuket."