Home Cooked Thai Muslim Food and Khao Mok Gai in Bangkok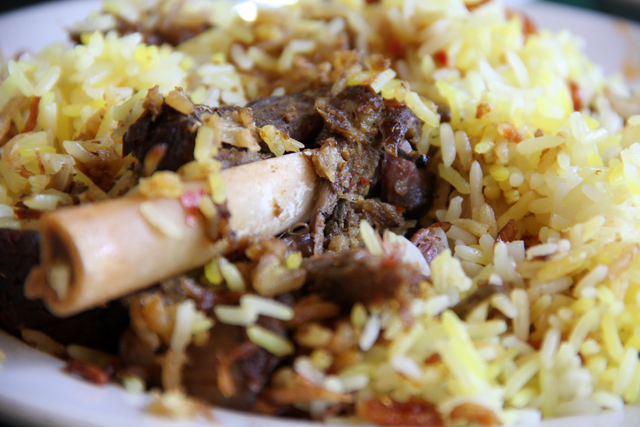 As a lover of Biryani from around the world, I'm always happy to try Khao Mok Gai anytime I see it in Thailand.
Khao Mok Gai (ข้าวหมกไก่) is the Thai version of chicken biryani: fragrant spiced rice and fall apart chicken (or another meat) served with sauce.
For me, I've had two main Bangkok Khao Mok Gai restaurant favorites for a while now: Areesaa Lote Dee located near Khao San Road and Khao Mok Gai Siam located way out there on Putha Monthon Sai 4.
There are a number of other places to eat Thai biryani in Bangkok and it was long overdue for me to check out a restaurant called Home Cuisine Islamic Restaurant – specializing in Thai Muslim food and even some Indian dishes as well.
The menu is extensive, but I was there just to sample their Khao Mok Gai (Thai chicken biryani) and their mutton biryani as well.
It's a nicer style sit down restaurant that almost resembles an American diner on the inside.
In Thailand the sauce served with any Khao Mok is a minty herbaceous blend.
At the Home Cuisine Islamic Restaurant they not only served the minty sauce, but also a sweet yoghurt sauce that included little chunks of tomatoes, onions and parsley. It reminded me a little of a sauce at the Iranian restaurant.
They also served a little eggplant pickle as a little tasty side along with the food. I loved it!
Again, these were similar to the pickles I remember so vividly with Egyptian street food.
Then came the Khao Mok Gai (ข้าวหมกไก่), an artfully created plate of individual kernels of rice coated in chicken broth and surrounding a perfectly cooked chunk of chicken.
It was sprinkled with fried onions on top to make it even better!
It actually was unlike most khao mok variations that I've previously had in Thailand. It more resembled the awesome Zanzibari biryani that I couldn't get enough of while in Tanzania.
It had more of an Indian / Middle Eastern flavor to it, than the classic Thai flavor – but it still was served with Thai sauce. It was an interesting mixture, but it was sure delicious!
Price: 80 THB
As soon as I saw it on the menu, I wasn't going to leave the restaurant without a taste of their mutton (goat) biryani. It called my name right off the menu.
Moments later it was delivered to the table, and if I had not had to take a few photos, I would have eaten it non-stop until my plate was sparkling clean.
Price: 150 THB
There's the wonderful mutton biryani up close showing how utterly tender it was, the kind of red meat that a toothless man could tear into.
I'd highly recommend it.
The Bottom Line
Their Khao Mok Gai was super tasty and comforting, but I'd really give the award to the goat biryani.
Maybe it's that I don't eat red meat (other than pork) all that often anymore, so that may be why it was so unbelievable, but the goat just slid off the bone and bursted with flavor.
I also really enjoyed their mint and yoghurt accompanying sauces.
Prices are sit down Thai restaurant, not the street price of 40 THB for a plate of Kha Mok Gai.
Home Cuisine Islamic Restaurant
Address: 186 Charoen Krung 36, Charoen Krung Road, Bangrak, Bangkok 10500, Thailand
Hours: Monday – Saturday 11:00 – 22:00, Sunday – 18:00 – 22:00
Phone: 02 – 234 7911
How to Get There
Home Cuisine Islamic Food Restaurant in Bangkok is located in Bangrak, right across the parking lot from the French Embassy in Bangkok.
It's about a 15 minute walk from Saphan Taksin BTS station.
Here's the map:

View Home Cuisine Islamic Restaurant in a larger map