Legendary Muslim Restaurant in Bangkok (ร้านอาหารมุสลิม)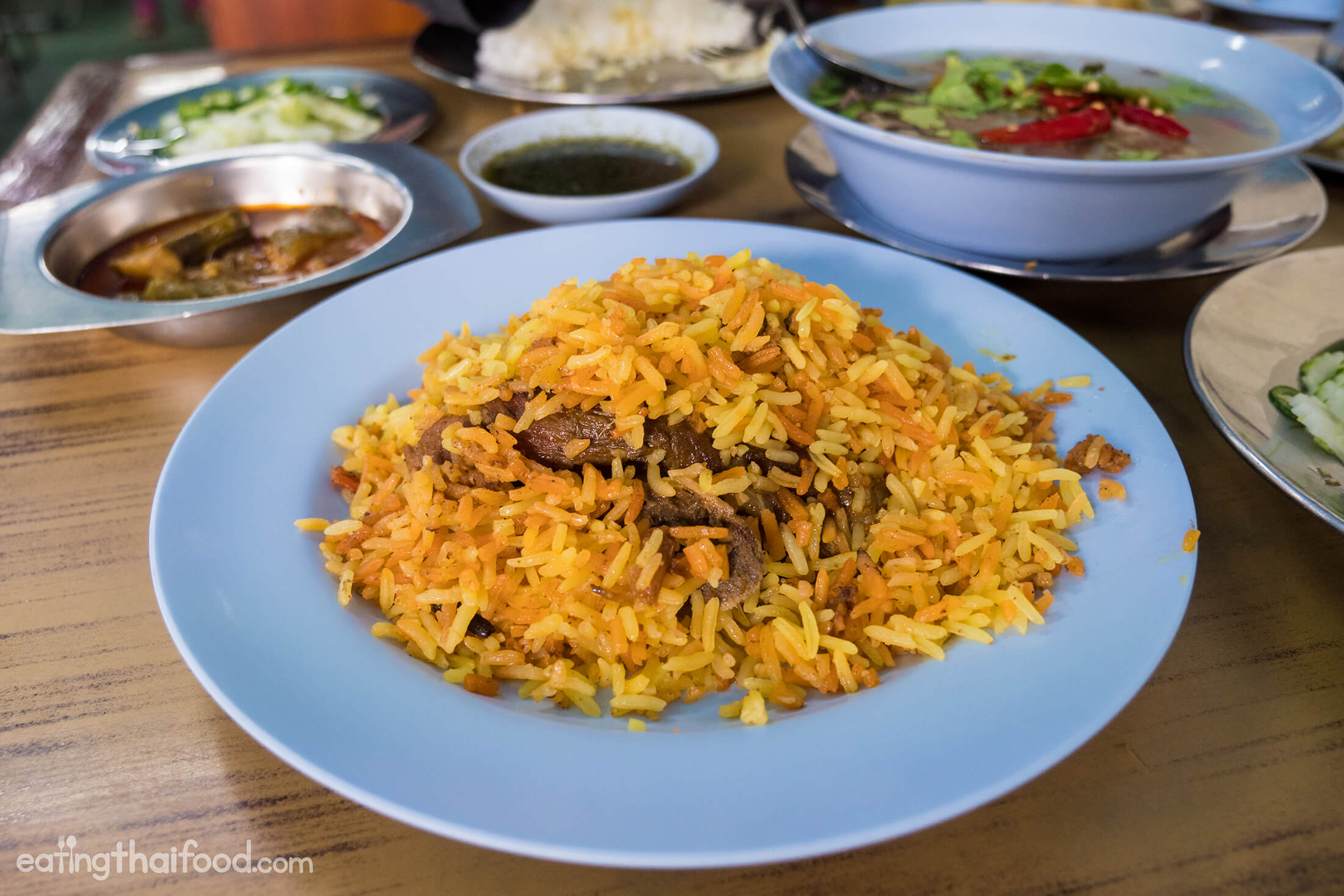 Over the years in Bangkok I walked by Muslim Restaurant (ร้านอาหารมุสลิม) countless times.
But for some reason (I'm not sure why), I was always on my way to eat somewhere else, and never stopped to eat here.
It wasn't until I was staying in the area, filming a 2 Weeks in Bangkok video series, that I decided I needed to eat at Muslim Restaurant.
I'm happy I did. And here's what my wife and I ate:
Bangrak District, Bangkok
I want to first quickly talk about the Bangrak (sometimes Bang Rak) district of Bangkok, because it's such an interesting area of the city, with so many contrasts and so much diversity.
Bangrak is a very old area of Bangkok, south of Chinatown (industry), west of Silom (downtown), and along the Chao Phraya River.
It's a very Chinese influenced area of Bangkok, but at the same time, there's also a number of other prominent communities, including a large Muslim population, and a Catholic community.
There are markets, old style shops, some of Bangkok's most high end hotels like the Shangri La and Mandarin Oriental, and most importantly… a lot of delicious Thai food (that's what we're interested in).
Muslim Restaurant (ร้านอาหารมุสลิม)
Muslim Restaurant (ร้านอาหารมุสลิม) has long been a legendary halal restaurant in Bangkok.
The restaurant itself is an absolute classic, having been open for over 70 years in the same place (and I don't think anything has changed in that expanse of time). It's a historical restaurant in Bangrak.
The restaurant opens up to Charoen Krung Road, at the corner of Silom Road, and across the intersection from State Tower (where the famous Sky Bar is located).
At the front of Muslim Restaurant (ร้านอาหารมุสลิม) you'll see a couple pretty good sized glass cabinets with some pre-cooked dishes and snacks in them.
Inside, there are some metal tables in the middle, but if the wooden booths are free, you've got to sit in one of the classic wooden booths – they are not easy to find in Bangkok anymore.
The Menu
The menu is simple and easy, and it's written in both Thai and English with clear pricing.
They have a list of different biryanis, plus curries – both Thai and Indian style, and some snacks like matabas and samosas that are often hanging out in the glass cabinets at the front of the restaurant.
Mataba gai (มะตะบะไก่)
Popular in many parts of the world, and especially common as a Thai Muslim snack in Thailand, is mataba (known around the world at murtabak or mutabbaq), what is a stuffed roti.
I ordered the mataba gai (มะตะบะไก่), a stuffed roti with chicken. Inside the roti wrapper was a mixture of minced chicken, and perhaps some egg to hold it together, along with a pleasant mixture of curry powder for flavor.
The outside wrapper was slightly crispy, but more on the sticky / gooey side. Eaten along with some of the provided thinly sliced cucumber and chili pickles, it was delicious.
It tasted like curry scrambled eggs within a tortilla.
At Muslim Restaurant they do a very good version of Thai mataba… but my only complaint is that rather than being fried hot and fresh as soon as you order it, they pre-make them, and they sit in the glass cabinet, treating them somewhat like a pastry than a hot fresh roti.
Anyway, the taste was good, but I have a feeling it would have been even better right of the hot griddle.
Soup neau (ซุปเนื้อ)
Called soup neau (ซุปเนื้อ) in Thai, the beef soup was alright, but I wasn't blow away by it.
Perhaps it's because I compared it to versions I've had in the south of Thailand, that were much more flavorful – sour, spicy, and with a deeper beef broth flavor.
The pieces of beef were tender but not fall apart so, and to me (and my wife), we agreed that it could have used a bit more lime juice and crispy shallots to give it a bit more zip.
However, it did make a good addition to our meal, so that we had some hot soup to contrast the other flavors of the dishes – so in that respect, it's worth ordering to complete your meal at Muslim Restaurant.
Kuruma gai (กุรุหม่าไก่)
Another common dish that you'll find at many Thai halal restaurants is kuruma (กุรุหม่า), a type of curry that I believe is an off-shoot of korma, a dish that that can be traced all over South Asia, and has some series history to it.
Ying and I had the kuruma gai (กุรุหม่าไก่), chicken curry, and it came very light in color, with a single chicken thigh, a potato, and a tomato in the mix.
The kuruma gai (กุรุหม่าไก่) was good, but it was on the mild side when it comes to curry powder and spice – I probably would have enjoyed it better had it been a bit stronger. However it was good, and I really like the richness of the sauce.
My favorite kuruma curry in Bangkok is from Yusup Pochana.
Khao mok pae (ข้าวหมกแพะ)
The combination of meat and rice is something I've loved my entire life, and undoubtedly, the highlight of my meal at Muslim Restaurant (ร้านอาหารมุสลิม) in Bangkok was the khao mok pae (ข้าวหมกแพะ), goat biryani.
Thai goat biryani
Curry sauce for the biryani
The rice was really orange and yellow, with each grain of rice very individual – not stuck together at all. I don't think it was basmati rice, but it was very fluffy. The chunk of tender goat was hidden below the mound of rice.
Along with the meat and rice, the goat biryani (ข้าวหมกแพะ) was also served with a side dish of curry sauce with eggplant, and a typical Thai biryani sauce made with mint and cilantro – slightly sweet, sour, and minty.
The piece of goat was awesomely tender and stringy, and the rice was fragrant and I could taste the crispy shallots. It was awesome, and even better when smothered in a bit of sauce…
The mint sauce was good, and almost transformed the piece of goat to lamb with mint sauce. But the true winning sauce that I loved (and could have drank a cup of) was the eggplant curry sauce.
The eggplant curry sauce had a curry powder fragrance, very similar to a style of Indian curry, plus the addition of tenderly stewed eggplant.
That piece of tender goat, the rice, and the curry sauce is what really made it fantastic.
Prices
You can check out the photo of the menu above for price details on each individual dish, but for our total bill for everything that we ate, it came to 340 THB ($9.38).
Conclusion
Muslim Restaurant (ร้านอาหารมุสลิม) is a legendary halal restaurant in Bangkok, located in the old district of Bangrak.
The restaurant has such a fantastic old feel to it, with wooden booths, and old fashioned stone floor tiling – the entire restaurant is like museum itself.
On the menu at Muslim Restaurant (ร้านอาหารมุสลิม) you'll find a range of popular Thai Muslim dishes like mataba, biryani, beef and oxtail soup, and a number of curries.
Some of the dishes were a little on the mild side for me, but what I especially enjoyed was the stuffed roti (มะตะบะ) and the goat biryani (khao mok pae (ข้าวหมกแพะ) – they were both fantastic.
Muslim Restaurant (ร้านอาหารมุสลิม) is overall a very cool restaurant, with legendary history, and it's located in a convenient central position in Bangkok.
Muslim Restaurant (ร้านอาหารมุสลิม)
Address: 1354-1356 Charoen Krung 42, Bangkok, Thailand 10500
Open hours: 7 am – 5 pm from Monday – Friday, and 7 am – 3 pm on Saturday and Sunday (it's still a family run restaurant though, so times are subject to change)
Phone: 02-234-1876
ที่อยู่ : 1354-1356 ซอยปากซอยเจริญกรุง 42 อาคาร หัวมุมถนนสีลมแยกบางรัก แขวงสีลม เขตบางรัก กรุงเทพ 10500
เปิดบริการทุกวัน 7.00 – 16.00 น.
โทร. 02-234-1876
How to get there: From the BTS, you can get off at Saphan Taksin station, walk up Charoen Krung road and you'll get to Muslim Restaurant (ร้านอาหารมุสลิม) on your left hand side. Or from Silom, walk towards the river on Silom Road and you'll see the restaurant opposite and across the intersection from State Tower.