Halal Food in Chiang Rai at Roti Pa Yai (ร้านโรตีป้าใหญ่)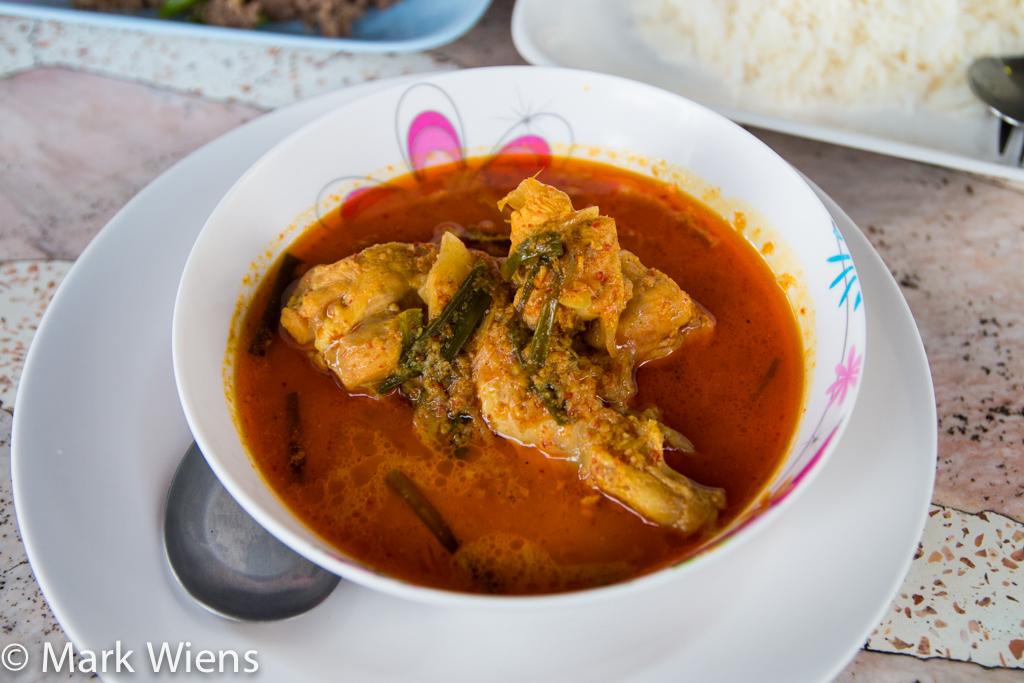 Located on the peaceful east side of Chiang Rai, is Roti Pa Yai (ร้านโรตีป้าใหญ่), a Muslim halal restaurant.
In this part of town, although it's quiet and has a much more calm and country feel to it (despite being just 5 minutes by bike or car from Chiang Rai city center), there happens to be a selection of some of my favorite restaurants in town.
Roti Pa Yai (ร้านโรตีป้าใหญ่) is located in a small Muslim community and neighborhood in Chiang Rai, and they serve a menu of both curry dishes, some stir fries, and what they might be most famous for: roti.
The dining room at Roti Pa Yai (ร้านโรตีป้าใหญ่) was nice and typical of Chiang Rai, open air, spacious, and country style.
At the back of the restaurant you'll find a huge thermos of ice and water which you can dish out to yourself if you're thirsty.
At the front of the restaurant, along with having the choice to order a variety of roti, you can also pick and choose from the prepared curries available.
When I arrived in the late afternoon, the curries where fresh and still piping hot.
Roti mataba gai (โรตีมะตะบะไก่)
I started my meal off with a roti mataba gai (โรตีมะตะบะไก่), a chicken stuffed roti. The thin layer of dough was filled with an egg and spice mixture, including some minced chicken, then wrapped into a mataba package.
The roti mataba gai (โรตีมะตะบะไก่) was served with a nice and chunky sauce, sweet and sour, and teeming with shallots, cucumbers, chilies, slivers of carrots, and a few green sprigs of cilantro.
I would have to say I was pretty happy with the roti mataba gai (โรตีมะตะบะไก่) at Roti Pa Yai (ร้านโรตีป้าใหญ่), the dough was light and crispy, and the filling was what really hit the spot – it was flavored nicely with yellow curry powder.
I would definitely come back for another few savory rotis in the future.
If I remember correctly, their roti mataba tasted quite similar to the version at Yusup Pochana in Bangkok.
Kra pao neua (กระเพาเนื้อ)
Excited to eat some beef, I decided to order just a plate of kra pao neua (กระเพาเนื้อ), beef stir fried with Thai holy basil and chilies.
For the dish they used minced beef, and I think they used purple holy basil, which has a little bit of a stronger flavor to it than the more common green holy basil.
Overall, it was very average, nothing too special, just beef stir fried with too little holy basil… I like a little more sauce in my kra pao neua (กระเพาเนื้อ), and I also would have liked more holy basil.
Soup gai (ซุปไก่)
The soup gai (ซุปไก่), just a general chicken soup, was again, nothing special, but it wasn't bad either.
The soup included a nice chicken broth, with pieces of chicken, and plenty of potatoes (something you don't see too often in a Thai soup gai ซุปไก่).
The soup was just not quite spicy or sour enough, I thought it could have used a little extra kick of flavor, but then again, it was soothing – perhaps best as a breakfast soup?
Gaeng gari gai (แกงกะหรี่ไก่)
From the halal curry selection at Roti Pa Yai (ร้านโรตีป้าใหญ่), I chose the gaeng gari gai (แกงกะหรี่ไก่), a common Thai yellow curry with chicken.
Along with the roti mataba gai (โรตีมะตะบะไก่), the gaeng gari gai (แกงกะหรี่ไก่) was wonderful. Though a little on the oily side, the gravy was well flavored with just the right amount of yellow curry powder, rich coconut milk, and tenderly curried chunks of chicken.
I could not resist from nearly licking the bowl clean, oil and all – it was very tasty.
Another great thing about Roti Pa Yai (ร้านโรตีป้าใหญ่) is that they serve you tea on your table, which is not all that typical in Thailand like it is in Myanmar or Vietnam.
Their cups were tiny, literally smaller than shot glasses, but perhaps that's good for social tea drinking.
Ying and I chose to eat on the table right at the entrance of the restaurant.
One thing I love about Chiang Rai is the lovely atmosphere of many restaurants, you can eat in peace and relaxation.
Conclusion
Roti Pa Yai (ร้านโรตีป้าใหญ่) is a Muslim halal restaurant in Chiang Rai, that serves a menu of prepared curries and soups, some stir fried dishes, and a selection of both sweet and savory roti.
The restaurant is located on the east side of Chiang Rai, in the quiet peaceful neighborhood.
I ordered a couple different dishes, a few were just alright, nothing special, but I really enjoyed the roti mataba gai (โรตีมะตะบะไก่) and the gaeng gari gai (แกงกะหรี่ไก่).
Overall, I would say Roti Pa Yai (ร้านโรตีป้าใหญ่) is worth visiting when you're in Chiang Rai, especially if you're looking for Thai halal Muslim food.
Roti Pa Yai (ร้านโรตีป้าใหญ่)
Address: Thanon Nasanamkila, Rimkok, Muaeng Chiang Rai,
Phone number: 089-636 1240
Open hours: 6 am – 10 am for breakfast, and 4 pm – 10 pm for dinner (so don't come for lunch!) – Closed on the 1st and 15 of every month
Prices: Our total bill came to 290 THB for everything you see pictured, plus an extra sweet roti that my wife had at the end
ที่อยู่ ถนนหน้าสนามกีฬา ,ริมกก , เมืองเชียงราย , เชียงราย
โทร. 089-636 1240
เปิดบริการทุกวัน 6.00 – 10.00 และ 16.00 – 22.00 น.
หยุดทุกวันที่ 1 และ 15 ของเดือน