Bangkok's grumpiest roast duck vendor, at Hasan (ฮาซัน เป็ดย่าง)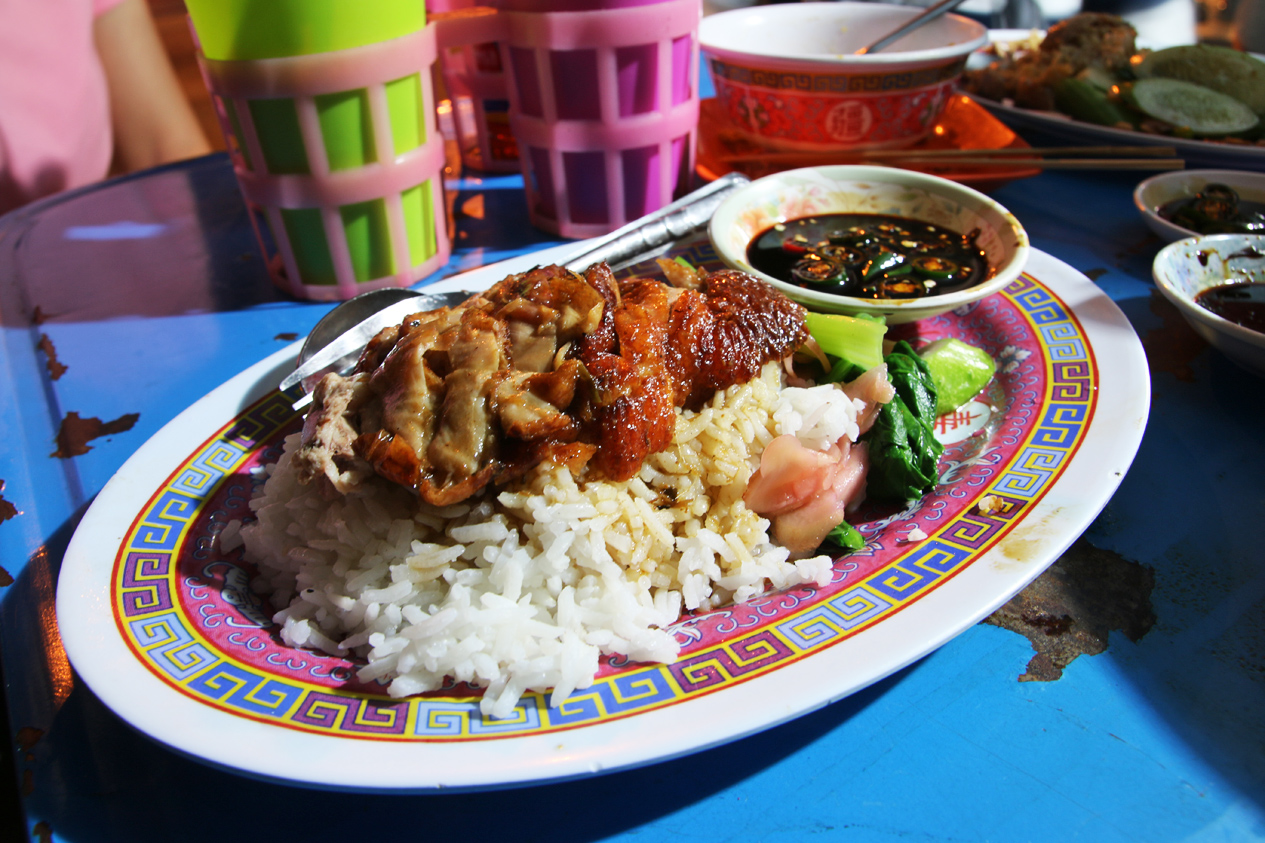 As soon as I walked up to take a photo of the roasted golden ducks hanging in the street food cabinet, I knew we were in for some grumpiness…
… the owner, and duck hunter himself (well at least he roasts and slices them up), isn't the friendliest street food vendor you'll meet in Bangkok. He made some rude remarks to me while I was taking photos of his ducks.
But I'm hardly going to turn from street food due to grumpy owners… I'm there for the food.
Along the always busy Charoen Krung road, just outside Assalapheyah Mosque (หน้ามัสยิด อัสสละฟียะฮ์), is Hasan Roasted Duck (ฮาซัน เป็ดย่าง) street food stall.
This street food stall is also halal.
But anyway, they serve Thai roasted duck, and in the local hood of Charoen Krung, it's pretty well known. Just like at Khao Kaeng Jake Puey, people begin to lineup for food before they even begin selling.
There were actually only a couple of tables set up along the sidewalk when we went; The majority of the customers go to Hasan Roasted Duck (ฮาซัน เป็ดย่าง) for takeaway.
While most Thai street food stalls cheerfully deliver your food to your table within seconds of ordering, at Hasan Roasted Duck (ฮาซัน เป็ดย่าง), you might have to bark your order to them multiple times before they take action.
While you're waiting for the duck, there are a few other vendors in the area, like a lady selling kanom jeeb goong (ขนมจีบกุ้ง), which were alright, nothing amazing (the vendor here is also kind of grumpy too).
Also, the friendliest man in the entire street food neighborhood is the man selling bua loy kai wan (บัวลอยไข่หวาน).
This is a dessert, made from little sweet flour dumplings in a sweet coconut soup with an egg in middle. I know it sounds pretty strange, but it's actually quite wonderful if you enjoy sweets.
Since our duck dishes didn't arrive for so long, we enjoyed these random pre-meal appetizers.
Alas, though my wife was already in a bad mood from the horrible service and grumpy owners of Hasan Roasted Duck (ฮาซัน เป็ดย่าง), our first bowl of ba mee bet (egg noodles with duck บะหมี่เป็ด) arrived.
I made sure to season up those noodles and slices of duck with lots of vinegar and chili flakes.
How was the duck?
Well, it definitely wasn't the best Thai duck I've ever had, though it was quite tasty. What I did like about it was that it wasn't too sweet, but nice and salty, and quite juicy. Perhaps the grumpy service is why they are so busy and famous?
While normally all dishes would be brought to the table together, it took another ten minutes for the khao na bpet (rice with duck ช้าวหน้าเป็ด) to come.
I guess we figured out why most people get takeaway from Hasan Roasted Duck (ฮาซัน เป็ดย่าง).
This time the rice was a little undercooked, but the duck was quite pleasant, although very fatty. Again, I guess most people don't bother eating there, just get takeaway duck, so maybe they don't care about cooking the rice properly!?
Price – 60 THB (very expensive too)
The Bottom Line
If you're looking for some busy Bangkok street food with character and grumpy service (which can definitely be fun sometimes) Hasan Roasted Duck (ฮาซัน เป็ดย่าง) is a pretty good option.
Their duck is good, but not stand out amazing from other Thai duck restaurants like this place.
Hasan Roasted Duck (ฮาซัน เป็ดย่าง)
Location: The street food stall is located directly outside the gates of Assalapheyah Mosque (หน้ามัสยิด อัสสละฟียะฮ์) on south Charoen Krung road, just northeast of Rama 3 road, and they don't set up until evening.
Opening hours: 6:30 pm – 2 pm daily, but closed on Monday
How to get there:

View Bangkok Eating Thai Food Map in a larger map