Gai Yang Preecha (Grilled Chicken) – Khon Kaen University's Best Food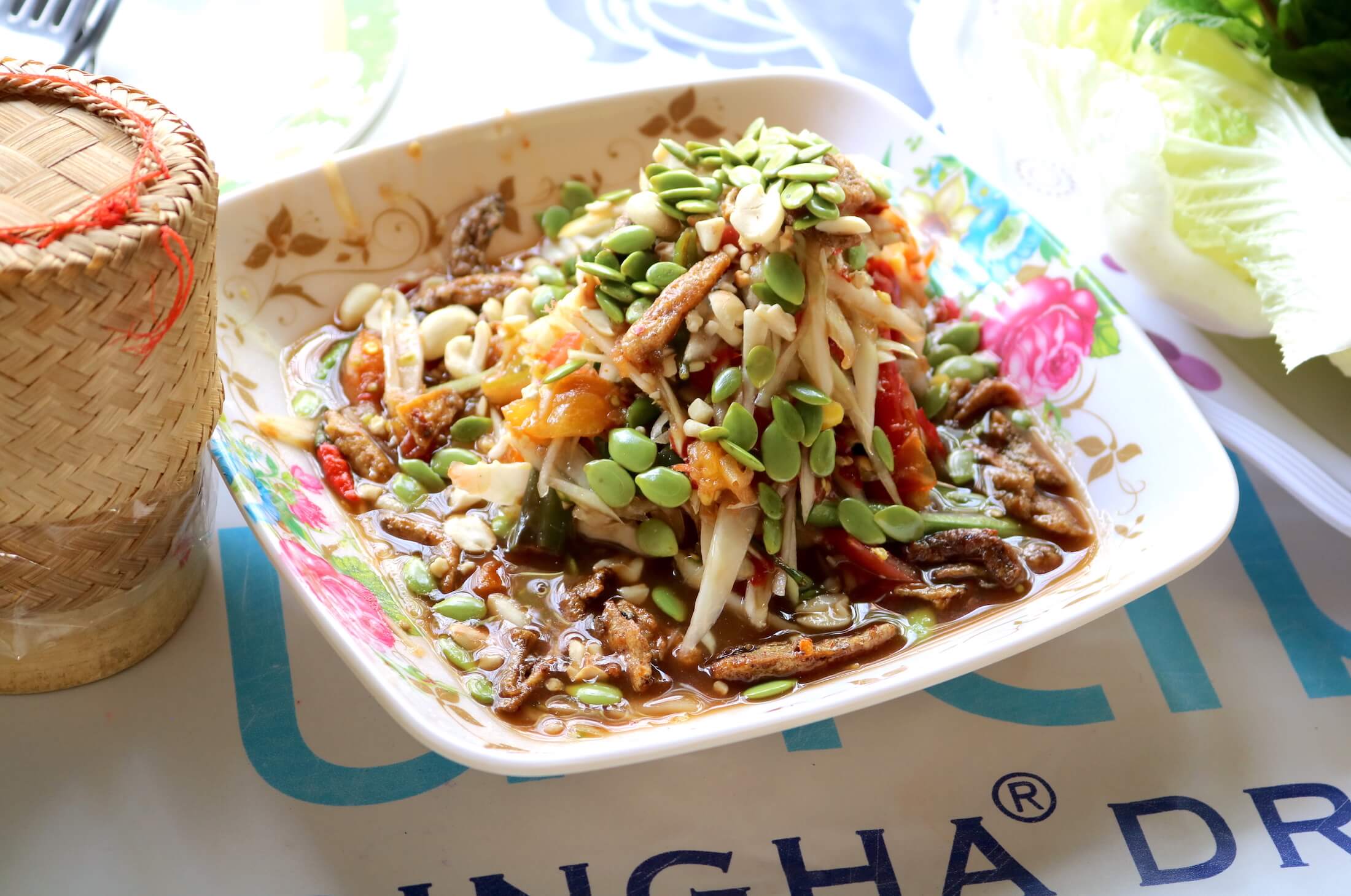 One of the most ultimate lunchtime feasts in Thailand is the combination of Thai grilled chicken, papaya salad, and white sticky rice.
In this article I want to show you Khon Kaen University's best restaurant, serving some of the best chicken you can imagine (and an overload of other delicious local Isaan specialties as well).
The name of the restaurant is Gai Yang Preecha (ไก่ย่างปรีชา), and its in a great location right behind the KKU Exhibition Center.
Khon Kaen, North East Thailand (Isaan Region)
One of the fastest-growing parts of Thailand is the city of Khon Kaen, and it lies just 400km directly North-East of Bangkok.
This region of North East Thailand is known as 'Isaan,' and among many other fruits and fresh produce, they grow a huge supply of the country's sticky rice.
(Isaan is also home to the majority of Thailand's labor force, which is why Papaya Salad has spread around the country so widely – Bangkok is just packed with Isaan restaurants!).
Home to an Abundance of Fresh Produce
With so many people working to grow and farm the region, you can just imagine the abundance, and the diversity in the local food.
Plenty of animals in the fields as well, fish, shells, and crabs in all the rivers, and therefore no end to the variety of foods that people are creating – this is a situation of extreme natural abundance.
One of Isaan's favorite animals, and its a well-known fact that the local preference for treating chickens is with a rub, a marinade, and a seat on a hot grill, flipping from time to time over hot coals…
Gai Yang – Preecha's Signature Chicken
Grilling chickens is a source of joy the world over, and there aren't many more orders of it for lunch anywhere in Thailand than in this region of the North East.
This well-rounded, perfectly satisfying meal of Gai Yang (ไก่ย่าง) is friendly to the both your eyes, your stomach, and wonderfully easy on your budget as well.
For only 70 baht (US$2.25) you can have a half, or an entire chicken just 140 baht (US$4.50).
Your First Indication
Chickens cooking like this are delicious for sure, but I want to point out something special at Gai Yang Preecha restaurant, something I am sure you'll be happy to notice as well;
In my opinion, if you are wanting to gauge the quality of your favorite chicken restaurant, I think you have to look at the white meat sections, and not the dark.
Dark Meat is Easy…
Dark meat is always so readily juicy and full of flavor, its much more naturally moist from it being both more fatty and muscly than the lighter parts of a bird's meat. The leg and thigh section of each chicken here are indeed wonderfully smooth, full of smoky flavours, and covered in a deliciously crunchy skin. However…
White Meat tells the Truth!
When the white meat is just as good as the dark parts though, that's when you know a grill master is perfecting their art.  The breast section of the chicken at Gai Yang Preecha comes out of the heat still very moist, not dry and stringy, equally as delicious as the dark meat pieces.
When white meat is just as worth fighting over as are the more commonly in-high-demand legs and wings (or maybe thats just me) – that is a chicken-griller you can trust – and an impressive situation indeed.
Bamboo Curry with Local Mushrooms
Gai Yang Preecha has an impressively deep menu, serving many foods quite hard to find outside of North East Thailand.
At the top of this list, you have to try the Bamboo Curry (แกงหน่อไม้), or "gaeng naw mai," made specially with local mushrooms (เห็ดเผาะ), "het poh." It is one of Isaan's most healthy foods – an herbal, mushroomy, thick vegetable filled, bowl of soupy curry.
The essence of the Isaan-style bamboo curry is in the dark-colored curry broth, which comes from local Yanang leaves (ใบย่านาง). These medicinal leaves are prepared by either massaging, or kneading the leaves in water, after which they're boiled to further condense the liquid.
Besides being full of good health, this delicious food will cost you just 50 baht (US$1.65) at Gai Yang Preecha.
Special Ingredient – Yanang Water (น้ำใบย่านาง) or "Nam Bai Ya Nang"
Although it doesn't add flavor, the Yanang water gives this food its signature murky grey-green tinge, as well as a slightly warming, spinachy aroma. It also makes the soup so thick and creamy, absolutely no need for artificial thickeners in this broth.
Completing the recipe requires a heavy addition of local vegetables; in Gai Yang Preecha's recipe you'll find mushrooms, Thai eggplant, water loofah, winter gourd, young pumpkin, and then of course, tons of fresh strips of young bamboo shoots (where the food gets its name).
Its a great dish to order here, and the recipe is more like home-style cooking than like what you may expect at a restaurant (it is welcoming to any other healthful and locally fresh vegetables you have around as well, the recipe is wonderfully open to variation).
At other meals, I've even had gaeng naw mai with morning glory, red ants (and their eggs), and even Asian Pennywort (another Ayurvedic healthy herb).
Locally Foraged Mushrooms
The usual recipe includes needle mushrooms, but at Gai Yang Preecha today it includes another type as well (เห็ดฟาง "het fang," is common, and เห็ดเผาะ "het poh" is special, here they use both).
Het poh is like the North American morel mushrooms in that they have to be forage these locally, and are quite expensive when you're hunting them out in local markets for yourself.
Finally, gaeng naw mai has tons of herbs, like Thai basil (แมงลัก), lemongrass (ตะไคร้), galangal (ข่า), cilantro (ผักชี), and then of course, entire 'prik kee noo' chilis (พริกขี้หนู) to spice it up. Sometimes the yanang leaves themselves are even added in as well (instead of only the Yanang water).
Mini and Meaty Platters (with Ginger)
Getting back to some meatier treats from Gai Yang Preecha's grill section, these little bites are full of fatty flavor that will just blow you away.
A sampling of both meats will set you back 80 baht (US$2.75), or for the same price you can have an entire, larger plate of just one of them.
Isaan Sour Sausage (ไส้กรอกอีสาน), or "Sai Krawk Isaan"
From the first bite, you notice how this Isaan sausage here has so much more sour meat than the ones you usually find on oil-drip racks of a late-night market street cart. Its still so nicely buttery though, as this sausage also includes quite a few chunks of smooth porky fat.
Heavy on the pork content, and a wonderful load of both garlic and mung bean glass noodles, the sourness that makes itself known immediately – each bite is packing a garlicy, sour, chewy porky punch.
The bravest of Isaan food lovers might go for a ratio of something like 1:1:1 – one sausage bite to one long sprig of fresh chopped ginger, finishing with one fresh small green chili (fresh, full of umami, and a great way to set yourself on fire).
Pork Neck (คอหมูย่าง) "Kaw Moo Yang"
Sweet and chewy on the outside, fatty and nicely tender on the inside, I could not be more in love with these strips of pork neck.
As the foodie hero we all know and love (and dearly miss) Anthony Bourdain says, "barbecue may not be the road to world peace, but its a start!"
A lover of South East Asian food, there are many episodes where Anthony enjoys the meat treats of Thailand, and I definitely remember him raving about Isaan style pork neck as well.
The version of Isaan sausage at Gai Yang Preecha makes a perfect plate for me, the kind that keeps me missing Isaan any time that I am away.
Bamboo Salad (ซุปหน่อไม้) "Soop Naw Mai"
This food is another one very common among local Isaan kitchens, and yet very difficult to find in other regions of Thailand.
Gai Yang Preecha makes their bamboo salad using fresh bamboo, and not pickled, tearing and slicing it into thin, long shreds.
The chef adds in a mix of chopped shallots, a healthy spoonful of crushed red peppers, some green onions, diced cilantro, and finally tops it with a few sprigs of whole mint leaves.
Finally, the Pla Raa Flavors Arrive
The wonderfully complex ingredient you might smell before you taste it, is probably what makes the brown sauce underneath your bamboo salad.
This murky liquid is none other than Isaan's finest creation – Pla Raa – water from earthen jars fermenting river fish or field crabs.
You can purchase Pla Raa wholesale (from factories), but the best chefs still prefer to make it themselves (time consuming, but the flavor of home-made rotting fish juices just can't be beat).
Isaan's Favorite – Papaya Salad
Of the dozens of recipes tam chefs use to make 'Som Tam,' my personal favorite is one that Gai Yang Preecha does very well – "Tam Korat"
One of the best things to do with a Thai-style mix of papaya salad (the 'normal' kind of papaya salad (ตำไทย, "tam Thai"), is to ask the chef to add at least one healthy scoop of fragrant 'Pla-Raa' (ปลาร้า Isaan fermenting fish sauce), into the mortar vessel before serving.
This is actually a set order item on some Isaan menus, and its known around the country as a 'Korat-style' Papaya Salad (ตำโคราช, or "Tam Korat"). Named after the province of Nakon Ratchasima, which is said the be the 'gateway to Isaan,' it is one of the most obvious ways one can see the food change, literally as you travel, leaving from one part of the country and entering into another.
The Ingredients
The flavor complex of any papaya salad made with 'Pla Raa' is, on the whole, one that you will never forget –  fermented fish is just an amazing creation, and a papaya salad like this is just something you can't possibly leave Isaan without trying at least once.
One look at the pile of papaya salad and you can see just about every shade that any artist has ever had available to them on a color wheel.
Even after almost ten years of living here, it still amazes me how many ingredients they can smash together into a single plate of papaya salad, and every item still standing out with delicious and bright flavor.
Texture Lover's Dream Food
The first bite is a texture lovers dream – there is crunch from the papaya itself, as well as small fried fish chunks (ปลาทอด), roasted peanuts (ถั่วลิสงคั่ว), and a few shreds of cucumber (แตงกวา). Next comes a sour kick from the lime juice (นำ้มะนาว) and the partially-ripe tomatoes (มะเขือเทศ), followed by a massive spiciness from Thai chilies (พริกสด).
Last but not least, just a tinge of sweetness from palm sugar, a bitterness from the green Popinac seeds, and then finally, almightily, the overpowering dose of umami – the secret flavor weapon – the 'Pla Raa' fermented fish sauce, sealing your texture-flavor dream combo.
Bonus Veggies and Fresh Herbs
Isaan is known for its love of fresh food, but also a tendency towards raw food as well.
While the rawness famously often includes things like raw beef, even pork, and even raw blood as well (but as this incredible meal of Laos duck will hope to prove, raw blood is not always so scary!), sometimes there are many gentle raw items on the table.
As Southern Thailand enjoys plates of 'pak naw' with spicy shrimp dips, North Eastern Thailand almost always enjoys a side plate of crunchy and green vegetables with every lunchtime feast, here you call it 'pak sote' (ผักสด).
At Gai Yang Preecha, this side includes Chinese cabbage, lettuce, culantro, cucumber, and wonderfully pungent fresh mint.
Eating Thai Syle
Take pre-cut pieces of chicken one at a time, and spoon from each dish to your own plate (you're scooping from them, not holding the dishes in the air). Like most food in Thailand, all the plates stay in the middle, and everyone shares them 'til they're gone (and of course its perfectly fine to order more rounds of the ones you like the most!)
Get a meaty dish (like the sour sausage or pork neck), a spicy salad (like the one with fresh bamboo strips), and a central bowl of soup to tie it all together (bamboo curry here is not a soup, but it definitely is eaten like one!).
Finally, order rounds of sticky rice for everyone at the table (one per person is easy, but its not impolite to share a container), and at least one large plate of Gai Yang Preecha's famous chicken.
Try a few pieces of chicken on their own, and then some more bites totally submerging them in the dark, red, spicy and sweet dipping sauce. This is just an Esaan classic meal, real countryside comfort food, one of my absolute favorites to have for lunch with my friends and coworkers.
Loved by Locals, Iconic for Foodie Travelers
Finally, if you're like me, then as far as food goes, a selection of food like this is probably going to be a iconic image you take away from Thailand.
Whenever I see a sprawling field full of green, glowing sticky rice, I'm immediately full of memories of skewers of grilling chickens soaring high above pans of red charcoal.
I find myself instinctively looking for little woven reed containers of sticky rice, a massive pestle full of fermented fish sauce, and listening for the sounds of a mortar and pestle whipping up the next delicious batch of Isaan-style papaya salad.
Name: Gai Yang Preecha (ร้านไก่ย่างปรีชา)
Location: (Gai Yang Preecha)
Hours: 9am to 4pm (Daily)
Price: Our entire meal came to 390 baht (2 people)