These Giant River Prawns in Ayutthaya, Will Make Your Jaw Drop!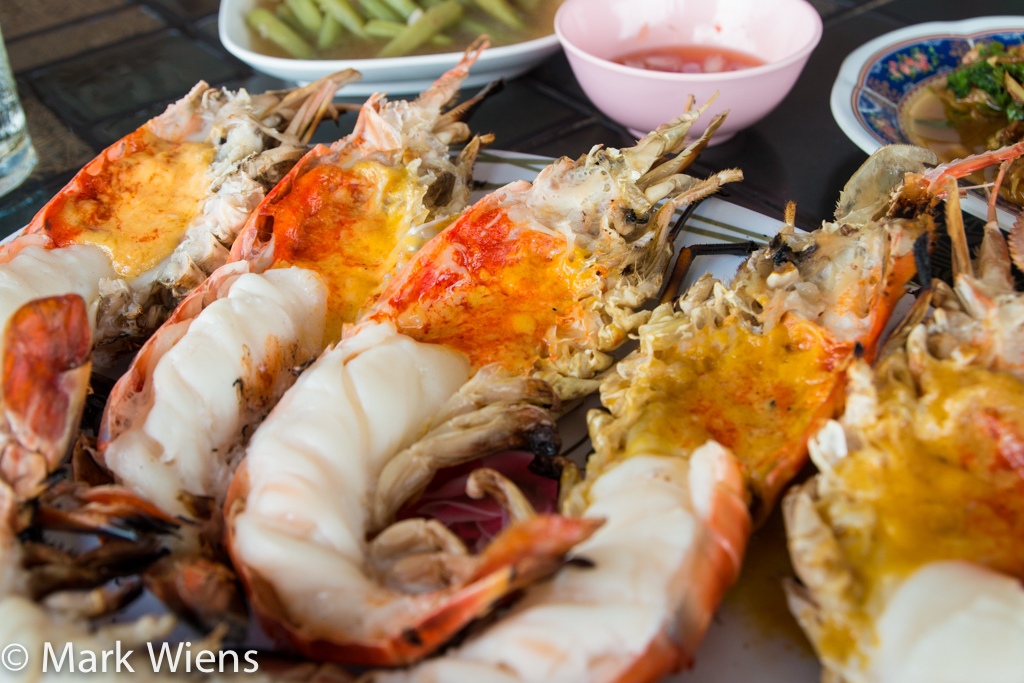 Few things in the world are as beautiful as prawns the size of your forearm.
Ayutthaya, the ancient capital city of Thailand, is one of the most famous places in the country for devouring jumbo sized freshwater river prawns… and they are unbelievably good.
I've been to Ayutthaya a number of times to walk around the historical temples, but on previous visits to Ayutthaya I had never had time to search out freshwater  prawns – until now.
And I'm glad I did… it was a mind-blowing delicious meal.
Ayutthaya, Thailand
The Ayutthaya province in Thailand is known for its freshwater rivers and canals, and eating fresh fish and prawns are a traditional part of the diet in the region.
In Thailand, giant freshwater river prawns are considered a very prestigious food – something nearly all Thais would love to eat.
The species found in Thailand is usually macrobrachium rosenbergii (I think so at least), which are also better known just as giant freshwater prawns. They are farmed frequently in central Thailand, but it's also still common to go fishing for them right in the waters around Ayutthaya.
Ruay Goong Pao (ร้านรวยกุ้งเผา)
We decided to eat at Ruay Goong Pao (ร้านรวยกุ้งเผา), one of the many restaurants in Ayutthaya that specializes in serving freshwater prawns.
You enter the restaurant from the back side, and there are two big dining rooms, the first is on dry land with a view over the river.
The other dining room is the floating section, hovering in the slow moving chocolate colored water, stabilized by empty floating blue barrels and car tires.
There's about a 20 meter bridge connecting the kitchen and main dining room with the floating section of the restaurant.
We chose to eat on the floating section, which was actually quite stable, and offered a great view of the river… and a closer connection to the prawns I was about to eat!
Ordering the prawns
Sure you can order other dishes on the menu, but the real reason you want to go to Ruay Goong Pao (ร้านรวยกุ้งเผา), is to eat freshwater river prawns.
You have a few different choices when it comes to ordering:
5 shrimp per kg. – 1,200 THB
4 shrimp per kg. – 1,300 THB
3 shrimp per kg. – 1,500 THB
Basically you order by the kg. (and you get the same weight for any choice you choose), but they are just different sizes of prawns.
3 prawns equalling one kilo was the largest size, and I think they were more expensive mainly because they were meatier with less shell weight and had more shrimp head butter – more about this later.
Since I was in Ayutthaya, I had no choice but to go BIG.
The cooking was simple.
They took the jumbo freshwater prawns, sliced them in half, and laid them onto a hot grill, shell down, with no seasoning.
After just a few minutes of being heated over the charcoal, I could see the slimy meat starting to whiten up and get firmer, while the orange head oil started to melt like butter.
They were grilled for about 10 minutes or so, until the master griller said they were done.
Ok, now before I talk more about eating the prawns and how incredibly delicious they were, I'll quickly go over the other dishes we ordered first.
Stir fried lotus stems (ผัดสายบัว)
Since Ayutthaya is surrounded by rivers, lotus plants are extremely common.
Every part of the lotus plant is used, and the stems are quite popular to eat in central Thailand, and make a great vegetable.
This plate of lotus stems, pad sai bua (ผัดสายบัว), was stir fried with a few slices of carrots, garlic, and soy sauce. It was very tasty, and what I really love about eating lotus stems is they are chewy, an almost sticky texture, somewhat like okra.
Price – 80 THB
Fried rice with chicken (ข้าวผัดไข่)
My wife and I also ordered a plate of khao pad gai, fried rice with chicken (ข้าวผัดไข่). It was average, nothing too special, but not bad.
Good thing we ordered the fried rice with chicken this time, not the version with shrimp, that might have been shrimp overdose!
Price – 40 THB
Fried fish (ปลากระพงทอดน้ำปลา)
I'm not sure why we actually ordered a pla kapong tod nam pla (ปลากระพงทอดน้ำปลา), a fried barramundi fish in the first place, because we definitely didn't really need it (due to all the shrimp we had), but nevertheless we did order it.
It wasn't the best I've had. The fish was a bit on the dry side, a little over fried, and the accompanying sauce was a little too sweet for me.
So if you eat at Ruay Goong Pao (ร้านรวยกุ้งเผา) when you're in Ayutthaya, I'd say avoid the fried fish, and just stick with the freshwater prawns.
Price – 200 THB
Prawn claws with fingerroot (ก้ามกุ้งผัดฉ่า)
You know those lanky claws that river prawns have?
When they grilled them, they cut them off, and grilled them separately.
After de-shelling the meat from the claws, they fried them up in a Thai dish known as pad cha (ผัดฉ่า), which includes slices of fingerroot, green pepper corns, and basil.
Since we bought the plate of jumbo freshwater prawns, they gave us this dish for free.
It was very good.
The pieces of claw meat tasted like crab, and then spiced up with the gingery flavor of the fingerroot, spice from chilies and the green peppercorns and basil, it was wonderful.
Roasted giant river prawns (กุ้งเผา)
Finally, we made it to the main event!
Like I already mentioned above, I had to go big, so I ordered 1 kg. of the BIGGEST sized Ayutthaya freshwater prawns, which was 3 full enormous guys.
Price – 1,500 THB
I could hardly contain my joy as the freshwater prawns were delivered to our table. It was one of the most amazing sights of food I had ever seen in my life.
At 333 grams per prawns, they were giants.
3 of the biggest prawns I had ever seen in my life, roasted beautifully, and lying on the plate in front of me was almost too much to handle, and I had to get started eating.
For my first bite I went straight in for the shrimp head oil (which I think might actually be the liver of the shrimp – but not sure about this, anyone can confirm?).
The yellow orange blob of butter looking thing in the head is what sets freshwater river prawns apart from saltwater tiger shrimp.
The yellow stuff is honestly just like shrimp butter, creamy and rich, and with the most beautiful shrimp flavor I've ever tasted, and just slightly bitter. Taking a spoonful of it was life-changing.
It tasted like shrimp flavored melted ice cream.
The meat of the giant freshwater prawn was equally as marvelous as the head oil, and they both complemented each other nicely.
The meat was sweeter and had a softer texture than even that epic lobster I ate in Hua Hin.
It was juicy and succulent, and even though the prawns were served with a chili dipping sauce, for one of the few times, I had zero interest in altering the natural flavor of the prawn – they were that good.
I might say, giant freshwater river prawns, simply roasted and unseasoned, might be among the best tasting single ingredient things to eat in the world. I'd certainly include them in my top food ever eaten list.
Watch the full video of our meal below!
(Or if you can't see the video, watch it here: http://youtu.be/SLONtoYNZvA)
Conclusion
Ayutthaya, the ancient captial of Thailand, located about an hour drive from Bangkok, is famous for both historical temples, and for giant freshwater river prawns.
On my latest visit to Ayutthaya, I didn't go to see the temples, I went for the prawns.
We chose to eat at a restaurant called Ruay Goong Pao (ร้านรวยกุ้งเผา), and I ordered a few different dishes including an epic 1 kg. plate of roasted prawns.
The other dishes I ordered at Ruay Goong Pao (ร้านรวยกุ้งเผา) were alright, not the best I've had. However, the giant river prawns (กุ้งเผา) were one of the best tasting single ingredients I've ever had.
Taking bites of prawn meat combined with the head oil, was unbelievably delicious.
If you visit Ayutthaya, and are looking for a potentially life-changing meal of jumbo freshwater prawns, check out Ruay Goong Pao (ร้านรวยกุ้งเผา). There are also many other restaurants in Ayutthaya serving roasted freshwater prawns, so I'm sure there are many other delicious restaurant choices as well, just make sure you try some giant river prawns.
Ruay Goong Pao (ร้านรวยกุ้งเผา)
Address: Thanon Samkok-Sayna, Tambon Maitra, Amphoe Bang Sai, Ayutthaya
Phone: 08-6007-1451
Open hours: 10 am – 8 pm daily
Prices: 1,500 THB per kg. or jumbo prawns (not cheap, but well worth a splurge)
ที่อยู่ 74 หมู่2 อาคาร ตรงข้ามศูนย์ศิลปาชีพบางไทร ถนนสามโคก-เสนา ตำบลไม้ตรา อำเภอบางไทร อยุธยา
โทร. 08-6007-1451
เปิดบริการทุกวัน 10.00 – 20.00 น
How to get there:
This restaurant is located a bit outside of Ayutthaya town, and I was in our own vehicle to get here. I'm not sure if you can get here by public transportation, but if you have a private van / taxi, your driver should know how to get there.
For the map, look in the "Central Thailand" section: