Ethos International Vegetarian and Vegan Restaurant in Bangkok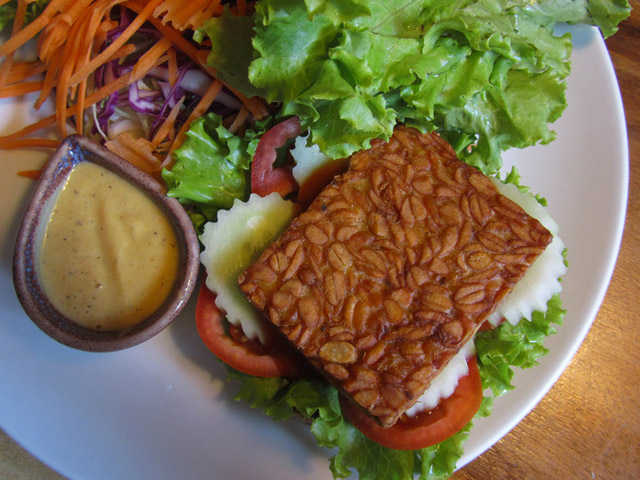 Ethos International vegetarian and vegan restaurant in Bangkok is what I would call veggies on the next level.
I happen to be in the Khao San area last night and decided I would stop by and sample their vegetarian food, a couple friends had previously recommended it.
Ethos Restaurant is located on a small quiet side street, just steps away from the rowdy Khao San Road, but a world away in terms of comfort and relaxation. They call themselves a "Travelers Oasis," and it really does have that appeal of being calm like a desert oasis surrounded by chaotic city life.
Having walked around all day, I started with a Mango Lassi, a fantastic homemade yoghurt and tropical mango blend (pictured on top).
Price – 70 THB
Ethos is set up with both low to ground tables and normal sit down tables with chairs. I chose the low table with ground seating –  a more relaxing option in my opinion.
The pads were extremely comfortable, so much so that I wanted to just sit without movement for an unlimited amount of time after the meal (or was it due to the amount I ate?).
When I saw hummus on the menu, it was something I had to order. Not only was it hummus, it was lightly spiced and included a dab of tahina sauce right in the middle. What really bumped up the greatness of the hummus was a handful of mild sweet onions and a garnish of cilantro.
It was served along with a warm pita bread. I'm going to be honest and say that it was one of smoothest and most delicious plates of hummus I've ever had.
Price – 80 THB
Proceeding to the main course, I started off with this mushroom spaghetti. It was very good, but I will say that I thought the cream sauce was just slightly too sweet. Nevertheless, there was a robust mushroom flavor and a light hint of herbs which I thought was great.
Price – 110 THB
To get a big dose of vegetables into my system, I ordered the mixed vegetables with ginger. There could have been an entire garden worth of vegetables fried up on this plate – all with zero oil to be seen.
Long strips of ginger were the highlighting ingredient, a taste I truly love. For myself personally, I would enjoyed some hot chilies mixed within, but then again, my taste buds are acquainted most with Bangkok street food.
Price – 80 THB – big plate!
Not much to say other than the brown rice was wholesome and perfect (and I think you all know my obsession with rice).
Price – 20 THB
After finishing the previous main courses, my curiosity would not allow me to leave Ethos without ordering the Tempeh Burger. Tempeh is a soybean cake that's a traditional part of Indonesian cuisine.
I had developed a daily habit of eating tempeh while I was in Indonesia and I couldn't resist trying this veggie burger – and I was glad I did!
I'm going to honestly say that I was delighted to lose my veggie burger virginity to this superbly fresh tempeh burger from Ethos Bangkok – Yes, it was my first time to order a veggie burger. The tempeh was fantastic, the bun was loaded with crisp raw vegetables, and the accompanying mustard sauce was straight up luscious.
Price – 120 THB
One of the most difficult things about eating at Ethos is the massive menu that is stocked with so much food, it's hard to use any sort of self control to avoid ordering the entire menu. You have the choice of Thai, Middle Eastern, Italian, and even some Indian dishes. Along with the selection, the menu is like a book that goes into extensive explanations about the benefits of a few ingredients they use in their cooking.
With a chilled out ambiance, helpful staff, and a classy selection of vegetarian food, I can't wait to go back and try some more things off the menu at Ethos international vegetarian restaurant!
On top of great food, they also offer high-speed wi-fi!
Check out the official Ethos website here.
Open hours: 7 am – 12 midnight
How to Get to Ethos Vegetarian Restaurant, Bangkok, Thailand
It's located right behind the Burger King on what would be the East side of Khao San Road. Just navigate your way to the street that's parallel with Thanon Tanao and walk a few meters and you'll see Ethos. It's also located just a few strides from May Kaidee's vegetarian restaurant.

View Eating Thai Food Map in a larger map