Easy Thai Tom Yum Soup Recipe (Sour Spicy Soup)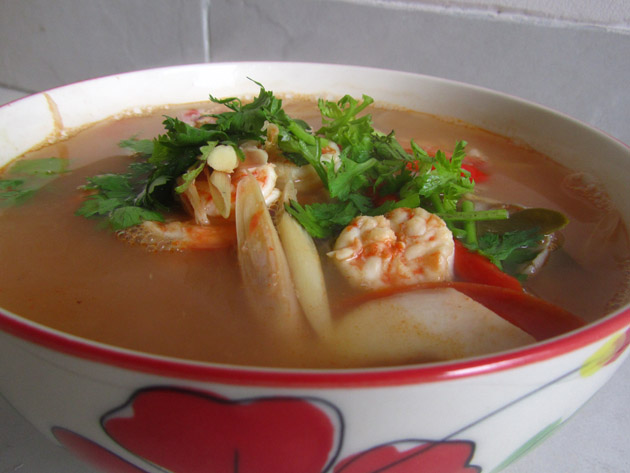 This is probably one of the easiest recipes to make Thai tom yum goong soup (Thai spicy and sour shrimp soup, ต้มยำกุ้งน้ำใส). Feel free to modify the recipe to suit your own interests or add ingredients to you own liking.
Should take no more than 20 – 30 minutes to make.
Ingredients
Water: 2 – 3 cups (1/2 of a sauce pan)
Shrimp (can substitute Chicken): 10 shrimp
Tomatoes: 2 tomatoes
Limes: 4 – 6 limes (depending on how sour)
Thai chilies: I used about 8 chilies
Mushrooms: handful
Lemongrass: 1 sliced handful (about 2 stalks)
Kaffir lime leaves: about 8 leaves
Galangal root: 1 inch by 1 inch chunk
Fish sauce: a few squirts (1 – 2 teaspoons)
Sugar: 1 teaspoon
Steps to Making Easy Thai Tom Yum Soup!
Step 1:


Slice up the lemongrass, galangal, tomatoes, chilies, mushrooms, and shrimp
Step 2:
Boil about half a medium sauce pot of water
Step 3:
When the water is boiling, add the sliced galangal, lemongrass, and kaffir lime leaves
Step 4:
Boil for about 5 minutes and then add the shrimp
Step 5:
Boil for another 5 minutes and add the sliced Thai chilies and the mushrooms
Step 6:
Boil for 2 minutes and add the chopped tomatoes
Step 7:
Boil the easy tom yum soup for about 5 minutes
Step 8:
Add a few squirts of fish sauce, about 1 teaspoon to start with (and you can add more if needed)
Step 9:
If the soup is slightly bitter, add about 1 teaspoon of sugar, boil the soup for another 5 minutes
Step 10: Last Step IMPORTANT
Take the pot off the heat and add squeeze in the lime juice (if it's on the stove still, the heat will turn the lime juice bitter – so take it off the stove before adding the lime juice) – make it sour!
That's it – you've got delicious and easy Thai tom yum soup! Add some cilantro to garnish if you would like.
Enjoy!