Delightful southern Thai food in Bangkok: Lan Ahan Puk Tai Dao Tai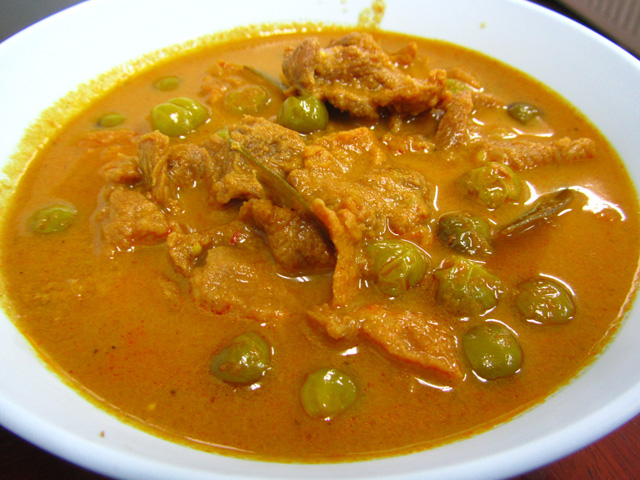 There's a cluster of Southern Thai food restaurants in Bangkok located in the area around Siriraj Hospital. I decided to try out Lan Ahan Puk Tai Dao Tai ร้านอาหารปักษ์ใต้ ดาวใต้.
Walking in, you are greeted with that famous southern hospitality, giving one a head full of humid air mixed with a fragrance of curry, fish, and chili.
As like most southern Thai restaurants, many of the dishes are pre-made and ready to go. You either order dish by dish and the lady brings them to your table, or you get a few bags of take away.
I almost exclusively choose the latter option, being a much more loyal fan of food, than cleaning up.
Upon seeing the color wheel selection of curries, I couldn't help but fall into that one-minded trance that I get from sight of a buffet.
One of Thailand's signature southern dishes is gaeng som, not that reddish orange stuff that tastes of sweet and sour, but southern style that is yellow and feels like lava going down your thoat. I ordered the Gaeng Som Sapalot แกงส้มสับปะรด, a sour spicy soup with pineapple and fish.
It was just as I had hoped, every taste bud in my mouth was punched with flavor, and that sexy gaeng som sweat immediately formed on my upper forehead.
The Gaeng Phet Neua แกงเนื้อ (beef curry), looked like it had come out of the kitchen just moments before, so I ordered it. A very pleasant mild dish with extremely tender beef.
Kua Kling Neua คั่วกลิ้งเนื้อ is a salty spicy dry curry. This beef version was simply delicious. Unfortunately I got kind of the bottom of the pan, so I missed out on more of the shredded kaffir lime leaves – which would have been great!
After downing 3 dishes and still feeling that uncontrollable urge to eat just a bit more (for flavor, not for hunger), I asked the owner what she could dish up that would light flames in my mouth.
She pointed to the Gaeng Pla Duk แกงพริกปลาดุก, a catfish curry that included some unknown leaves. I apologize here, she told me the name of the leaf, but it slipped my mind to remember, as I was extremely excited to try it.
The leaves had a flavor that I can't exactly ever remember tasting, a hint of herbal anise and a tinge of sweetness. The sauce was indeed a combustible curry blend highlighting the leaves and a slight fruity aftertaste. It was absolutely scrumptious.
There were 2 of us eating, and we ordered 4 dishes, 4 plates of rice, 1 soda.
Total Price – An unbelievable 205 THB
For incredible Southern food in Bangkok head to Lan Ahan Puk Tai Dao Tai ร้านอาหารปักษ์ใต้ ดาวใต้
How to get there
Get to Siriraj Hospital and it's located just a 10 minute walk away.
Lan Ahan Puk Tai Dao Tai ร้านอาหารปักษ์ใต้ ดาวใต้
508/26 Phran Nok Road, Bahng Koug Noy, Bangkok, Thailand, 10700
Tel. 02-4122385, 02-4127259
Open: 7 am – 8:30 pm
ร้านอาหารปักษ์ใต้ ดาวใต้
508/26 ถ.พรานนก บางกอกน้อย กทม 10700
โทร. 02-4122385, 02-4127259
เปิดบริการ 7.00-20.30 น.

View Lan Ahan Puk Tai Dao Tai ร้านอาหารปักษ์ใต้ ดาวใต้ in a larger map