Deep Fried Thai Vegetarian Snacks on Wheels – Ponchai Tao Hoo Tod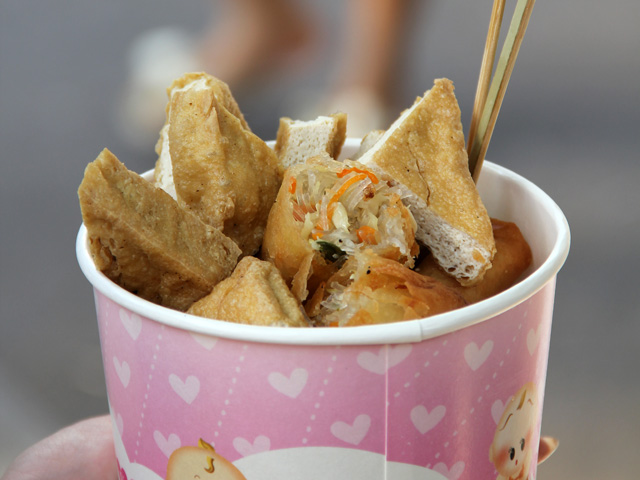 The wonderful smell of deep fried things will be what hits you first.
You'll probably be leisurely strolling down the street when the already warm humid air turns even more warm and saturated with that greasy kind of humidity that can only be from deep fried snacks.
The little shop on wheels is a lot songthaew (little transportation truck) that has been converted into portable snack station on wheels.
On the bed of the truck is a big cauldron of oil for deep frying all the snacks. Next to the wok is a basket of all the freshly cooked treats.
I'm really not a big fan of deep Thai dishes, I normal avoid them. However, after feeling well exercised and because they serve strictly vegetarian, I went for it.
We ordered 3 different kinds of deep fried snacks: por pia puak tod ปอเปี๊ยเผือกทอด (taro spring roll), por pia woon sen tod ปอเปี๊ยวุ้นเส้นทอด (mung bean noodle spring roll), and tao hoo tod เต้าหู้ทอด (deep fried tofu).
I didn't care so much for the deep fried tofu, but the other 2 were awesome. They were served along with a little plastic baggy of sweet tangy sauce that was filled with chunks of broken peanuts.
Even though I don't eat deep fried foods often, once in a while when I get that whiff, it's necessary to grab that snack!
How to get there:
The truck is parked on Wachiratam Satit Soi 15, which is essentially Sukhumvit Soi 101/1 – about 1 km down from Sukhumvit. It's in a pleasant little market that comes alive in the evening. The closest BTS station will be Punnawithi when it is opened in August (hopefully).
Address:
Ponchai Tao Hoo Tod พรชัย เต้าหู้ทอด
Sukhumvit 101/1 Wachiratam Satit Soi 15
Bangkok, Thailand
Tel. 02 746 3613
พรชัย เต้าหู้ทอด
สุขุมวิท 101/1 วชิรธรรมสาธิต 15
กรุงเทพ
โทร 02-746-3613

View Ponchai Tao Hoo Tod พรชัย เต้าหู้ทอด in a larger map