Crave International Lunch Buffet at Bangkok's Aloft Hotel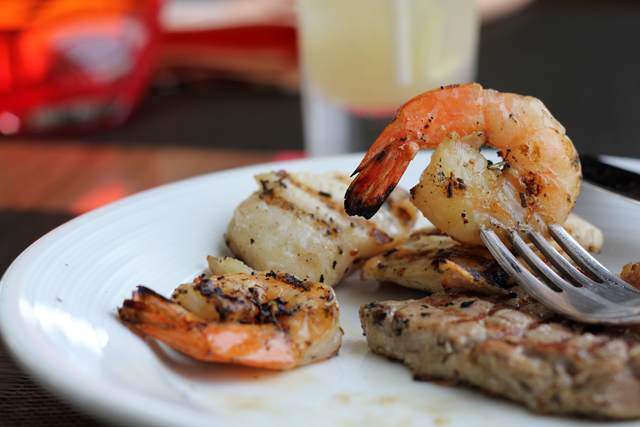 It's not often we derail form the Bangkok street food scene, but every now and then ambience and the opportunity to enjoy an elegant feast with a lovely view of central Bangkok is a welcome change.
A couple days ago Dwight and I met up for lunch at Crave Restaurant on the 8th floor of Aloft Hotel. We went to hang out and most of all to eat as much as we could at the international lunch buffet!
Imagine that the cooking station is an island and the circumference of beaches are all filled with food that's free for the taking – that's what the Aloft lunch buffet is!
There's a pizza oven, a pasta station, a grilled meats section, hot cooked dishes, salads, and desserts along with chef's waiting to handle your food requests.
We started things off slowly, hitting up the prepared salads section. There were all sorts of raw leafy greens, good quality vegetables and a choice of dressing to top things off.
I also enjoyed a few of these little fresh tortilla wraps filled with herbs and a light tangy dressing.
There was also a decent selection of about ten different fusion Thai and some Italian based salads.
The highlight was the modern style "yam kor moo yang," extremely tender pork neck mixed with sweet white onions and dressed in lime juice and crushed chillies. We both went back for more than a few helpings!
For the grilled meat section you simply fill out a little card showing which meats you want and your table number and the chef will immediately grill it up and deliver it to the table – it's like a fancier version of the Thai street meat cart.
Beef and shrimp were the items I especially enjoyed, though pork, squid and fish were also available.
For beverages (not included in the buffet price), is a full bar, as well as a coffee machine that resembled a high tech space ship.
Their signature mocktail is the combination of crushed lemongrass, ginger root, lime juice, sprigs of mint, and kaffir lime leaves all combined with ginger ale. I must say it was extraordinarily refreshing and the hint of ginger gave it a pleasant bite.
Of course, a buffet is not a buffet without cute little desserts.
One of the great things about the Aloft dessert buffet was that the dessert portions were really bite sized – not 2 0r 3 bite sized, but just a single one-shot that was perfect. Of course if you need to fulfill your sweet tooth you can easily grab as many as you please.
These little blueberry topped cheesecake bites were excellent.
The fruit salad shots were a cooling mixture of papaya and pineapple in fruit juice, another wonderful little healthy dessert.
Another impressive thing included in the Aloft lunch buffet was the ice cream – one of those trendy flash frozen ice cream stations that begins with cream and ends with frozen cream.
Choose your flavor, the cook will pour liquid cream on the frozen surface, play with it for about 5 minutes and you'll end up with a unique and pretty delicious bowl of ice cream.
The ice cream was really good, not overly sweet, but it did melt rather quickly. I chose raspberry, but chocolate was also available. However, with every bite I couldn't help from imagining how good a bowl of durian fresh ice cream would be!
At the entrance of the buffet is an extensive wine store where you can either purchase a bottle to go, or buy a bottle to enjoy with lunch. There's also a futuristic wine buffet if you're interested!
The interior of Crave is set up with tables on the side of the buffet (as pictured) and also plenty of tables with a great view of the city  and a little more natural lighting.
The Bottom Line
Searching for an international buffet with a fantastic atmosphere? Crave lunch buffet is a great choice – a good variety of different dishes, great service and just a wonderful place to hang out and relax.
Make sure you sample the fresh pizza with entire bacon strips on each slice and the modern style grilled pork neck salad.
Crave International Buffet at Aloft Hotel in Bangkok
Address: Aloft is located on the 8th floor of Aloft Hotel. 35 Sukhumvit Soi 11, Sukhumvit Road, Klongtoey-nua Wattana, Bangkok, 10110
Hours: Crave is actually open from 6:30 am – 11 pm but serving different food throughout the day, we went for the lunch buffet, showed up about noon.
Phone / Website: (66)(2) 207 7080, Website
Prices: 439 THB Net per person for the lunch buffet
How to get there:
Closest to Nana BTS station, I walked and it took under 10 minutes. You can also take a quick motorbike ride if you would like. Just head straight down Sukhumvit Soi 11 about 500 meters to the Aloft Hotel on your left hand side.

View Bangkok Eating Thai Food Map in a larger map