Club Esso Isan Street Food: Fueling Vehicles to Human Lives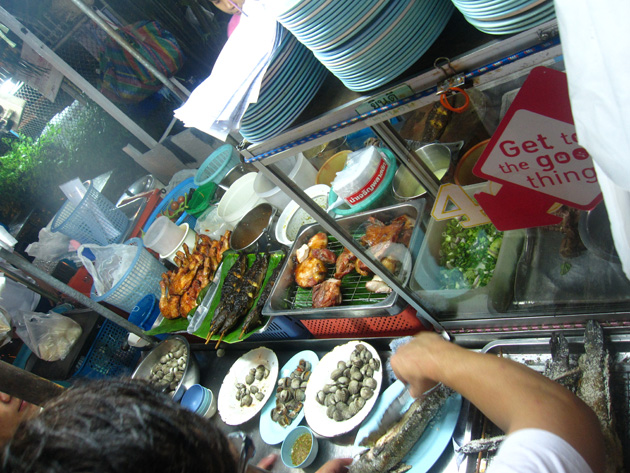 The founders of the this fine Isan street stall on the corner Ratchaparop and Rangnam in Bangkok, didn't name their dining establishment Club Esso, however, the cart just happens to setup at the petrol station on the same corner.
In the evening the petrol station transforms from fueling vehicles to fueling human life.
A personal favorite reason for eating Isan street food in Thailand is the grilled fish; Everyone take note – put a fish on the grill and I will surely come running.
Their grilled fish (pla pao, ปลาเผา) always arrives on the table fresh off the coals and glistening with that beautiful natural fish oil!
It's not so much about the grilled catfish (pla duk yang ปลาดุกย่าง), but about the sauce that is provided with the catfish that makes or breaks it. Club Esso "makes it," with a resounding applause. Their nam jim (chili sauce) is sufficiently spicy and hits that high note on the tip of your tongue.
What would an Isan meal be without a sample of the green papaya salad (som tam, ส้มตำไทย)? Nothing crazy or new here, just a solid home-style pounded green papaya salad.
Another asset to Club Esso is that they often have beef available (for those of us who enjoy a dosage of cow every now and then). Their grilled beef salad (nam tok neua yang, น้ำตกเนื้อย่าง) is another worthwhile reason to mark Rangnam as a Thai street food hot-spot.
I don't think I need to even mention sticky rice (khao neow, ข้าวเหนียว), but here's a picture just in case.
Address of Club Esso
Club Esso
Isan Street Food
Located at the Esso petrol station on the corner of Rangnam and Ratchaprarop Road., near Victory Monument.
How to Get to Club Esso Isan Street Stall Restaurant
The street stall is quite centrally located in Bangkok terms. It's a short taxi ride (or even walk) from Central World shopping mall, and just a 10 minute walk down Rangnam Road from the Victory Monument BTS station.
Here's the map to make it easier to get there:

View Eating Thai Food Map in a larger map