When You're In Chiang Rai, Eat at Lab Sanam Keela (ร้านลาบสนามกีฬา)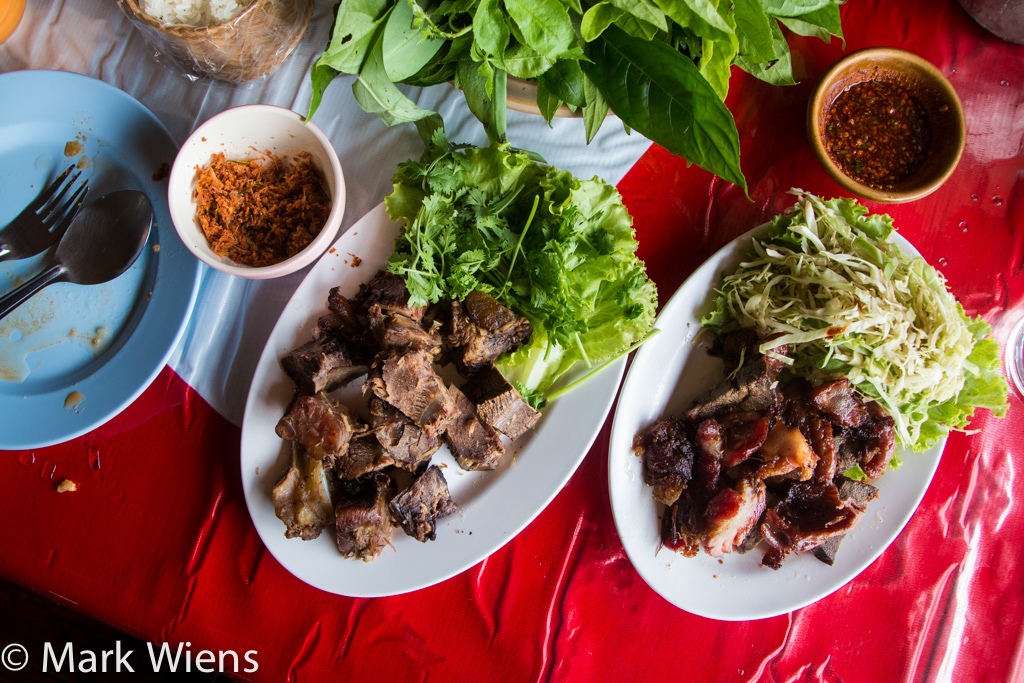 I had no idea what to expect when Ying (my wife) told me we needed to check out a restaurant called Lab Sanam Keela (ร้านลาบสนามกีฬา), on our latest visit to Chiang Rai.
Little did I know, I was in for what was perhaps one of the best meals I've had in Chiang Rai… ever.
I would say that if you love to eat local Thai food, when you're in Chiang Rai, this is a restaurant you don't want to miss…
Lab Sanam Keela (ร้านลาบสนามกีฬา) is a well known local restaurant in Chiang Rai, serving up mostly northern Thai dishes that are heavy on meat, herbs, and overall just packed with flavors.
Though they mostly serve Lanna (northern Thai) food, the menu also included quite a few dishes, or combinations that I had never tried before, and that's one of the reasons I was so excited to eat here.
I only saw a menu in Thai, but there were a few pages that included photos, so even if you don't speak Thai, you should be able to choose some dishes off the picture menu.
Many Thai meals are served with a basket of fresh herbs and vegetables, but in the far north (and also in the south) of Thailand, they often take the baskets to extremes, serving up a garden of different colorful herbs and vegetables.
But even though you're served plenty of fresh herbs and vegetables, northern Lanna Thai food, is known for being quite meat heavy, and at Lab Sanam Keela (ร้านลาบสนามกีฬา), they don't hold back on the meat!
If you're ready for a meat feast, like I was, you're going to love eating at Lab Sanam Keela (ร้านลาบสนามกีฬา).
Yang Ruam (ย่างรวม)
In Thai, yang ruam (ย่างรวม) just means mixed grill, but it was more like a mixed pig.
There were pieces of fatty meat, intestines, and liver included in this dish.
Price – 70 THB
All the pieces of pork were lightly sweet and marinated in a soy sauce based marinade, and then grilled, probably on low fire, until they were quite dry, and were well on their way to becoming jerky.
The flavor of the meat was wonderful, especially the chunks of intestines and the pork meat. I wasn't a huge fan of the liver, because it was too dried out for me, but it did taste better when dipped in the sauce.
I was also quite pleasantly pleased with their nam jim (dipping sauce), which was similar to a typical Thai grilled chicken sauce, but a little less sweet (so maybe they didn't use any tamarind).
The nam jim for the yang ruam (ย่างรวม) was not too sweet, and it was mostly a mixture of chili flakes, maybe some tamarind juice, fish sauce, and a hit of lime juice.
Dipping pieces of grilled pork into the tangy chili filled dipping sauce, then chasing with sticky rice and herbs, was delightful.
Jeen Neung (จิ้นนึ่ง)
One of the meat dishes I hadn't tried before is a dish called jeen neung (จิ้นนึ่ง).
The dish was basically steamed beef (I think it was the shin portion), including tendon mixed into the meat.
The meat itself, I don't thing was seasoned with much other than a bit of salt, and so to be honest my first bite made me immediately think of a Sunday roast beef. But it did read that it is steamed with lemongrass and galangal, so it does have just a tiny hint of those herbs steamed into the meat.
Price – 89 THB
Now it might look a little dry in the photo, but really it wasn't.
It wasn't fatty meat (apart from the grizzly tendon), but the beef was nice and grainy, with some good meat texture to it.
It was like the Thai version of East African nyama choma (grilled meat), and I absolutely loved it.
The reason I loved the jeen neung (จิ้นนึ่ง) so much was partly because I don't eat beef all that often when I'm in Bangkok, and secondly, because we ordered it along with nam prik kha (น้ำพริกข่า), a Thai chili dip made with galangal.
The nam prik kha (น้ำพริกข่า) was a dry style nam prik, and it was salty, and loaded with lemongrass, galangal, kaffir limes leaves, and chilies.
It was amazingly herbaceous tasting, just a bit spicy, but extremely flavorful.
You can also eat the nam prik kha (น้ำพริกข่า) with the fresh vegetables, but I thought with the beef, it was insanely good.
The chunks of beef were served on a plate along with a handful of fresh cilantro sprigs, to chase bites of beef.
A piece of steamed beef, accompanied by some nam prik kha (น้ำพริกข่า), and a few sprigs of cilantro on top, was fantastic – and it proved to be one of my favorite dishes when I ate at Lab Sanam Keela (ร้านลาบสนามกีฬา).
Tom sab moo (ต้มแซ่บหมู)
For something sour, my wife and I, ordered tom sab moo (ต้มแซ่บหมู), a Thai pork soup.
Their version came with both dried chilies and fresh green chilies, and a handful of roughly cut herbs floating on top.
Before I even tasted it, just from the looks, I knew it was going to be good.
Price – 79 THB
The tom sab moo (ต้มแซ่บหมู) was in fact spectacular, one of the best versions of the dish I've had in a very long time.
The pork and the broth were a little on the fatty / oily side, and that's probably what added to making it so good, but the soup really had a balance of flavors that was perfect for me.
The pork was incredibly fall-apart tender, the broth was rich and meaty, sour from lime juice, spicy from both the roasted dry red chilies and the slightly sour fresh green chilies, and it had a noticeable flavor of cilantro and sawtooth coriander.
If you eat at Lab Sanam Kila (ร้านลาบสนามกีฬา) in Chiang Rai, you should not miss their tom sab moo (ต้มแซ่บหมู).
Pla tabtim tod kratiem (ปลาทับทิมทอดกระเทียม)
I wish you could have seen my face when they brought out our order of pla tabtim tod kratiem (ปลาทับทิมทอดกระเทียม), because I think my jaw dropped all the way to the table…
In all my days in Bangkok, and throughout Thailand, I don't think I've ever seen a fish smothered in that much garlic!
Price – 199 THB
There was so much garlic on top, it was almost comical… and brilliant too.
The fish was deep fried to an absolute crisp, so crisp you could eat the bones. And though it was so deep fried, it was drained well, so it must have been fried on perfect heat, because it wasn't oily.
After tasting the garlic, I could tell it was coated in a thin layer of batter, expanding it a little bit, but nevertheless, it was still a ton of garlic.
The fish, along with the chili dipping sauce, was epic, and the garlic on top was like cloves of garlic french fries.
To supplement your meat feast at Lab Sanam Keela (ร้านลาบสนามกีฬา) you can either order regular steamed rice or sticky rice, both of which would go well with any of the dishes.
Our lunch consisted of plates of marvelous meat, in addition to fresh herbs and vegetables, and I loved every bite of it.
Here I am, part way through the meal, and already beginning to get the meat sweats!
Conclusion
Ran Lab Sanam Keela (ร้านลาบสนามกีฬา) is one of the most locally popular restaurants in Chiang Rai.
When you arrive, you'll probably notice a traffic jam of trucks parking in the grass outside the restaurant – and everyone is there to get some of the best food in Chiang Rai.
The restaurant is well known throughout the city for their local northern food, especially their meat filled dishes. I enjoyed everything we ate, and was particularly excited with the jeen neung (จิ้นนึ่ง), steamed beef, the tasty tom sab moo (ต้มแซ่บหมู), and their take on pla tabtim tod kratiem (ปลาทับทิมทอดกระเทียม) – OK everything was delicious.
All I can say, is that if you love food, when you're in Chiang Rai, you don't want to miss a meat filled meal (or a few) at Ran Lab Sanam Keela (ร้านลาบสนามกีฬา).
Ran Lab Sanam Keela (ร้านลาบสนามกีฬา)
Address: 123 Moo 22, Tambon Robwiang, Amphoe Mueang Chiang Rai
Phone: 087-173-2498 , 080-134-7877
Open hours: 10 am – 9 pm daily
Prices: Our total bill came to about 500 THB, which considering the amount of meat we ate, was a pretty decent deal. Restaurants in Chiang Rai are generally a very good deal for what you get.
ที่อยู่ 123 หมู่22 ตำบลรอบเวียง อำเภอเมืองเชียงราย เชียงราย
โทร. 087-173-2498 , 080-134-7877
เปิดบริการทุกวัน 10.00 – 21.00 น.
How to get there:
Ran Lab Sanam Keela (ร้านลาบสนามกีฬา) is located on the eastern side of Chiang Rai, near a school and the Chiang Rai stadium. I stayed at a hotel within walking distance, but if you're staying more in central downtown, it should be about a 40 – 50 THB taxi ride and take just 5 minutes to get here.