Braised Duck and Egg Noodles at Udom Suk (กิตติก๋วยเตี๋ยวเป็ด สาขา 3)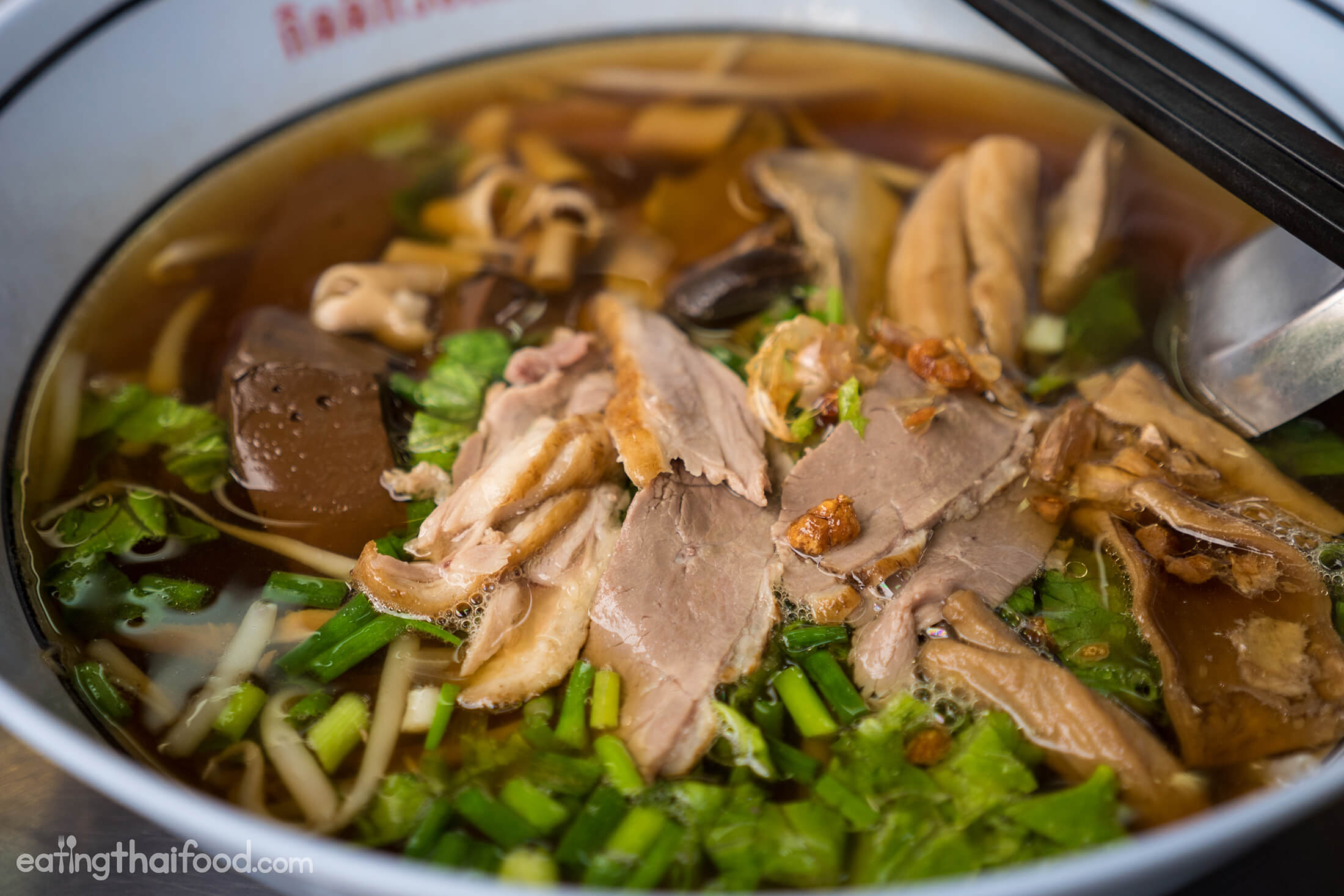 Although I'm typically more excited to eat roast duck than braised duck, I'm always happy in general to eat any kind of duck.
Along Thanon Udom Suk, or Sukhumvit 103 in Bangkok, there are an abundance of restaurants serving duck, and for lunch one day, Ying and I stopped at a place called Keed Dee Kuay Teow Bet Saka 3 (กิตติก๋วยเตี๋ยวเป็ด สาขา 3).
If you're in the Udom Suk area of Bangkok and ready to eat some duck noodles, or duck over rice, this is a good restaurant to try.
Here's everything we ate:
The Menu
I didn't really notice a printed menu other than what was written in Thai on the side of the wall.
But at Keed Dee Kuay Teow Bet Saka 3 (กิตติก๋วยเตี๋ยวเป็ด สาขา 3), as well as at other Thai braised duck restaurants, you typically just have a couple choices.
You can choose your type of noodles – sen mee (thin rice), sen lek (medium rice), sen yai (wide rice), or sen ba mee (egg noodles) – and then you get an assortment of duck and organs on top.
There's also a choice of nam (soup น้ำ) or haeng (dry แห้ง) for your duck noodles.
In addition to your own bowl of noodles, for some extra protein, you can also order side plates of sliced duck.
So Ying and I also ordered a couple of extra plates or braised duck to share.
O-liang (โอเลี้ยง) – Thai coffee
Thai duck noodles
O-liang (โอเลี้ยง)
To get things started Ying ordered a cup of o-liang (โอเลี้ยง), Thai black sweet coffee – the old school style.
It's not my favorite because it's usually pretty sweet, but sometimes I get it with no sugar – which you can do if you'd like just an iced Thai black coffee.
Price – 15 THB
Kuay teow bet sen ba mee (ก๋วยเตี๋ยวเป็ดเส้นบะหมี่)
Kao lao bet (เกาหลาเป็)
Ba mee bet nam (บะหมี่เป็ดน้ำ)
For my main bowl of noodles, I ordered ba mee bet nam (บะหมี่เป็ดน้ำ), egg noodles with braised duck, in soup.
It was quite a beautiful bowl of duck noodles from the beginning, including not only slices of duck meat, but also a selection of duck organs like liver, heart, intestines, and a few chunks of coagulated blood as well.
Price – 50 THB
The noodles were finished off with a handful of green onions and cilantro, and finally a spoonful of extra crispy and fragrant deep fried garlic – something they used on almost every dish, adding some extra good flavor.
First let's quickly talk about the noodles.
Sometimes egg noodles in Thailand are so-so, but I was pretty impressed with these as they tasted freshly made. Additionally I liked that the noodles were cooked and served al-dente – even after I spend 5 minutes taking photos, they still remained nice and chewy and not too soft.
The duck and all the organs were really good as well. It wasn't overly salty, nor was it sweet like it sometimes can be, but it was served a little plain in order for everyone to dress and season as pleased.
For me, this bowl of ba mee bet nam (บะหมี่เป็ดน้ำ), was excellent, and the mix of things included was nice as well.
And one of the best reasons to eat Thai noodle soup is to season it according to your taste buds.
I typically try to avoid adding more fish sauce or sugar, but I go straight in for the chili vinegar and dry chili flakes!
Ba mee bet haeng (บะหมี่เป็ดแห้ง)
Ying had ba mee bet haeng (บะหมี่เป็ดแห้ง), and the dry version came with wider egg noodles, yet they tasted almost the same, just wider.
The mix of duck and organs, was exactly the same, so it's really up to your own preference if you want the dry style or soup style.
Luckily, you can't make a wrong choice.
Price – 50 THB
Kao lao bet (เกาหลาเป็)
I think it was before we had totally thought about what we were ordering, when Ying and I also ordered a bowl of kao lao bet (เกาหลาเป็), a combination of all the duck in soup, but with no noodles.
We sort of ordered this one without thinking, prior to ordering a full extra plate of duck meat.
But anyway, if you need a little extra, or if you want to go noodle-less, you can order kao lao bet (เกาหลาเป็), just the duck and soup. It goes great with rice.
Price – 60 THB
Sai bet (ไส้เป็ด)
To supplement our individual bowls of duck noodles, Ying and I shared a plate of sai bet (ไส้เป็ด), braised duck intestines.
Unlike pork intestines that are fatty and oily, or chicken intestines that are more chewy, the way they prepared these duck intestines made them very crispy, almost like little strands of thin squid.
It was really good, I'd highly recommend the plate of sai bet (ไส้เป็ด), at Keed Dee Kuay Teow Bet Saka 3 (กิตติก๋วยเตี๋ยวเป็ด สาขา 3).
Price – 70 THB
Sai bet (ไส้เป็ด) – duck intestines
Duck meat
Also, partly why the sai bet (ไส้เป็ด) was so good, was because of the dipping sauce they served with it.
The dipping sauce was a chili vinegar, nice and sour, and slightly spicy, and it just went so well with both the duck meat and the intestines.
Neua bet (เนื้อเป็ด)
Finally, I couldn't eat at Keed Dee Kuay Teow Bet Saka 3 (กิตติก๋วยเตี๋ยวเป็ด สาขา 3) without getting a full plate of duck.
The braised duck was sliced quite thin, served on a plate with a spoon of duck juice, and then topped with a handful of deep fried garlic and cilantro.
The duck was excellent again, not overly salty and not too sweet.
And that garlic, as well as dipping the pieces of duck into the chili vinegar sauce, made it excellent. This plate of duck went down way too easily.
I wished I would have had one more plate.
Price – 100 THB
Conclusion
Keed Dee Kuay Teow Bet Saka 3 (กิตติก๋วยเตี๋ยวเป็ด สาขา 3) is a Thai braised duck restaurant located along Udom Suk (Sukhumvit 103) in Bangkok.
I loved how the duck wasn't overly salty or sweet, but had a nice natural duck flavor, and paired with chewy egg noodles.
The extra plate of thin sliced duck topped with deep fried garlic, and the crispy duck intestines, were also both excellent.
Even though I'm typically more into roast duck, this braised duck was pretty good.
Keed Dee Kuay Teow Bet Saka 3 (กิตติก๋วยเตี๋ยวเป็ด สาขา 3)
Address: Sukhumvit 103, Udon Suk Soi 29, Bang Na, Bangkok 10250
Open hours: 10 am – 10 pm daily
Prices: About 50 – 150 THB per person depending on how much extra duck you order
ที่อยู่ 531 ซอยสุขุมวิท 103 อุดมสุข 29 บางจาก พระโขนง กรุงเทพมหานคร 10250
เบอร์ติดต่อ 084-016-7844, 088-524-5556
เปิดบริการ ทุกวัน: 10:00 – 22:00 น.
How to get there: You can take the BTS to Udom Suk station, but the restaurant is a little ways down the road, all the way on the corner of Soi 29. You could walk, or alternatively take a motorbike ride or jump on a rot songthaew.